AUTOMATED VENDOR (DO NOT SEND PO TO TIPS)
EMAIL PURCHASE ORDER TO: purchase.orders@onbase.com
PO MUST REFERENCE TIPS CONTRACT NUMBER

Print
VENDOR

Hyland Software Inc

28500 Clemens Road Westlake OH,44145

WEBSITE

www.hyland.com

SERVICE/PRODUCTS DESCRIPTION

Hyland Software is the creator of OnBase, an enterprise content management (ECM) software solution. Founded in 1991, we've grown to become one of the largest independent ECM software vendors in the world. Today, we continue to meet our customers' evolving and unique needs while staying true to our ECM fundamentals. As a result, the company is well respected in the ECM market and highly ranked by industry analysts. By concentrating on solving business needs that rely on documents, content, and people, OnBase helps customers operate more efficiently. Hyland Software's industry-specific solutions are built and delivered by people with proven industry expertise who really understand the business problem. Offering solutions on premise, subscription-based or in the cloud, customers experience unparalleled out-of-the box capability. OnBase is easy to implement and grows with your organization's changing needs, departmentally or enterprise-wide. Together with our network of more than 300 domestic and international partners, we deliver tailored OnBase solutions to customers in 76 countries. Hyland Software's corporate headquarters are located in Westlake, Ohio. The Company also has offices in California, Florida, Massachusetts, Michigan, Nebraska, North Carolina and Utah, as well as internationally in London (United Kingdom), Sao Paulo (Brazil), Tokyo (Japan), Munich (Germany), Zug (Switzerland), and Belrose (Australia).
CONTRACT: 3071615 Software
Jul-16-2015 to Jul-26-2018 EDGAR COMPLIANCE : (Contact TIPS for Verification)
Hyland Software Inc
CONTRACT: 3071615 Software
Jul-16-2015 to Jul-26-2018
EDGAR COMPLIANCE : (Contact TIPS for Verification)
Hyland Software Inc

Print
Software(3071615)
Exp.Date 07/26/2018 EDGAR:(Contact TIPS for Verification)
| | |
| --- | --- |
| DISADVANTAGED/MINORITY/WOMAN BUSINESS ENTERPRISE | NO |
| HISTORICALLY UNDERUTILIZED BUSINESS (HUB) | NO |
| | |
| --- | --- |
| | AL , AK , AZ , AR , CA , CO , CT , DE , DC , FL , GA , HI , ID , IL , IN , IA , KS , KY , LA , ME , MD , MA , MI , MN , MS , MO , MT , NE , NV , NH , NJ , NM , NY , NC , ND , OH , OK , OR , PA , RI , SC , SD , TN , TX , UT , VT , VA , WA , WI , WY |

We are committed to provide a financing experience based on unwavering integrity, unmatched service and complete transparency. Our processes have been established with the client in mind, and we are dedicated to ensuring that you enjoy your experience working with our team. Our goal is for you to build a long-term relationship with Live Oak Equipment Finance, not only as your financial partner, but also a firm that can help you grow and excel as a professional in your industry.
Contact Information:
Phone: (512) 726-0367
Email: tips@loequipmentfinance.com
Website: www.loequipmentfinance.com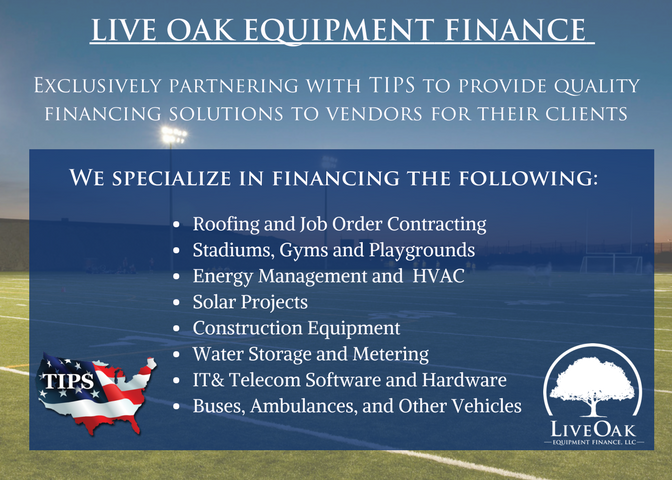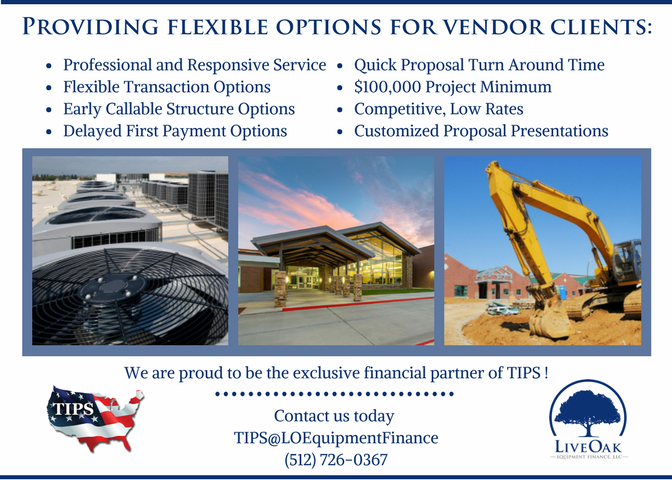 Get VCard for Primary Contact by Contract
Hyland Software Inc
Resellers listed below may also hold a current TIPS contract. PO's for quotes provided by a reseller that are also awarded in the same category will be processed and sent directly to that reseller.

Please check under "ALL VENDORS" before requesting a quote from any listed reseller.
Resellers
Address
Databank IMX www.databankimx.com
Contact: Ron Thompson Jr.
Contact Phone:(602) 909-7758
Contact Email: rthompson@databankimx.com
12000 Baltimore Ave., Beltsville MD 20705
Phone:(602) 277-2844
Fax:(602) 277-2844
eDocument Resources LLC dba Databank www.edocumentresources. com
Contact: Ron Thompson Jr.
Contact Phone:(602) 909-7758
Contact Email: rthompson@databankimx.com
6101 Baker Rd., Ste 207, Minnetonka, MN 55345
Phone:(952) 607-3777
Fax:(952) 607-3777
Imagesoft Inc www.imagesoftinc.com
Contact: Christopher Angi
Contact Phone:(248) 630-6320
Contact Email: cangi@imagesoftinc.com
25900 W 11 Mile Rd, Ste 100, Southfield, MI
Phone:(248) 948-8146
Fax:(248) 948-8146
Information Access Systems dba Databank www.iasinc.net
Contact: Ron Thompson Jr.
Contact Phone:(602) 909-7758
Contact Email: rthompson@databankimx.com
900 S. Goldenrod, Ste C, Orlando, FL 32822
Phone:(602) 277-2844
Fax:(602) 277-2844
Keymark Inc www.keymarkinc.com
Contact: Victoria Pruitt
Contact Phone:(864) 343-0341
Contact Email: victoriap@keymarkinc.com
105 Tech Lane, Liberty, SC 29657
Phone:(864) 343-0503
Fax:(864) 343-0503
NEKO Industries www.nekoind.com
Contact: Ronald Hofhenke
Contact Phone:(916) 774-7125
Contact Email: rjh@nekoind.onmicrosoft.com
Olympus Corp Center, Roseville CA 95661
Phone:(916) 983-9778
Fax:(916) 983-9778
Northwoods Consulting Partners Contact:
Contact Phone:
Contact Email:

Phone:
Fax:
Northwoods Consulting Partners Inc www.teamnorthwoods.com
Contact: Zach Zettler
Contact Phone:(614) 707-5129
Contact Email: zzettler@teamnorthwoods.com
5815 Wall St., Dublin, OH 43017
Phone:(614) 781-7801
Fax:(614) 781-7801
OSAM Document Solutions dba Databank www.osaminc.com
Contact: Ron Thompson Jr.
Contact Phone:(602) 909-7758
Contact Email: rthompson@databankimx.com
3520 N. 16th St., Phoenix, AZ 85016
Phone:(602) 277-2844
Fax:(602) 277-2844
Prime AE Group Inc www.3sg.com
Contact: Nanda Nair
Contact Phone:(614) 309-3600
Contact Email: nada@primetgrp.com
55 Capital Blvd., Rocky Hill, CT 06067
Phone:(866) 910-4732
Fax:(866) 910-4732
Requordit Inc. www.requordit.com
Contact: Mark Buckley
Contact Phone:(312) 332-9200
Contact Email: mark.buckley@requordit.com
210 Lake Ave., Ste 9, Lake Villa, IL 70046
Phone:(312) 267-5333
Fax:(312) 267-5333
Results Engineering dba Konica Minolta kmbs.konicaminolta.us
Contact: Greg Boyd
Contact Phone:(614) 899-2950
Contact Email: gboyd@kmbs.konicaminolta.us
130 Weatherby Lane, Westerville, OH 43081
Phone:(201) 825-4000
Fax:(201) 825-4000
Xerox Corporation www.xerox.com
Contact: Michael Kortan
Contact Phone:(216) 642-2675
Contact Email: michael.kortan@xerox.com
45 Glover Ave, Norwalk, CT 06856
Phone:(866) 405-6475
Fax:(866) 405-6475