EMAIL PURCHASE ORDER TO: TIPSPO@TIPS-USA.COM
ATTACH PO AS A PDF - ONLY ONE PO PER EMAIL
PO MUST REFERENCE TIPS CONTRACT NUMBER
VENDOR

Berco Furniture Solutions

WEBSITE

www.bercoinc.com

SERVICE/PRODUCTS DESCRIPTION

The key differentiator of our company from our competitors would be the fact that we actually produce our product in the U.S. versus importing it. Because we build our own tables we do quite a bit of customization to meet very specific client needs. We are experts at solving your clients table needs because this is all we do every day.• Berco tables are engineered and manufactured in the US, and have been for over 40 years. Our manufacturing facility is centrally located in St. Louis, MO• Unlike many furniture companies, Berco has the ability and willingness to provide customized solutions for virtually any customer need. Special shapes, sizes, heights, electrical or other features are just part of what we do every day. • Berco combines the experience and expertise of a large company with the responsiveness and flexibility of a small manufacturer. • Berco has custom millwork capabilities that could serve as a major asset on a large project. Berco's experienced designers and production team can create anything from lecture hall millwork to conference rooms, cafe cash wraps, and university book store fixtures.
CONTRACT: 1102215 Furniture (Expires Oct 2018)
Oct-22-2015 to Oct-25-2018 EDGAR COMPLIANCE : N
Berco Furniture Solutions
CONTRACT: 1102215 Furniture (Expires Oct 2018)
Oct-22-2015 to Oct-25-2018
EDGAR COMPLIANCE : N
TIPS CONTACT

PAYMENT TO

NAME

Meredith Barton

ADDRESS:

111 Winnebago Street

POSITION

TIPS CONTACT

PHONE

(866)-839-8477

CITY:

Saint Louis

FAX

(866)-839-8472

STATE:

MO

MOBILE

ZIP:

63118

EMAIL

tips@tips-usa.com
| | |
| --- | --- |
| DISADVANTAGED/MINORITY/WOMAN BUSINESS ENTERPRISE | NO |
| HISTORICALLY UNDERUTILIZED BUSINESS (HUB) | NO |
| | |
| --- | --- |
| | AL , AK , AZ , AR , CA , CO , CT , DE , DC , FL , GA , HI , ID , IL , IN , IA , KS , KY , LA , ME , MD , MA , MI , MN , MS , MO , MT , NE , NV , NH , NJ , NM , NY , NC , ND , OH , OK , OR , PA , RI , SC , SD , TN , TX , UT , VT , VA , WA , WI , WY |

We are committed to provide a financing experience based on unwavering integrity, unmatched service and complete transparency. Our processes have been established with the client in mind, and we are dedicated to ensuring that you enjoy your experience working with our team. Our goal is for you to build a long-term relationship with Live Oak Equipment Finance, not only as your financial partner, but also a firm that can help you grow and excel as a professional in your industry.
Contact Information:
Phone: (512) 726-0367
Email: tips@loequipmentfinance.com
Website: www.loequipmentfinance.com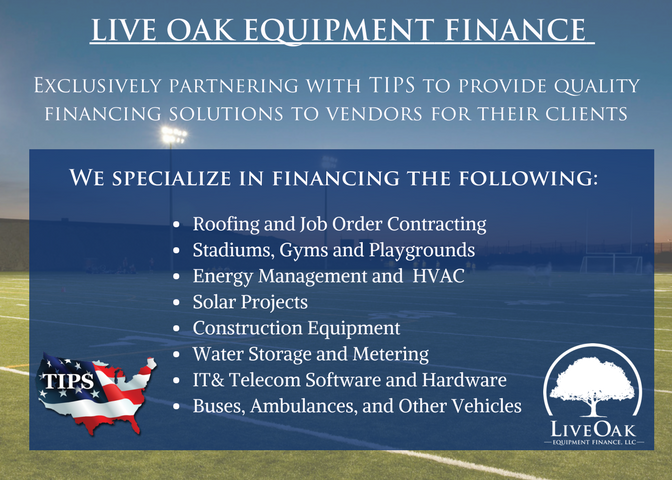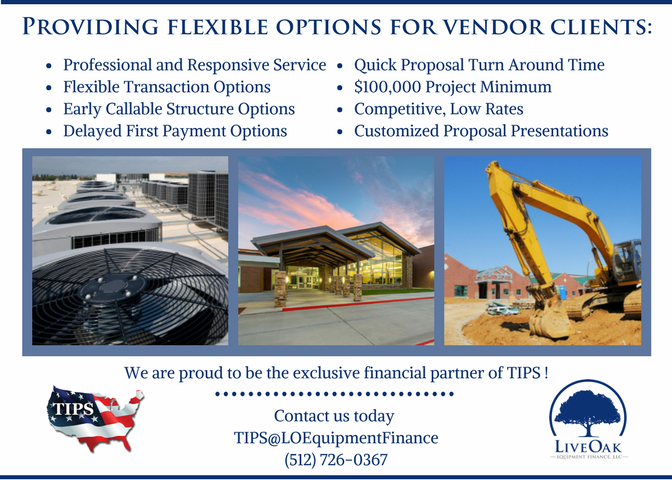 Resellers listed below may also hold a current TIPS contract. PO's for quotes provided by a reseller that are also awarded in the same category will be processed and sent directly to that reseller.

Please check under "ALL VENDORS" before requesting a quote from any listed reseller.
Resellers
Address
Alfred Williams www.alfredwilliams.com
Contact: Deborah Edwards
Contact Phone:(919) 832-9570
Contact Email: dedwards@alfredwilliams.com
410 S. Salisbury St ,Raleigh, NC, 27601
Phone:(919) 832-7626
Fax:(919) 832-7626
American Office www.americanoffice.com
Contact: Sylvia Butts
Contact Phone:(410) 539-7529
Contact Email: sbutts@americanoffice.com
309 N. Calvert Street ,Baltimore , MD, 21202
Phone:(410) 837-4952
Fax:(410) 837-4952
Beaux Arts Group www.beauxartsgroup.cp,
Contact: Anne Adams Everett
Contact Phone:813-880-8686
Contact Email: aadams@bagcontract.com
8507A Benjamin Road ,Tampa, FL, 33634
Phone:813-889-8757
Fax:813-889-8757
Blackburn Office Equipment www.blkbrn.com
Contact: Grunhurdm
Contact Phone:(360) 733-7660
Contact Email: grunhurdm@blkbrn.com
203 West Chestnut Street ,Bellingham, WA, 98225
Phone:(360) 676-0935
Fax:(360) 676-0935
Brown and Saenger www.brown-saenger.com
Contact: Dave Deboer
Contact Phone:(605) 336-1960
Contact Email: ddeboer@brown-saenger.com
P.O. Box 84040 ,Sioux Falls, SD, 57118
Phone:(605) 332-0963
Fax:(605) 332-0963
Business Interiors (Birmingham) www.businessinteriors.com
Contact: Alan Pizzitola
Contact Phone:(205) 939-1008
Contact Email: apizzitola@businteriors.com
2309 5th Ave South ,Birmingham, AL, 35253
Phone:(205) 939-3349
Fax:(205) 939-3349
Business Interiors by Staples www.staples.com
Contact: Sandy McCaulsand
Contact Phone:803-333-8838
Contact Email: Sandy.mccausland@staples.com
P.O. Box 102422 ,Columbia, SC, 29224
Phone:803-333-8839
Fax:803-333-8839
CI Select www.ciselect.com
Contact: Stacey Wellen
Contact Phone:314-909-1990
Contact Email: swellen@ciselect.com
11840 Westline Industrial Driv ,St. Louis, MO, 63146
Phone:(314) 909-1911
Fax:(314) 909-1911
Citron www.citron.com
Contact: Paul Glick
Contact Phone:(303) 665-7676
Contact Email: paulglick@citronworkspaces.com
197 S. 104th Street ,Louisville, CO, 80027
Phone:(303) 665-7697
Fax:(303) 665-7697
Contract Furniture Alliance www.cfainc.com
Contact: Jane Counts
Contact Phone:(866) 743-9804
Contact Email: jcounts@cfainc.com
1114 Stones River Court ,Lavergne, TN, 37086
Phone:(888) 884-9804
Fax:(888) 884-9804
Corporate Envrionments www.ceofga.com
Contact: Pam Adamson
Contact Phone:(404) 679-8999
Contact Email: padamson@ceofga.com
1636 Northeast Expressway ,Atlanta, GA, 30329
Phone:(404) 679-8950
Fax:(404) 679-8950
Corporate Facilities www.cfinj-inc.com
Contact: Richard Giles
Contact Phone:(215) 279-9999
Contact Email: rgiles@cfinj-knoll.com
2129 Chestnut Street ,Philadelphia, PA, 19103
Phone:(215) 279-9445
Fax:(215) 279-9445
Crawford & Company www.crawford-co.com
Contact: Evelynn Drummond
Contact Phone:(858) 513-6584
Contact Email: drummond@crawford-co.com
13370 Kirkham Way ,Poway, CA, 92064
Phone:(858) 513-6530
Fax:(858) 513-6530
Creative Office Pavilion www.cop-inc.com
Contact: George Murray
Contact Phone:(207) 775-7100
Contact Email: gmurray@cop-inc.com
141 Middle Street ,Portland, ME, 4101
Phone:(207) 775-1003
Fax:(207) 775-1003
Dekalb Office Environments www.dekalboffice.com
Contact: Rachael McCoy
Contact Phone:(770) 360-0284
Contact Email: rmccoy@dekalboffice.com
1320 Ridgeland Parkway ,Alpharetta, GA, 30004
Phone:(770) 360-0305
Fax:(770) 360-0305
Demo Group www.demogroup.com
Contact: Stephanie Serre
Contact Phone:(651) 366-6900
Contact Email: sserre@thedemogroup.com
2015 Silver Bell Road ,Eagan, MN, 55122
Phone:(651) 366-6901
Fax:(651) 366-6901
Empire Office www.empireoffice.com
Contact: Nicole Sison
Contact Phone:(646) 437-4165
Contact Email: nsison@empireoffice.com
105 Madison Ave ,New York, NY, 10016
Phone:(212) 607-5650
Fax:(212) 607-5650
Enterpricse Furniture Consultants www.enterprisefc.net
Contact: Kelley Zink
Contact Phone:(410) 342-0630
Contact Email: Kzink@enterprisefc.net
608 Folcroft Street ,Baltimore , MD, 21224
Phone:(410) 342-0631
Fax:(410) 342-0631
Evensonbest LLC www.evensonbest.com
Contact: Christina Karantonis
Contact Phone:215-549-8048
Contact Email: ckarantonis@evensonbest.com
641 Avenue of the Americas ,New York, NY, 10011
Phone:215-549-8212
Fax:215-549-8212
Florida Business Interiors www.4fbi.com
Contact: Bob Eckes
Contact Phone:407-805-9911
Contact Email: beckes@ffbi.com
767 Stirling Center Place ,Lake Mary, FL, 32746
Phone:407-805-9977
Fax:407-805-9977
General Office Products www.gopco.com
Contact: Purchasing
Contact Phone:(952) 925-7500
Contact Email: purchasing@gopco.com
4521 Highway 7 ,Minneapolis, MN, 55416
Phone:(952) 925-7531
Fax:(952) 925-7531
GL Seaman Contact: Sara B. Desjardins
Contact Phone:
Contact Email: sdesjardins@glsc.com
4201 International Parkway Carrollton, TX 75007
Phone:(469) 546-2208
Fax:
Hannaher's Inc. www.hannahers.com
Contact: Kevin Karl Moser
Contact Phone:(701) 277-7222
Contact Email: jkmoser@hannahers.com
4324 20th Ave SW ,Fargo, ND, 58103
Phone:(701) 277-7097
Fax:(701) 277-7097
Happy's of Madisonville www.happys.com
Contact: Ronnie Vaughn
Contact Phone:270-821-6300
Contact Email: ronnie@happys.com
62 S. Main Street ,Madisonville, KY, 42431
Phone:270-821-7801
Fax:270-821-7801
Hendricksen & Co. www.henrickson.com
Contact: C. Knoeppek
Contact Phone:(630) 250-9090
Contact Email: Cknoeppek@henrickson.com
1101 West Thorndale Ave ,Itasca, IL, 60143
Phone:(630) 250-9112
Fax:(630) 250-9112
Hudson Office Solutions www.hosol.com
Contact: Jack Robert Myers
Contact Phone:(812) 254-0495
Contact Email: jmyers@hosol.com
P.O. Box 482 ,Washington, IN, 47501
Phone:(812) 254-0590
Fax:(812) 254-0590
Impact Office Interiors www.impactofficeinteriors.com
Contact: Allen Goolsby
Contact Phone:770-228-0706
Contact Email: agoolsby@impactoffice.com
222 Meriwether Street ,Griffin, GA, 30224
Phone:770-233-9429
Fax:770-233-9429
Insalco Corporation www.insalco.com
Contact: Evan Golden
Contact Phone:(203) 272-4249
Contact Email: evan-insalco@snet.net
7 Capital Drive ,Wallingford, CT, 6492
Phone:(203) 272-2048
Fax:(203) 272-2048
Institutional Interiors www.institutionalinteriors.com
Contact: John Milliken
Contact Phone:919-981-5811
Contact Email: drumilliken@gmail.com
2851 Van Huron Dr ,Raleigh, NC, 27615
Phone:919-981-8979
Fax:919-981-8979
Interior Investments www.interiorinvestment.com
Contact: Peggy Fry
Contact Phone:(314) 644-5060
Contact Email: pfry@interiorinvestments.com
9 Sunnen Drive ,St. Louis, MO, 63143
Phone:(314) 644-5007
Fax:(314) 644-5007
JMJ workplace Interiors www.jmjcorporation.com
Contact: Andrew Jason Lang
Contact Phone:(804) 270-7400
Contact Email: andrew@jmjcorporation.com
7910 West Broad Street ,Richmond, VA, 23294
Phone:(804) 270-7333
Fax:(804) 270-7333
King Business Interiors www.kbiinc.com
Contact: Purchasing
Contact Phone:(614) 430-0020
Contact Email: purchasing@kbiinc.com
6155 Huntley Road ,Columbus, OH, 43229
Phone:(614) 430-0022
Fax:(614) 430-0022
Lorick Office Products www.lorick.com
Contact: James Durant Southern JR
Contact Phone:(803) 252-5380
Contact Email: jdsouthern@lorick.com
910 Washington Street ,Columbia , SC, 29201
Phone:(803) 799-2342
Fax:(803) 799-2342
M.L. Bath www.mlbath.com
Contact: Purchasing
Contact Phone:(318) 221-7141
Contact Email: purchasing@mlbath.com
610 Market Street ,Shreveport, LA, 71120
Phone:(318) 425-7117
Fax:(318) 425-7117
MBI- Memphis Business Intenriors www.mlbath.com
Contact: Jacey Sunshine Buffington
Contact Phone:(901) 360-8899
Contact Email: sbuffington@gombi.com
4539 West Distriplex Drive ,Memphis, TN, 38118
Phone:(901) 360-8370
Fax:(901) 360-8370
McCoy-Rockford Inc www.mccoyinc.com
Contact: Holly Graig
Contact Phone:(512) 442-0703
Contact Email: hgraig@mccoyinc.com
6869 Old Katy Road ,Houston, TX, 77204
Phone:(512) 442-6555
Fax:(512) 442-6555
Merkel Donohue www.merkeldonohue.com
Contact: Rosemary Haller
Contact Phone:585-325-7696
Contact Email: rhaller@merkel.com
One Woodbury Blvd ,Rochester, NY, 14604
Phone:585-325-3065
Fax:585-325-3065
Miles Treaster & Associates www.mtaoffice.com
Contact: Kathleen Sarti
Contact Phone:(916) 373-1800
Contact Email: ksarti@mtaoffice.com
3480 Industrial Blvd ,West Sacramento, CA, 95691
Phone:(916) 373-1899
Fax:(916) 373-1899
NBS commercial Interiors www.yournbs.com
Contact: Kimberly Ann Coleman
Contact Phone:(248) 823-5400
Contact Email: Coleman@your nbs.com
2595 Bellingham ,Troy, MI, 48083
Phone:(248) 823-5401
Fax:(248) 823-5401
Neslon Interiors www.nelsoninteriors.com
Contact: Robbie Nelson
Contact Phone:210-684-2624
Contact Email: robbie@nelsoninteriors.com
1914 Granstand Drive ,San Antonio, TX, 78238
Phone:210-684-3214
Fax:210-684-3214
Office & Ergonomic Solutions, Inc www.oesofficefurniture.com
Contact: Kristy Evans
Contact Phone:(909) 646-9870
Contact Email: kristy@oesofficefurniture.com
8480 Utica Ave ,Rancho Cucamonga, CA, 91730
Phone:(909) 646-9876
Fax:(909) 646-9876
Office Furniture Center www.prentice.us
Contact: Elizabeth Murrett
Contact Phone:716-884-8452
Contact Email: bmurrett@prentice-buffalo.com
472 Franklin Street ,Buffalo, NY, 14202
Phone:716-884-0894
Fax:716-884-0894
Price Modern www.pricemodern.com
Contact: Purchasing
Contact Phone:(410) 366-5500
Contact Email: purchasing@pricemodern.com
2604 Sisson Street ,Baltimore , MD, 21211
Phone:(410) 235-8382
Fax:(410) 235-8382
Red Thread www.red-thread.com
Contact: Rachael Walton
Contact Phone:(617) 443-6681
Contact Email: Rwalton@red-thread.com
22 Boston Wharf Road ,Boston, MA, 2210
Phone:(617) 261-1399
Fax:(617) 261-1399
RJE Business Interiors www.rjefurn.com
Contact: Shelley Langona
Contact Phone:(317) 293-4051
Contact Email: Slangona@rjefurn.com
621 East Ohio Street ,Indianapolis, IN, 46202
Phone:(317) 297-8513
Fax:(317) 297-8513
Sierra School Supply www.ssecinc.com
Contact: Gregory McDermott
Contact Phone:(661) 399-2993
Contact Email: gregmcdermott@ssecinc.com
P.O. Box 80667 ,Bakkersfield, CA, 93380
Phone:(661) 399-0218
Fax:(661) 399-0218
Storr Office Environments www.storr.com
Contact: Corrisa Bevers
Contact Phone:(919) 313-3700
Contact Email: bbevers@storr.com
10800 World Trade Blvd ,Raleigh, NC, 27617
Phone:(919) 313-3701
Fax:(919) 313-3701
United Office Products www.uophome.com
Contact: Purchasing
Contact Phone:(913) 782-4441
Contact Email: uophome@comcast.net
601 West Dennis ,Olathe, KS, 66061
Phone:(913) 780-4514
Fax:(913) 780-4514
WB Mason www.wbmason.com
Contact: Scott Heiler
Contact Phone:(800) 242-5892
Contact Email: scott.heiler@wbmason.com
59 Centre Street ,Brockton, MA, 2303
Phone:(866) 399-1018
Fax:(866) 399-1018
Weatherall's www.weatherallsinc.copm
Contact: Debbie McGeehee
Contact Phone:(662) 842-5282
Contact Email: dmcgeehee@weatherallsinc.com
P.O. Drawer 87 ,Tupelo, MS, 38804
Phone:(662) 844-2491
Fax:(662) 844-2491
Wittigs Office Interiors www.wittigs.com
Contact: Kay Wilchek
Contact Phone:(210) 270-0100
Contact Email: cay.wilcheck@wittigs.com
2013 Broadway ,San Antonio, TX, 78215
Phone:(210) 270-0118
Fax:(210) 270-0118