EMAIL PO & VENDOR QUOTE TO: TIPSPO@TIPS-USA.COM
PO MUST REFERENCE VENDOR'S TIPS CONTRACT NUMBER
ATTACH PO AS A PDF - ONLY ONE PO (WITH QUOTE) PER ATTACHMENT

Print
VENDOR

WB Manufacturing LLC

507 E Grant St Thorp WI,54771

WEBSITE

www.wibenchmfg.com

SERVICE/PRODUCTS DESCRIPTION

WB Manufacturing continues to grow and provide quality solutions across various markets to better represent the strength of our solutions for the educational, office industrial, and health markets. Our customers are finding solutions that typically worked in the educational classroom are well-suited for a corporate training center or storage requirements in a fitness center can be easily integrated into a healthcare facility.WB Manufacturing is one of the largest manufacturers of butcher block, laminate and ShopTop® composition bench tops and flat panels in North America. You can find our products in schools, hospitals and medical offices, health clubs, commercial offices, manufacturing facilities and within food service/hospitality venues. Our offering of collaborative desk and table shapes is a second to none. WB has your solution for STEM and STEAM classrooms, Media Centers and Libraries, Science Labs, and Music Rooms. WB can work with you to optimize your storage and furniture needs. We specialize in customized solutions using the most current design software and state-of-the art CNC routers, edge-banding equipment and our exclusive Lotz Armor Edge™ process. WB Manufacturing is privately held and incorporates the latest manufacturing and technology equipment; therefore, we have the experience and flexibility to do high volume projects while our engineering software and project planning tools allows us to be competitive on even the smallest jobs.The breadth of our product line is unmatched in the industry making it easy for you to leverage one supplier. Ask for our National School Lines®, CaseworkUSA®, Healthwork, World Famous Lockers™, Rhapsody® Music Collection, Elo®Signature Line, iXchange Leanring Wall System, BenchTops, Lotz Armor Edge™ or our popular repositionable REplay® cabinets by name to solve your furniture requirements.We Can… design, build and deliver to meet our customers' needs.
WB Manufacturing LLC
CONTRACT: 180305 Furniture, Furnishings and Services (2)
May-25-2018 to May-31-2020
EDGAR COMPLIANCE : No
WB Manufacturing LLC

Print
Furniture, Furnishings and Services (2) (180305)
Exp.Date 05/31/2020 EDGAR: No
| | |
| --- | --- |
| | Primary |
| Contact | Jessica Olson |
| Title | Director of Inside Sales Marketing & Project Management |
| Phone | (800) 242-2303 |
| Email | jessica@wibench.com |
| | |
| --- | --- |
| | Secondary |
| Contact | Lore Nowobielski |
| Title | Sales & Marketing Admin |
| Phone | (800) 242-2303 |
| Email | lore@wibench.com |
| | |
| --- | --- |
| DISADVANTAGED/MINORITY/WOMAN BUSINESS ENTERPRISE | No |
| HISTORICALLY UNDERUTILIZED BUSINESS (HUB) | No |
| | |
| --- | --- |
| | AL , AK , AZ , AR , CA , CO , CT , DE , DC , FL , GA , HI , ID , IL , IN , IA , KS , KY , LA , ME , MD , MA , MI , MN , MS , MO , MT , NE , NV , NH , NJ , NM , NY , NC , ND , OH , OK , OR , PA , RI , SC , SD , TN , TX , UT , VT , VA , WA , WI , WY |
Live Oak Equipment Finance is the exclusive financial parter of TIPS! Allow LOEF to help assist you in your financial needs today!

We are committed to provide a financing experience based on unwavering integrity, unmatched service and complete transparency. Our processes have been established with the client in mind, and we are dedicated to ensuring that you enjoy your experience working with our team. Our goal is for you to build a long-term relationship with Live Oak Equipment Finance, not only as your financial partner, but also a firm that can help you grow and excel as a professional in your industry.
Contact Information:
Phone: (512) 726-0367
Email: tips@loeqf.com
Website: www.loeqf.com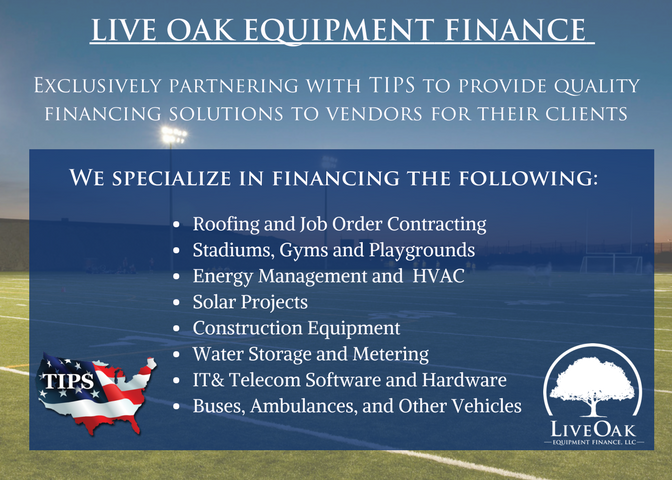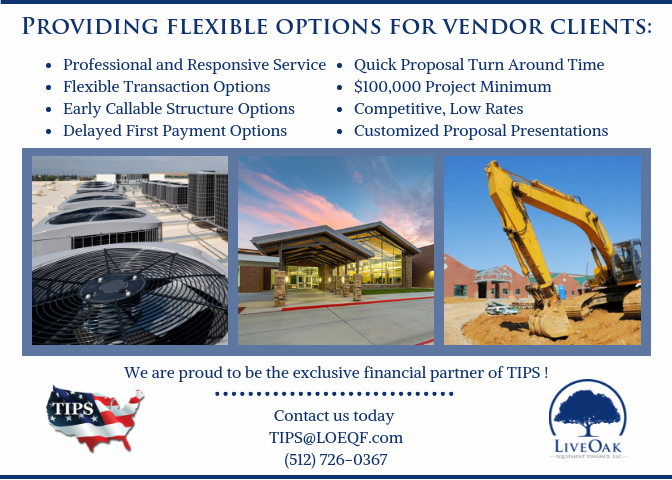 Get VCard for Primary Contact by Contract
WB Manufacturing LLC
Resellers listed below may also hold a current TIPS contract. PO's for quotes provided by a reseller that are also awarded in the same category will be processed and sent directly to that reseller.

Please check under "ALL VENDORS" before requesting a quote from any listed reseller.
Resellers
Address
Allied Equipment NJ http://alliedequipmentnj.com
Contact: Leslie Blohm
Contact Phone:(908) 202-9979
Contact Email: lesli@alliedequipmentnj.com
9E Princess Road Lawrenceville, NJ 08648
Phone:(609) 512-7236
Fax:
Continental Office www.continentaloffice.com
Contact: Quinn Gibson
Contact Phone:(567) 204-2092
Contact Email: qgibson@continentaloffice.com
5061 Freeway Dr Columbus, OH 43229
Phone:(614) 384-4533
Fax:
EBF LLC Exterus Business Furniture www.exterusfurniture.com
Contact: BrianOlas
Contact Phone:(207) 776-4458
Contact Email: brian.olas@exterusfurniture.com
449 US Route 1 York ME 03909
Phone:(207) 776-4458
Fax:
H and H Interiors Contact: Michael Hess
Contact Phone:(856) 816-8275
Contact Email: michael@hhinteriors.org
148 East Street Road, Suite 335
Phone:(856) 816-8275
Fax:
Interior Elements LLC www.in-elements.com
Contact: Emily Clark
Contact Phone:(228) 219-1830
Contact Email: ec@in-elements.com
830 Wilson Drive Ste. A Ridgeland, MS 39157
Phone:(601) 326-3936
Fax:
McHugh Furnishings, LLC www.mchif.com
Contact: Michael Potthoff
Contact Phone:(631) 533-5074
Contact Email: mpotthoff@mchif.com
125 Laser Court Hauppauge, NY 11788
Phone:(631) 881-5800
Fax:631-533-5075