EMAIL PO & VENDOR QUOTE TO: TIPSPO@TIPS-USA.COM
PO MUST REFERENCE VENDOR TIPS CONTRACT NUMBER
ATTACH PO AS A PDF - ONLY ONE PO (WITH QUOTE) PER ATTACHMENT.

Print
VENDOR

Columbia Mfg Inc

One Cycle Street Westfield MA,01085

WEBSITE

www.columbiamfginc.com

SERVICE/PRODUCTS DESCRIPTION

Columbia Manufacturing Inc is a privately held company in Westfield, MA. The company has been in business since 1877 and was the first manufacturer of bicycles in America. Columbia's unique state of the art, leading edge technology plating system is the envy of the industry. Columbia's products are durable, strong, stylish, attractive, mobile and engaging. They are proudly manufactured in the United States and are designed to serve the needs of America's 21st Century student population. Columbia Manufacturing has produced over 20 million pieces of furniture since 1952 and shipped nationally and internationally. Columbia is a one stop shop for all your classroom needs. We produce chairs, desks, combo units, tables, task chairs, sit/stand desks and chairs as well as computer tables, ADA compatible product, teacher desks, filing cabinets, folding chairs and much more.
Columbia Mfg Inc
CONTRACT: 190401 Furniture, Furnishings and Services (3)
Jun-13-2019 to May-31-2020
EDGAR COMPLIANCE : Yes
Columbia Mfg Inc

Print
Furniture, Furnishings and Services (3)(190401)
Exp.Date 05/31/2020 EDGAR: Yes
| | |
| --- | --- |
| DISADVANTAGED/MINORITY/WOMAN BUSINESS ENTERPRISE | No |
| HISTORICALLY UNDERUTILIZED BUSINESS (HUB) | No |
| | |
| --- | --- |
| | AL , AK , AZ , AR , CA , CO , CT , DE , DC , FL , GA , HI , ID , IL , IN , IA , KS , KY , LA , ME , MD , MA , MI , MN , MS , MO , MT , NE , NV , NH , NJ , NM , NY , NC , ND , OH , OK , OR , PA , RI , SC , SD , TN , TX , UT , VT , VA , WA , WI , WV , WY |
Live Oak Equipment Finance is the exclusive financial parter of TIPS! Allow LOEF to help assist you in your financial needs today!

We are committed to provide a financing experience based on unwavering integrity, unmatched service and complete transparency. Our processes have been established with the client in mind, and we are dedicated to ensuring that you enjoy your experience working with our team. Our goal is for you to build a long-term relationship with Live Oak Equipment Finance, not only as your financial partner, but also a firm that can help you grow and excel as a professional in your industry.
Contact Information:
Phone: (512) 726-0367
Email: tips@loeqf.com
Website: www.loeqf.com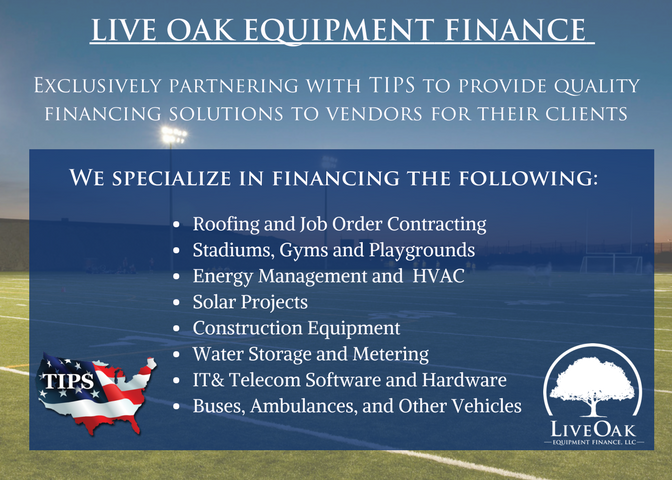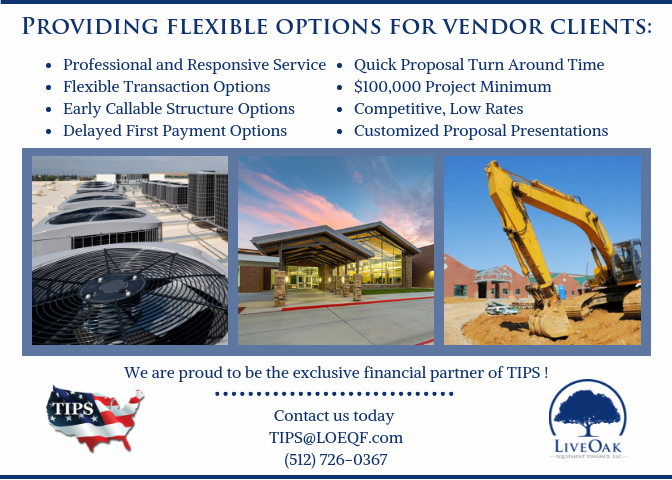 Get VCard for Primary Contact by Contract
Columbia Mfg Inc
Resellers listed below may also hold a current TIPS contract. PO's for quotes provided by a reseller that are also awarded in the same category will be processed and sent directly to that reseller.

Please check under "ALL VENDORS" before requesting a quote from any listed reseller.
Resellers
Address
A. Bargas and Associates www.abargasco.com
Contact: Chico Bargas
Contact Phone:(800) 344-2821
Contact Email: cbargas@abargasco.com
10622 Gulfdale, San Antonio TX 78216
Phone:(800) 344-2821
Fax:(210) 341-0033
A. K. Sales www.aksalesandconsulting.com
Contact: Art or Karen Moyle
Contact Phone:(575) 623-1488
Contact Email: aksalesnm@gmail.com
115 County Club Road, Roswell, NM 88201
Phone:(575) 623-1488
Fax:(575) 623-0488
A. T. Equipment Sales Group www.atequipmentsales.com
Contact: George Tischler
Contact Phone:(914) 472-7222
Contact Email: george@atequipmentsales.com
130 Brook Street, Suite B&C, Scarsdale, NY 10583
Phone:(914) 472-7222
Fax:(914) 472-7223
American Design Associates www.americandesignonline.com
Contact: Anne Miller
Contact Phone:(800) 966-9016
Contact Email: anne@americandesignonline.com
606 Baltimore Ave., Suit 407,Towson, MD 21204
Phone:(800) 966-9016
Fax:(410) 771-8010
Commonwealth School Equipment https://www.commonwealthschoolequipment.com/
Contact: Steve or David Hawkins
Contact Phone:(804) 739-4575
Contact Email: david@cseva.net
21403 Hall Street Road, Mosely, VA 23120
Phone:(804) 739-4575
Fax:(804) 739-1710
Facilities Equipment & Services www.fesny.com
Contact: Steve Blanding
Contact Phone:(315) 457-2828
Contact Email: sbland6740@aol.com
141 First Street, Liverpool, NY 13088
Phone:(315) 457-2828
Fax:(315) 457-0282
Folding Equipment Co.` www.foldingequipmentco.com
Contact: Tom Richards
Contact Phone:(419) 537-0222
Contact Email: fec5432@accesstoledo.com
5432 W. Central Ave., Toledo, OH 43615
Phone:(419) 537-0222
Fax:(419) 537-1813
H. E. Hodge www.hehodge.com
Contact: Byron Ebersole
Contact Phone:(770) 205-8312
Contact Email: ebe@bellsouth.net
5971 Parkway North, Suite 200B, Cumming, GA 30040
Phone:(770) 205-8312
Fax:(770) 205-8318
Holland Desk and Chair www.hollanddeskandchair.com
Contact: Tim Mears
Contact Phone:(616) 363-7776
Contact Email: tim@hollanddesk.com
1548 Groton Road SE, Grand Rapid, MI 49506
Phone:(616) 363-7776
Fax:(616) 481-3281
Indoff Inc. www.indoff.com
Contact: Chris Cobler
Contact Phone:(314) 746-3943
Contact Email: chris.cobler@indoff.com
11816 Lackland Road, St. Louis, MO 63146
Phone:(314) 746-3943
Fax:(314) 746-8712
Infependence Business Supply www.orderibs.com
Contact: Bill Botkin
Contact Phone:(216) 398-8880
Contact Email: bill.botkin@orderibs.com
4550 Hinckley Parkway, Cleveland, OH 44109
Phone:(216) 398-8880
Fax:(216) 398-6327
Innovative Office Solutions www.innovativeos.com
Contact: Brian Howell
Contact Phone:(952) 808-9900
Contact Email: bhowell@innovativeos.com
151 East Cliff Road, Burnsville, MN 55337
Phone:(952) 808-9900
Fax:(902) 894-7153
Insalco Corp www.insalco.com
Contact: Scott Kowalski
Contact Phone:(203) 272-4249
Contact Email: insalco@snet.net
7 Capital Drive, Wallingford, CT 06492
Phone:(203) 272-4249
Fax:(203) 272-2048
Kansas Cocntract Design www.kcsdales.com
Contact: Craig Lipsey
Contact Phone:(316) 721-9383
Contact Email: craig@kcdsales.com
723 N. Gow Street, Wichita, KS 67203
Phone:(316) 721-9462
Fax:(316) 721-9383
Lee Company www.leecompanyinc.com
Contact: Ken Senseman
Contact Phone:(812) 235-8155
Contact Email: leeco2@leecompanyinc.com
27 South 12th Street, Terre Haute, IN 47808
Phone:(812) 235-8155
Fax:(812) 235-3587
Marshfield Book and Stationery www.marshfieldbook.com
Contact: Doug Steines
Contact Phone:(715) 387-1286
Contact Email: doug@marshfieldbook.com
M111 W. McMillian Street, Marshfield, WI 54449
Phone:(715) 387-1286
Fax:(715) 387-1145
Midwest Educational Furnishings www.mwfurnishings.com
Contact: Dave or Maureen Welter
Contact Phone:(847) 847-1865
Contact Email: dwelter@mwfurnishings.com
21191 N. Valley Road, Kildeer, IL 60047
Phone:(847) 847-1865
Fax:(847) 847-7519
Nickerson Corporation www.nickersoncorp.com
Contact: Stephanie Keller
Contact Phone:(631) 666-0200
Contact Email: skeller@nickersoncorp.com
11 Moffitt Boulevard, Bay Shore, NY 11706
Phone:(631) 666-0200
Fax:(631) 666-0200
Northwest School Equipment www.northwest-school-eq.com
Contact: Deborah Uhlig
Contact Phone:(503) 650-8025
Contact Email: deborah@northwest-school.eq.com
750 82nd Drive, Gladstone, OR 97027
Phone:(503) 650-8025
Fax:(503) 650-0535
Nu-Idea School Supply Co., Inc. www.nu-idea.com
Contact: cary Coker
Contact Phone:(800) 922-0424
Contact Email: ccoker@nu-idea.com
230 East Liberty Street, Sumter, SC 29151
Phone:(800) 922-0424
Fax:(803) 773-0787
Office Equipment Company www.oecbi.com
Contact: Kim Kennedy
Contact Phone:(228) 539-9575
Contact Email: kkennedy@oecbi.com
104 East I-65 Service Road North, Mobile, AL 36607
Phone:(228) 539-9575
Fax:(228) 529-9566
P.E.M.CO www.pemcofurniture.com
Contact: Brian McGaughey
Contact Phone:(800) 889-1160
Contact Email: brian@pemcofurniture.com
535 Progress Boulevard, Bethel Park, PA 15102
Phone:(800) 889-1160
Fax:(412) 831-7662
Perfection Equipment Company www.perfectionequipment.com
Contact: Joe Trageser
Contact Phone:(919) 742-5077
Contact Email: perfection@schoolfurniture.com
135 Harold Andrews Road, Siler City, NC 27344
Phone:(919) 742-5077
Fax:(919) 742-4577
Signature Products www.signatureschoolproducts.com
Contact: Mike Monahan
Contact Phone:(407) 299-0896
Contact Email: mike@signatureschoolproducts.com
230 Springview Commerce Drive, Blddg. 300, Debary, FL 32713
Phone:(407) 299-0896
Fax:(407) 299-0985
Tanner North Jersey www.tannernj.com
Contact: Ken or Mary Ann Engle
Contact Phone:(732) 886-9660
Contact Email: tannerfurn@aol.com
1251 Lakewood-Farmigdale, Howell, NJ 07731
Phone:(732) 886-9660
Fax:(732) 886-3629
Tenn-Edd Products, Inc. www.tennedd.com
Contact: Bud Helton
Contact Phone:(865) 981-7765
Contact Email: tennedd@bellsouth.com
3769 Old Knoxville Highway, Rockford, TN 37853
Phone:(865) 981-7765
Fax:(865) 977-9681
Tom Sexton and Associates www.tomsextonfurniture.com
Contact: Mark Edwards
Contact Phone:(859) 485-7065
Contact Email: tsa@tomsextonfurniture.com
65 Cummings Drive, Walton, KY 41094
Phone:(859) 485-7065
Fax:(859) 485-7085
United Supply Corporation www.unitedsupplycorp.com
Contact: Israel Rubin
Contact Phone:(718) 439-9387
Contact Email: israel@unitedsupplycorp.com
250 4th Street, Brooklyn, NY 11232
Phone:(718) 439-9387
Fax:(718) 792-0304
VIP's www.vipschools.com
Contact: Scott or Becky Weiss
Contact Phone:(319) 377-4078
Contact Email: becky@vipschools.com
850 Twixt Town Road NE, Cedar Rapids, IA52402
Phone:(319) 377-4078
Fax:
W. B, Mason www.wbmason.com
Contact: Frank Viele
Contact Phone:(888) 926-2766
Contact Email: frank.viele@wbmason.com
59 Centre Street, Brockton, MA 023030
Phone:(888) 926-2766
Fax:(508) 588-5167