EMAIL PO & VENDOR QUOTE TO: TIPSPO@TIPS-USA.COM
PO MUST REFERENCE VENDOR'S TIPS CONTRACT NUMBER
ATTACH PO AS A PDF - ONLY ONE PO (WITH QUOTE) PER ATTACHMENT

Print
VENDOR

Sheldon Labs Sheldon Laboratory Systems LLC

102 Kirk Street Crystal Springs MS,39059

WEBSITE

www.sheldonlabs.com

SERVICE/PRODUCTS DESCRIPTION

Since 1898, we've built our reputation by designing and manufacturing the most innovative and durable lab furnishings available for elementary, middle school, high school and college laboratories. Whether you are starting new or renovating an existing space, our extensive lab planning services will help maximize available space and provide safe, effective and attractive learning environments. We work closely with teachers, school administrators, architects and contractors to provide the best lab furnishings possible for any budget.
Sheldon Labs Sheldon Laboratory Systems LLC
CONTRACT: 180305 Furniture, Furnishings and Services (2)
May-25-2018 to May-31-2020
EDGAR COMPLIANCE : Yes
Sheldon Labs Sheldon Laboratory Systems LLC

Print
Furniture, Furnishings and Services (2) (180305)
Exp.Date 05/31/2020 EDGAR: Yes
| | |
| --- | --- |
| DISADVANTAGED/MINORITY/WOMAN BUSINESS ENTERPRISE | No |
| HISTORICALLY UNDERUTILIZED BUSINESS (HUB) | No |
| | |
| --- | --- |
| | AL , AK , AZ , AR , CA , CO , CT , DE , DC , FL , GA , HI , ID , IL , IN , IA , KS , KY , LA , ME , MD , MA , MI , MN , MS , MO , MT , NE , NV , NH , NJ , NM , NY , NC , ND , OH , OK , OR , PA , RI , SC , SD , TN , TX , UT , VT , VA , WA , WI , WY |
Live Oak Equipment Finance is the exclusive financial parter of TIPS! Allow LOEF to help assist you in your financial needs today!

We are committed to provide a financing experience based on unwavering integrity, unmatched service and complete transparency. Our processes have been established with the client in mind, and we are dedicated to ensuring that you enjoy your experience working with our team. Our goal is for you to build a long-term relationship with Live Oak Equipment Finance, not only as your financial partner, but also a firm that can help you grow and excel as a professional in your industry.
Contact Information:
Phone: (512) 726-0367
Email: tips@loeqf.com
Website: www.loeqf.com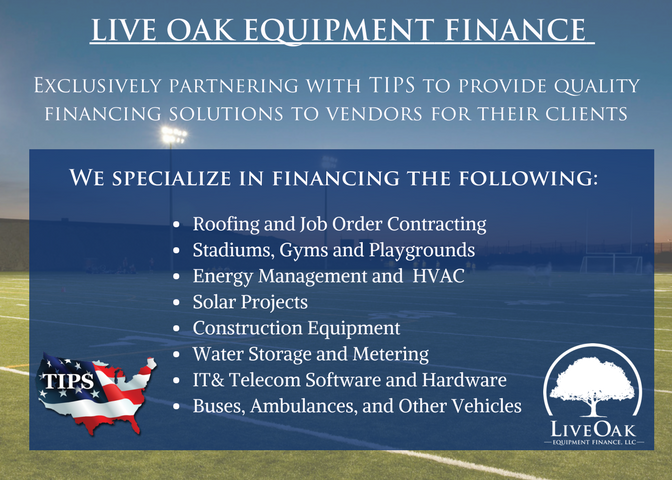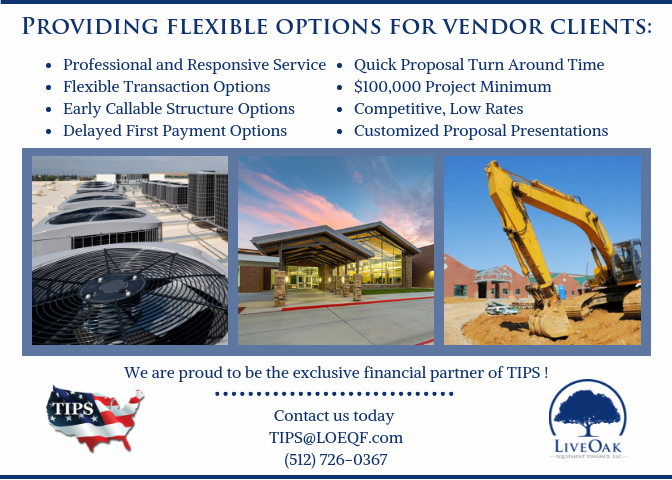 Get VCard for Primary Contact by Contract
Sheldon Labs Sheldon Laboratory Systems LLC
Resellers listed below may also hold a current TIPS contract. PO's for quotes provided by a reseller that are also awarded in the same category will be processed and sent directly to that reseller.

Please check under "ALL VENDORS" before requesting a quote from any listed reseller.
Resellers
Address
Dew-El Corp www.dew-el.com
Contact: Bret Wall
Contact Phone:(616) 396-6554 Ext. 60
Contact Email: bvanderwall@dew-el.com
10841 Paw Paw Dr Holland MI 49424
Phone:(800) 443-3935 Ext. 60
Fax:
Lone Star Furnishings www.lonestarfurnishings.com
Contact: Brad Jones
Contact Phone:(972) 862-9900 Ext. 1020
Contact Email: inf@Isfurnishings.com
4301 Reader Dr Suite 100 Carrollton TX 75010
Phone:(972) 862-9900 Ext. 1020
Fax:
Longo Inc www.longolabs.com
Contact: Nat Longo
Contact Phone:
Contact Email: info@lsfurnishings.com
100 Hilltop Road Ramsey NJ 07466
Phone:(800) 636-6646
Fax:
Louisiana School Equipment www.louisianaschoolequipment.com
Contact: Jerry Bouvier
Contact Phone:
Contact Email: JerryBouvier@aol.com
330 Lee Drive Suite B Baton Rouge LA 70808
Phone:(225) 343-0593
Fax:
McHugh Institutional Furnishings www.mchif.com
Contact: Jeffrey Mulhall
Contact Phone:(631) 881-5800 Ext. 123
Contact Email: jmulhall@mchif.com
125Laser Court Hauppague, NY 11788
Phone:(631) 881-5800 Ext. 123
Fax:
Mercatus www.mercatusinternational.com
Contact: Bill Rathsburg, Jr
Contact Phone:(602) 957-1635
Contact Email: bill.j@mercatusinternational.com
5080 N 40th Street Suite 248 Phoenix AZ 85018
Phone:(602) 957-1397
Fax:
Mid-States School Equipment Co www.msseci.com
Contact: Charlie Burt
Contact Phone:(811) 628-2783
Contact Email: cburt@msseci.com
810 C W Main St Lee's Summit MO 64086
Phone:(816) 282-7838
Fax:
RPA www.rpainc.info
Contact: Ross Pritchard
Contact Phone:(205) 324-5641
Contact Email: RPritchard@rpainc.biz
3703 5th Avenue South
Phone:(205) 324-5641
Fax:
Saxton Bradley Inc www.saxtonbradley.com
Contact: Raymond Near
Contact Phone:(800) 643-3512
Contact Email: ray.near@saxtonbradley.com
6718 South 216th St Kent WA 98032
Phone:(800) 643-3512
Fax:
Varia, LLC www.govaria.com
Contact: Ron Vaughan
Contact Phone:(901) 853-6966
Contact Email: ron@goVaria.com
PO Box 962 Collierville, TN 38027
Phone:(901) 853-6966
Fax:
Worthington Contract Furniture, LP www.worthingtoncf.com
Contact: Kirk Worthington
Contact Phone:(512) 331-1628
Contact Email: kirk@worthingtoncf.com
3006 Longhorn Blvd Ste 104 Austin TX 78758
Phone:(512) 331-1628
Fax: