EMAIL PO & VENDOR QUOTE TO: TIPSPO@TIPS-USA.COM
PO MUST REFERENCE VENDOR'S TIPS CONTRACT NUMBER
ATTACH PO AS A PDF - ONLY ONE PO (WITH QUOTE) PER ATTACHMENT

Print
VENDOR

InterfaceFLOR Interface Americas Inc

PO Box 743162 Atlanta GA,30374

WEBSITE

www.interface.com

SERVICE/PRODUCTS DESCRIPTION

Interface modular carpet tile is offered in an extensive selection of colors, patterns, and textures suitable for virtually every environment. Beyond exceptional aesthetics and performance, customers look to us for more sustainable products and processes. On the journey to sustainability, we're striving for similar goals despite inhabiting different spaces. Our LVT also offers essential design and performance benefits with the same modularity as our carpet tile. It's a perfect solution for corridors and other transitional spaces where hard surface is desired.
InterfaceFLOR Interface Americas Inc
CONTRACT: 171103 Floor Covering, Supplies and Services
Jan-25-2018 to Jan-26-2021
EDGAR COMPLIANCE : (Contact TIPS for Verification)
InterfaceFLOR Interface Americas Inc

Print
Floor Covering, Supplies and Services(171103)
Exp.Date 01/26/2021 EDGAR: (Contact TIPS for Verification)
| | |
| --- | --- |
| DISADVANTAGED/MINORITY/WOMAN BUSINESS ENTERPRISE | No |
| HISTORICALLY UNDERUTILIZED BUSINESS (HUB) | No |
| | |
| --- | --- |
| | AL , AK , AZ , AR , CA , CO , CT , DE , DC , FL , GA , HI , ID , IL , IN , IA , KS , KY , ME , MD , MA , MI , MN , MS , MO , MT , NE , NV , NH , NJ , NM , NY , NC , ND , OH , OK , OR , PA , RI , SC , SD , TN , TX , UT , VT , VA , WA , WV , WI , WY |
Live Oak Equipment Finance is the exclusive financial parter of TIPS! Allow LOEF to help assist you in your financial needs today!

We are committed to provide a financing experience based on unwavering integrity, unmatched service and complete transparency. Our processes have been established with the client in mind, and we are dedicated to ensuring that you enjoy your experience working with our team. Our goal is for you to build a long-term relationship with Live Oak Equipment Finance, not only as your financial partner, but also a firm that can help you grow and excel as a professional in your industry.
Contact Information:
Phone: (512) 726-0367
Email: tips@loeqf.com
Website: www.loeqf.com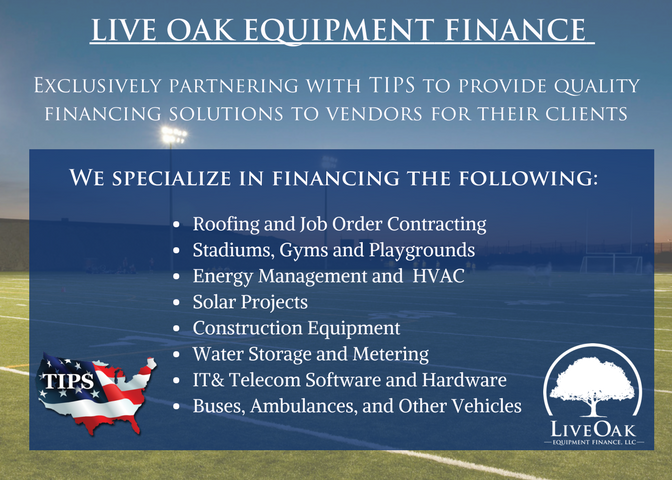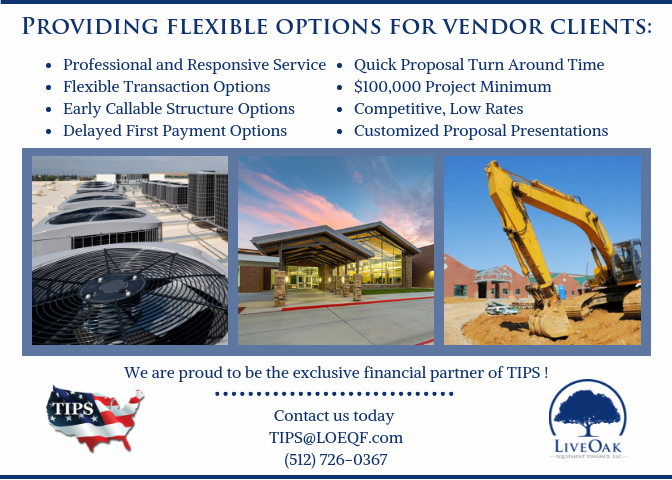 Get VCard for Primary Contact by Contract
InterfaceFLOR Interface Americas Inc
Resellers listed below may also hold a current TIPS contract. PO's for quotes provided by a reseller that are also awarded in the same category will be processed and sent directly to that reseller.

Please check under "ALL VENDORS" before requesting a quote from any listed reseller.
Resellers
Address
A-1 Floors Contact:
Contact Phone:(806) 373-9622
Contact Email: mchancler@a-1floors.com
7201 Hillside Amarillo, TX 79109
Phone:(806) 373-9622
Fax:
A-1 Floors Contact: Mark Chancler
Contact Phone:(806) 373-9622
Contact Email:
7201 Hillside, Amarillo, TX 79109
Phone:
Fax:
Ace Floor Solutions Inc Contact: Pete Gonzales
Contact Phone:(210) 967-0200
Contact Email:
4850 Whirlwind St, San Antonio TX 78217
Phone:
Fax:
Ace Floor Solutuions, LLC Contact:
Contact Phone:(210) 967-0200
Contact Email: pete@acefloors.org
4850 Whirlwind St San Antonio, TX 78217
Phone:(210) 967-0200
Fax:
ACS Flooring Group Contact:
Contact Phone:(717) 682-0202
Contact Email:
1289 Post Oak Road, Houston, TX 77055
Phone:
Fax:
ACS Flooring Group[ Contact:
Contact Phone:(717) 682-0202
Contact Email: kappleby@acsflooring.com
1289 Post Oak Road Houston, TX 77055
Phone:(717) 682-0202
Fax:
Allied Associates Commercial Floors Inc Contact: Letecia
Contact Phone:(210) 646-9090
Contact Email:
130 A Palisades Dr, Universal City, Tx 78148
Phone:
Fax:
Allied Associates Commercial Floors, Inc Contact:
Contact Phone:(210) 646-9090
Contact Email: leticia@alliedacf.com
130 A Palisades Dr Universal City, TX 78148
Phone:(210) 646-9090
Fax:
Allison Flooring America Contact:
Contact Phone:(361) 855-4781
Contact Email: tess@allisonflooring.com
4400 S Padre Island Drive Corpus Christi, TX 78411
Phone:(361) 855-4781
Fax:
Allison Flooring America Contact: Terry
Contact Phone:(361) 855-4781
Contact Email:
Corpus Christi TX 78411
Phone:
Fax:
Arch Floors Inc Contact:
Contact Phone:(713) 627-2112
Contact Email:
1803 Allen Parkway, Houston TX 77019
Phone:
Fax:
Arch Floors, Inc Contact:
Contact Phone:(713) 627-2112
Contact Email: chris.mehling@archfloors.com
1803 Allen Parkway Houston, TX 77019
Phone:(713) 627-2112
Fax:
Azteca Designs Inc Contact: Stephanie Esobar
Contact Phone:(210) 375-1900
Contact Email:
6852 Alamo Downs Pkwy, San Antonio TX 78238
Phone:
Fax:
Business Flooring Specialists Contact:
Contact Phone:(817) 282-1600
Contact Email:
7341 Dogwood Park, Fort Worth, TX 76118
Phone:
Fax:
Business Flooring Specialists Contact:
Contact Phone:(713) 934-9000
Contact Email:
1234 N Post Oak Road Houston TX 77055
Phone:
Fax:
C2 Flooring Contact:
Contact Phone:(214) 267-0667
Contact Email:
2990 Congressman Lane Dallas TX 75220
Phone:
Fax:
Commercial Carpets Contact:
Contact Phone:(281) 356-6050
Contact Email:
33218 Walnut Creek Road Magnolia TX 77355
Phone:
Fax:
Commercial Flooring Inc Contact:
Contact Phone:(713) 869-5555
Contact Email:
4905 Maxie St HoustonTX 77007
Phone:
Fax:
Commercial Surfaces Inc Contact:
Contact Phone:(210) 223-2712
Contact Email:
3453 IH 35N San Antonio Tx 78219
Phone:
Fax:
Corporate Floors Inc Contact:
Contact Phone:(817) 329-7100
Contact Email:
Grapevine TX 76051
Phone:
Fax:
Diaz Floors & Interiors Inc Contact:
Contact Phone:(956) 787-0056
Contact Email:
1205 W Polk Ave Pharr TX 78577
Phone:
Fax:
Flooring Solutions Inc Contact:
Contact Phone:(512) 335-8089
Contact Email:
8806 Wall Street Austin TX 78754
Phone:
Fax:
Gomez Floor Covering Inc Contact: Steve Whitener
Contact Phone:(210) 651-5002
Contact Email:
3816 Blinz Engleman B-125 San Antonio,TX
Phone:
Fax:
Gomez Floor Covering Inc Contact: Jeff Carter
Contact Phone:(214) 905-1901
Contact Email:
1130 Inwood Road Dallas TX 75247
Phone:
Fax:
Innovative Flooring Solutions Inc Contact:
Contact Phone:(713) 688-9191
Contact Email:
5901 Central Crest Street Houston TX 77092
Phone:
Fax:
Interface Services Contact: Tom Lumpkin
Contact Phone:(800) 336-0225 Ext. 4821
Contact Email:
106 Northpoint Pkwy Acworth GA 30102
Phone:
Fax:
InterfaceSERVICES (a Division of Interface) Contact:
Contact Phone:(800) 336-0225 Ext. 54829
Contact Email: contract.services@inerface.com
106 Northpoint Pkwy, Ste 300
Phone:(800) 336-0225 Ext. 54829
Fax:
Intertech Flooring Contact:
Contact Phone:(512) 385-4574
Contact Email:
1106 Smith Road Austin TX 78721
Phone:
Fax:
LVR Carpet Center Inc Contact:
Contact Phone:(806) 866-9797
Contact Email:
8516 Urbana Av Lubbock TX 79424
Phone:
Fax:
McCoy Inc Contact: Laura Ali
Contact Phone:(713) 802-6735
Contact Email:
6869 Old Katy Road Houston TX 77024
Phone:
Fax:
MEK Interiors & Floors Inc Contact:
Contact Phone:(281) 598-6001
Contact Email:
5510 Brittmoore Rd Houston TX 77041
Phone:
Fax:
One Source Commercial Flooring Contact: Rachel Damron
Contact Phone:(972) 422-2438 Ext. 26
Contact Email:
1701 Summit Ave Plano TX 75074
Phone:
Fax:
Paul Graham Co Contact: Linn Parish
Contact Phone:(806) 765-6607
Contact Email:
1415 Ave N Lubbock TX 79401
Phone:
Fax:
Quality Service Floor Covering Contact:
Contact Phone:(713) 460-1323
Contact Email:
9000 Pinehill Lane Houston TX 77041
Phone:
Fax:
Retail Commercial Speciality Flooring Inc Contact: Rob Schoke
Contact Phone:(817) 882-0503
Contact Email:
2951 Northern Cross Blvd Ft. Worth TX 76137
Phone:
Fax:
Rockford Business Interiors Contact:
Contact Phone:(512) 442-0703
Contact Email:
211 E Riverside Drive Austin TX 78704
Phone:
Fax:
San Antonio Floor Finishers Inc Contact:
Contact Phone:(210) 341-7101
Contact Email:
214 W Turbo Drive San Antonio TX 78216
Phone:
Fax:
Spectra Contract Flooring Contact:
Contact Phone:(972) 404-7007
Contact Email:
2080 McDaniel Drive Carrollton TX 75006
Phone:
Fax:
Western Floor Inc Contact:
Contact Phone:(512) 459-8785
Contact Email:
6513 Burnett Lane Austin TX 78757
Phone:
Fax:
Winn Tile Company Contact:
Contact Phone:(903) 534-0292
Contact Email:
705 S. Southeast Loop 323 Tyler TX 75702
Phone:
Fax:
Yates Carpet Inc Contact:
Contact Phone:(806) 795-0070
Contact Email:
1901 W Loop 289 Lubbock Tx 79407
Phone:
Fax: