EMAIL PO & VENDOR QUOTE TO: TIPSPO@TIPS-USA.COM
PO MUST REFERENCE VENDOR'S TIPS CONTRACT NUMBER
ATTACH PO AS A PDF - ONLY ONE PO (WITH QUOTE) PER ATTACHMENT

Print
VENDOR

Sandler Seating Inc

1201 Peachtree Street NE, Ste 1625 Atlanta GA,30361

WEBSITE

www.sandlerseating.com

SERVICE/PRODUCTS DESCRIPTION

Sandler Seating was founded in London in 1982 by Roy Sandler as an offshoot of Sandler Upholsterers, a family business specializing in custom upholstery which was itself founded in 1946. Sandler Seating's first activity was the upholstery, assembly, and distribution of portable seating systems for multi-purpose venues. This activity still plays an important role for the company today. In 1989 Sandler Seating began to distribute Italian designed furniture for the restaurant, hospitality and contract markets and soon became a leading player in the UK contract furniture market. In 1996 Sandler set up a sister company, Sandler Seating Inc., in Atlanta, Georgia to service the US contract furniture market. With its own customer service offices in Atlanta and 50,000 sq ft warehouse in North Carolina, Sandler Seating Inc. is admirably positioned to take advantage of the dynamic US market. It has created a sales force of over 80 independent sales representatives offering national coverage of the Sandler hospitality and contract line. Sandler's European presence, shipping expertise and long-standing relationships with its suppliers facilitates seamless fulfillment of orders through to delivery to the customer's door. Sandler Seating Inc. has now established itself as the fastest growing member of the Sandler group.
CONTRACT: 180305 Furniture, Furnishings and Services (2)
May-25-2018 to May-31-2020 EDGAR COMPLIANCE : Yes
Sandler Seating Inc
CONTRACT: 180305 Furniture, Furnishings and Services (2)
May-25-2018 to May-31-2020
EDGAR COMPLIANCE : Yes
Sandler Seating Inc

Print
Furniture, Furnishings and Services (2) (180305)
Exp.Date 05/31/2020 EDGAR: Yes
| | |
| --- | --- |
| DISADVANTAGED/MINORITY/WOMAN BUSINESS ENTERPRISE | No |
| HISTORICALLY UNDERUTILIZED BUSINESS (HUB) | No |
| | |
| --- | --- |
| | AL , AK , AZ , AR , CA , CO , CT , DE , DC , FL , GA , HI , ID , IL , IN , IA , KS , KY , LA , ME , MD , MA , MI , MN , MS , MO , MT , NE , NV , NH , NJ , NM , NY , NC , ND , OH , OK , OR , PA , RI , SC , SD , TN , TX , UT , VT , VA , WA , WI , WY |
Live Oak Equipment Finance is the exclusive financial parter of TIPS! Allow LOEF to help assist you in your financial needs today!

We are committed to provide a financing experience based on unwavering integrity, unmatched service and complete transparency. Our processes have been established with the client in mind, and we are dedicated to ensuring that you enjoy your experience working with our team. Our goal is for you to build a long-term relationship with Live Oak Equipment Finance, not only as your financial partner, but also a firm that can help you grow and excel as a professional in your industry.
Contact Information:
Phone: (512) 726-0367
Email: tips@loeqf.com
Website: www.loeqf.com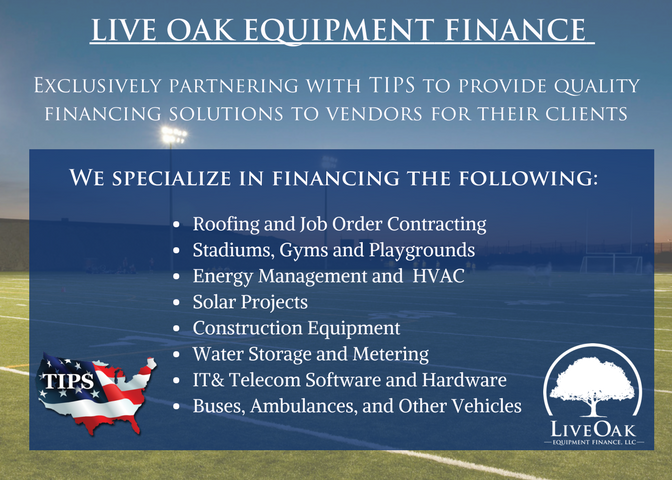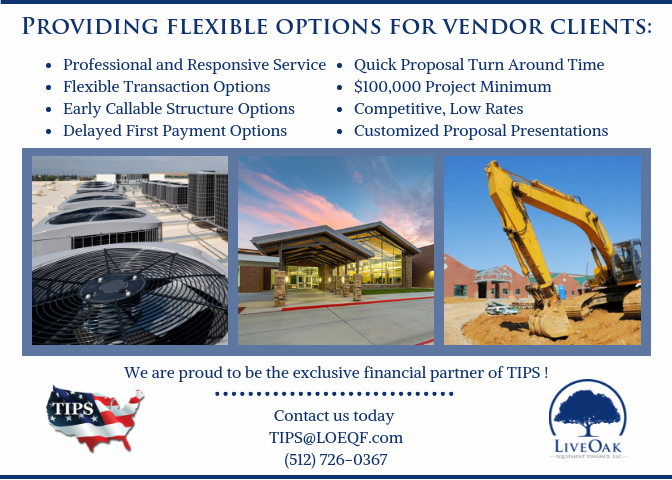 Get VCard for Primary Contact by Contract
Sandler Seating Inc
Resellers listed below may also hold a current TIPS contract. PO's for quotes provided by a reseller that are also awarded in the same category will be processed and sent directly to that reseller.

Please check under "ALL VENDORS" before requesting a quote from any listed reseller.
Resellers
Address
https://iispaces.com
Contact: Greg Ratliff
Contact Phone:214-901-5730
Contact Email:
iiSpaces, 16837 Addison Road, Addison, TX 75001
Phone:972.716.9979
Fax:
Austin Business Furniture www.texaswilson.com
Contact: Tammy Poe
Contact Phone:210.647.2057
Contact Email: tpoe@texaswilson.com
4030 W. Braker Lane Stonelake 1- Suite 100
Phone: (512) 832-6400
Fax:210.647.3110
BKM Total Office-Texas www.bkmtexas.com
Contact: Mindy Morris
Contact Phone:214.902.7255
Contact Email: mmorris@bkmtexas.com
9755 Clifford Dr., Ste. 100, Dallas, TX 75220
Phone:214.902.7255
Fax:214.902.7201
Business Interiors www.businessinteriors.com
Contact: Sally Smith
Contact Phone:817.858.2052
Contact Email: ssmith@businessinteriors.com
1111 Valley View Lane, Irving, TX 75061
Phone:817.858.2000
Fax:
Contract Resource Group www.crgoffice.com
Contact: Katharine Miles
Contact Phone:713.803.0158
Contact Email: milesk@crgoffice.com
7108 Old Katy Road, Suite 150 Houston Texas 77024
Phone:(713) 803-0100
Fax:
Debner + Company http://www.mccoy-rockford.com/
Contact: Amy Lopez
Contact Phone:(713) 782-1300
Contact Email: ahlopez@mccoyinc.com
8020 Katy Fwy, Houston, TX 77024
Phone:(713) 782-1300
Fax:
Furniture Marketing Group www.wpsolutions.com
Contact: Beth Moher
Contact Phone:346 200 5815
Contact Email: bethm@wpsolutions.com
1775 St. James Place Houston, TX 77056
Phone:713-963-0678
Fax:
Furniture Marketing Group Inc http://www.fmgi.com
Contact: Tonya Hohmann
Contact Phone:214.556.4719
Contact Email: TonyaH@fmgi.com
6100 W. Plano Pkwy, Ste. 400, Plano, TX 75093
Phone:214-556-4700
Fax:
GL Seaman Company www.glseamancompany.com
Contact: Ashley Lowrance
Contact Phone:469.546.2234
Contact Email: alowarance@glsc.com
4201 International Parkway,Carrollton, TX 75007
Phone:214.764.6400
Fax:
Interior Resources Group www.irgroupdfw.com
Contact: Jeff Blue
Contact Phone:817.422.1110
Contact Email: jeff@irgroupdfw.com
1444 Oak Lawn Ave, Suite 30, Dallas, TX 75207
Phone:972.619.7400
Fax:
J Tyler Services www.jtyler.com
Contact: Jessy Longbotham
Contact Phone:713.468.2166
Contact Email: fullerj@tyler.com
5920 Milwee Street Houston, TX 77092
Phone:713.468.2166
Fax:713.469.2480
McCoy Workplace Solutions Contact:
Contact Phone:713-862-4600
Contact Email:
6869 Old Katy Road Houston, Texas 77024
Phone:713-862-4600
Fax:
Rockford Business Interiors www.wittigs.com
Contact: David Smedley
Contact Phone:512-442-0703
Contact Email: David.Smedley@wittigs.com
211 East Riverside Dr. Austin, Texas 78704
Phone:512-442-0703
Fax:
Royer & Schutts www.royer-schutts.com
Contact: Honor B. Rowe
Contact Phone:817.332.5424 Ext. 130
Contact Email: honor@royer-furn.com
200 Bailey Avenue, Ste. 300, Fort Worth, TX 76107
Phone:817.332.5424
Fax:817.332.5420
SKG Texas www.debner.com
Contact: Andrea Parker
Contact Phone:713 425 6158
Contact Email: andreap@debner.com
6301 E. Stassney Ln Bldg. 9-100 Austin, Tx 78744-3069
Phone:(512) 481-1500
Fax:
Spencer & Company www.spencerandco.com
Contact: Bob Stokes
Contact Phone:817.307.5157
Contact Email: bob.stokes@spencerandco.com
150 Turtle Creek Blvd, Ste. 205, Dallas, TX 75207
Phone:214.237.6853 Ext. 149
Fax:
Texas Wilson www.wrstx.com
Contact: Fred Rodriguez
Contact Phone:512-799-2132
Contact Email: fred.rodriguez@wrstx.com
6812 Fairgrounds Parkway San Antonio, Texas 78238
Phone:210.647.8800
Fax:210.226.4218
Wescom Resources Group- W|R|G https://wrg.texas.com
Contact: Kevin Marino
Contact Phone:214.202.4409
Contact Email: Kmarino@wrgtexas.com
2639 E. Rosemeade Pkwy, Carrollton, TX 75007
Phone:972.389.8859
Fax:
Wilson Office Interiors https://wilsonoi.com/
Contact: James Brown
Contact Phone:214-883-6214
Contact Email: jbrown@wilsonoi.com
1341 W. Mockingbird Ln, Ste. 1100 W., Dallas, TX 75247
Phone:214-760-1683
Fax:
Wittigs www.fmgi.com
Contact: Sean Corrington
Contact Phone:(210) 270-0100
Contact Email: seanc@fmgi.com
2018 Avenue B Suite 300, San Antonio, TX 78215
Phone:(210) 270-0100
Fax:
Workplace Resources www.skgtexas.com
Contact: Diana Keller
Contact Phone:512-225-9822
Contact Email: dkeller@skgtexas.com
4400 NE Loop 410 Suite 130 San Antonio, TX 78218
Phone:210.226.5141
Fax:
Workplace Solutions www.abfurn.com
Contact: Nick Williams
Contact Phone:713-993-9797
Contact Email:
2800 Kirby Drive Suite B-200 Houston, Texas 77098
Phone:713-993-9797
Fax:
Workplace Solutions www.wpsolutions.com
Contact: Randy King
Contact Phone:972.354.0815
Contact Email: rking@wpsolutions.com
2651 N. Harwood St., Ste. 300, Dallas, TX 75201
Phone:214.533.8028
Fax:214.741.9669