EMAIL PO & VENDOR QUOTE TO: TIPSPO@TIPS-USA.COM
PO MUST REFERENCE VENDOR'S TIPS CONTRACT NUMBER
ATTACH PO AS A PDF - ONLY ONE PO (WITH QUOTE) PER ATTACHMENT

Print
VENDOR

Identification Systems Group

13851 W. 63rd Street, Suite 372 Shawnee KS,66216

WEBSITE

www.IdentificationSystemsGroup.com

SERVICE/PRODUCTS DESCRIPTION

The ISG is a network of identification systems experts that provide on-site consultation and support to all 50 states. We provide a wide range of photo ID systems, from least expensive to fully integrated. Other security related systems offered include visitor registration, door access control, tracking, video, and cafeteria POS.
CONTRACT: 181104 Photo ID Systems
Jan-24-2019 to Jan-31-2022 EDGAR COMPLIANCE: Yes
Identification Systems Group
CONTRACT: 181105 Cafeteria Point of Sale
Nov-28-2018 to Nov-30-2021
EDGAR COMPLIANCE : Yes
As of February 2016, TIPS cannot guarantee compliance with the new USDA and Texas Department of Agriculture(TDA) Child Nutrition Food Service Procurement Regulations found in the TDA document entitled "ARM Section 17" that was issued in February 2016 and updated periodically since. Texas Department of Agriculture's ARM Section 17 includes specific requirements that are not included in 2 CFR Part 200. Also, we are not sure how compliance is affected for other states with the use of USDA Federal Child Nutrition funds expenditures. TIPS leaves it to the Member entity to review our due diligence and decide for themselves if compliance is adequate.
CONTRACT: 181104 Photo ID Systems
Jan-24-2019 to Jan-31-2022
EDGAR COMPLIANCE : Yes
CONTRACT: 170203 Security Systems Products and Services
Apr-27-2017 to Apr-23-2020
EDGAR COMPLIANCE : Yes
Identification Systems Group

Print
Cafeteria Point of Sale(181105)
Exp.Date 11/30/2021 EDGAR: Yes
Photo ID Systems(181104)
Exp.Date 01/31/2022 EDGAR: Yes
Security Systems Products and Services(170203)
Exp.Date 04/23/2020 EDGAR: Yes
| | |
| --- | --- |
| DISADVANTAGED/MINORITY/WOMAN BUSINESS ENTERPRISE | No |
| HISTORICALLY UNDERUTILIZED BUSINESS (HUB) | No |
| | |
| --- | --- |
| | AL , AK , AZ , AR , CA , CO , CT , DE , DC , FL , GA , HI , ID , IL , IN , IA , KS , KY , LA , ME , MD , MA , MI , MN , MS , MO , MT , NE , NV , NH , NJ , NM , NY , NC , ND , OH , OK , OR , PA , RI , SC , SD , TN , TX , UT , VT , VA , WA , WI , WV , WY |
Live Oak Equipment Finance is the exclusive financial parter of TIPS! Allow LOEF to help assist you in your financial needs today!

We are committed to provide a financing experience based on unwavering integrity, unmatched service and complete transparency. Our processes have been established with the client in mind, and we are dedicated to ensuring that you enjoy your experience working with our team. Our goal is for you to build a long-term relationship with Live Oak Equipment Finance, not only as your financial partner, but also a firm that can help you grow and excel as a professional in your industry.
Contact Information:
Phone: (512) 726-0367
Email: tips@loeqf.com
Website: www.loeqf.com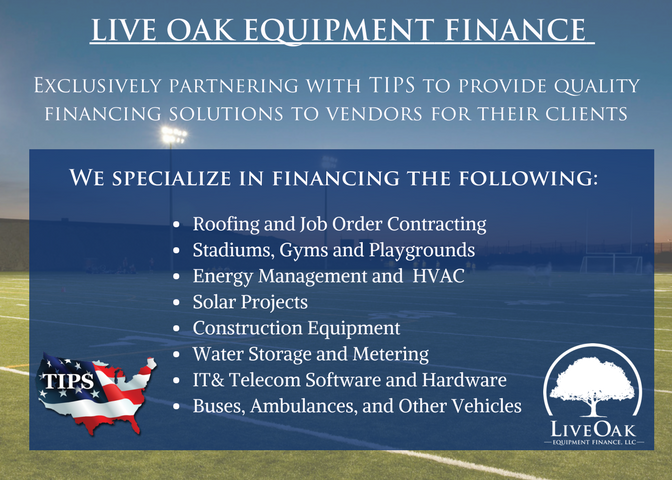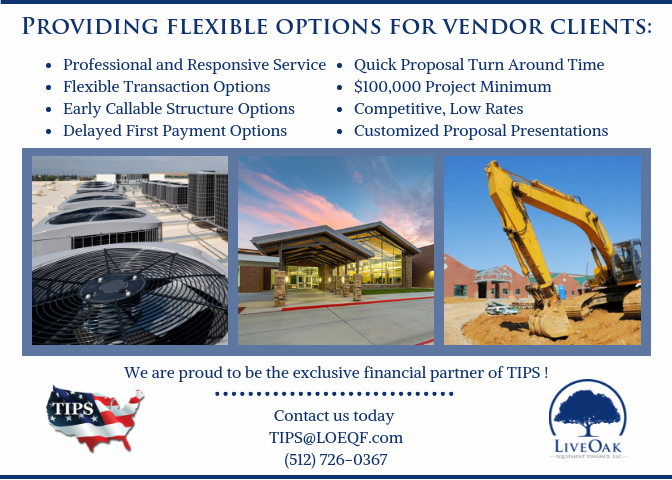 Get VCard for Primary Contact by Contract
Identification Systems Group
Resellers listed below may also hold a current TIPS contract. PO's for quotes provided by a reseller that are also awarded in the same category will be processed and sent directly to that reseller.

Please check under "ALL VENDORS" before requesting a quote from any listed reseller.
Resellers
Address
AAMSCO Contact: Geoff Riordan
Contact Phone:(501) 562-3737
Contact Email: geoff@aamsco.net
9811 Interstate 30, Little Rock, AR 72209
Phone:(501) 562-3737
Fax:(501) 562-5389
Addem, Inc. Contact: Alex Knudtson
Contact Phone:(701) 232-2459
Contact Email: alex_knudtson@addeminc.com
PO Box 7188, Fargo, ND 58106
Phone:(701) 232-2459
Fax:(701) 232-3411
Alabama Card Systems Contact: Pete Drake
Contact Phone:(205) 833-1116
Contact Email: acs1160@aol.com
500 Gene Reed Road, Suite 102, Birmingham, AL 35215
Phone:(205) 833-1116
Fax:(205) 833-1160
Armstrong Systems & Consulting Contact: Julie Williams
Contact Phone:(563) 386-9090
Contact Email: juliew@armstrongsystems.com
5101 a Tremont, Davenport, IA 52807
Phone:(563) 386-9090
Fax:(563) 391-2237
Automated Card Systems Contact: Bill Livolsi
Contact Phone:(724) 820-1160
Contact Email: bill_livolsi@autocardsys.com
2 Four Coins Drive, Canonsburg, PA 15317
Phone:(724) 820-1160
Fax:(724) 820-1169
BadgePass, Inc (ID Group) Contact: Jean Larroux
Contact Phone:(601) 982-2651
Contact Email: jean.larroux@badgepass.com
280 Trace Colony Park, Ridgeland, MS 39157
Phone:(601) 982-2651
Fax:(601) 982-2653
BadgePass, Inc. (See Addtronics & ID Group) Contact:
Contact Phone:
Contact Email:

Phone:
Fax:
BadgePass, Inc. (Addtronics Business Systems) Contact: Phillip King
Contact Phone:(405) 528-8881
Contact Email: pking@badgepass.com
4605 North Sewell Avenue, Oklahoma City, OK 73118
Phone:(405) 528-8881
Fax:(405) 528-7505
BEC Plastic Card (also see Smith's Addressing) Contact: Dale Smith
Contact Phone:(804) 330-2500
Contact Email: dale@sams1.com
8012 Midlothian Turnpike, Richmond, VA 23235
Phone:(804) 330-2500
Fax:(804) 330-5530
Beeler Impression Products Contact: Jim Combs
Contact Phone:(423) 698-2595
Contact Email: jim@beeler-impression.com
2334 McCallie Ave, Chattanooga, TN 37404
Phone:(423) 698-2595
Fax:(423) 622-9088
Bridgeway Solutions, Inc. Contact: Mike Bridges
Contact Phone:(828) 438-1676
Contact Email: mikeb@bridgewayid.com
600 E. Union Street, Morganton, NC 28655
Phone:(828) 438-1676
Fax:(828) 438-1634
Cancard, Inc. Contact: John Flett
Contact Phone:(416) 449-8111 Ext. 223
Contact Email: john@cancard.com
177 Idema Road, Markham, ON L3R 1A9 Canada
Phone:(416) 449-8111 Ext. 223
Fax:(905) 947-8750
Capture Technologies Contact: John Babin
Contact Phone:(510) 534-5050
Contact Email: jbabin@capturet.com
3575 Alameda Avenue, Oakland, CA 94601
Phone:(510) 534-5050
Fax:(510) 534-0202
Card Data Systems Toshiba Contact: Martin Nelson
Contact Phone:(610) 539-1456
Contact Email: Martin.Nelson@tbs.toshiba.com
3620 Horizon Drive Suite 100, King of Prussia, PA 19406
Phone:(610) 539-1456
Fax:(610) 539-0306
Data Carte Concepts, Inc. Contact: Mr. Jean Sicard
Contact Phone:(888) 220-4801 Ext. 24
Contact Email: jsicard@datacarte.com
4030, St.-Ambroise, bur. 109, Montreal, Quebec H4C 2C7 Canada
Phone:(888) 220-4801 Ext. 24
Fax:(514) 989-7943
Data Equipment Contact: Bill Scott
Contact Phone:(850) 432-8969
Contact Email: bill@dataeq.com
945 West Michigan Ave, Suite 10B, Pensacola, FL 32505
Phone:(850) 432-8969
Fax:(850) 432-5337
Davies Enterprises Contact: Bern Davies
Contact Phone:(902) 450-5075
Contact Email: bjd@daviesenterprises.com
114 Chain Lake Drive, Halifax, Nova Scotia B3S 1B1 Canada
Phone:(902) 450-5075
Fax:(902) 450-5096
Diamond Business Services Contact: Charlia Pence
Contact Phone:(806) 373-4148
Contact Email: charlia@diamondbusiness.net
723 W. 7th Ave, Amarillo, TX 79101
Phone:(806) 373-4148
Fax:(806) 376-7525
Diversified Business Machines (mail) Contact: Tom Followell
Contact Phone:(727) 547-2273
Contact Email: tom@d-bm.com
PO Box 5124, Largo, FL 33779
Phone:(727) 547-2273
Fax:(727) 546-9894
Dowling Douglas Contact: John Pecnik
Contact Phone:(904) 353-4361
Contact Email: john@dowlingdouglas.com
3406 Main Street, Jacksonville, FL 32206
Phone:(904) 353-4361
Fax:(904) 353-4363
E-Card ID Products, Ltd. Contact: Les Pilchak
Contact Phone:(888) 983-2299
Contact Email: les.pilchak@idexperts.com
7560 Vantage Way Unit 2, Delta, British Columbia V4G 1H1 Canada
Phone:(888) 983-2299
Fax:(604) 940-9896
ECR Sales & Service Contact: Zane Winston
Contact Phone:(702) 385-0706
Contact Email: zane@ecrcpc.com
1515 Western Avenue, Las Vegas, NV 89102
Phone:(702) 385-0706
Fax:(702) 385-9553
Elliott Data Systems Contact: Josh Dunbar
Contact Phone:(636) 386-8400
Contact Email: jdunbar@elliottdata.com
17825 Edison Ave., Chesterfield, MO 63005
Phone:(636) 386-8400
Fax:(636) 386-3072
Food Service Solutions Contact: Mr. Mitch Johns
Contact Phone:(800) 425-1425
Contact Email:
16269 Dunnings Highway PO Box 337 Newry, PA 16665
Phone:
Fax:
Harry's Business Machines Contact: Gary Foote
Contact Phone:(775) 322-4559
Contact Email: garfoote@since1928.com
323 West Street, Box 2401, Reno, NV 89501
Phone:(775) 322-4559
Fax:(775) 322-3991
Higgins Office Products Contact: David Higgins
Contact Phone:(207) 767-3281
Contact Email: diii@higgins3.com
777 Broadway, Box 2618, S. Portland, ME 04106
Phone:(207) 767-3281
Fax:(207) 767-5268
IdentiSys, Inc. Contact: Michael Shields
Contact Phone:(952) 294-1200
Contact Email: michael_shields@identisys.com
7630 Commerce Way, Eden Prairie, MN 55344
Phone:(952) 294-1200
Fax:(952) 975-0660
Jett Business Systems Contact: Tim Jett
Contact Phone:(318) 424-9542
Contact Email: tjett2359@aol.com
1452 Hawn Avenue, Shreveport, LA 71107
Phone:(318) 424-9542
Fax:(318) 424-0008
Legend ID Contact: Brenda Wise
Contact Phone:(425) 251-1670
Contact Email: brenda@legendid.com
18024 72nd Ave South, Kent, WA 98032
Phone:(425) 251-1670
Fax:(425) 251-1894
LINSTAR, Inc. (A division of IdentiSys) Contact: Deb Ferril
Contact Phone:(716) 631-9200
Contact Email: deb_ferril@identisys.com
430 Lawrence Bell Drive, Buffalo, NY 14221
Phone:(716) 631-9200
Fax:(716) 631-2024
Metropolitan Data Solutions Contact: John Dankowitz
Contact Phone:(516) 586-5520
Contact Email: jdankowitz@mds-ltd.com
279 Conklin Street, Farmingdale, NY 11735
Phone:5165865520           
Fax:(516) 586-5526
Midwest Card & ID Solutions Contact: Phil Johannes
Contact Phone:(816) 221-0620
Contact Email: phil@midwestcard.com
4747 NW Gateway Avenue, Riverside, MO 64150
Phone:(816) 221-0620
Fax:(816) 221-1213
Multicard, Inc Contact: Matt McDaniel
Contact Phone:(323) 256-8700
Contact Email: mmcdaniel@multicard.com
3370 N San Fernando Rd, Suite 202, Los Angeles, CA 90065
Phone:(323) 256-8700
Fax:(323) 256-8704
Richardson Business Solutions Contact: Kier Breckon
Contact Phone:(616) 949-1600
Contact Email: kbreckon@richardsonbus.com
2900 29th St. SE, Grand Rapids, MI 49512
Phone:(616) 949-1600
Fax:(616) 949-7032
Secure ID, LLC Contact: Joe Longly
Contact Phone:(907) 770-9160
Contact Email: secureid@gci.net
2000 E. Dowling Rd. #9, Anchorage, AK 99507
Phone:(907) 770-9160
Fax:(907) 770-9161
Smiths Addressing Machine Services Contact: Travis Smith
Contact Phone:(919) 662-1119
Contact Email: traviss@sams1.com
151 Technology Drive, Garner, NC 27529
Phone:(919) 662-1119
Fax:(919) 662-7640