EMAIL PO & VENDOR QUOTE TO: TIPSPO@TIPS-USA.COM
PO MUST REFERENCE VENDOR'S TIPS CONTRACT NUMBER
ATTACH PO AS A PDF - ONLY ONE PO (WITH QUOTE) PER ATTACHMENT

Print
VENDOR

Novatime Technology Inc

1440 Bridgegate Dr., Suite 300 Diamond Bar CA,91765

WEBSITE

www.NOVAtime.com

SERVICE/PRODUCTS DESCRIPTION

NOVAtime Technology, Inc. is a software development company that has created the web-based NOVAtime 4000 platform and all previous NOVAtime products. NOVAtime serves as a technological leader in the industry, as its strategy for success focuses on continued research and development of new technologies. NOVAtime strives to continuously improve its workforce management solutions and advance its product offerings— a result of the company's determination to provide a well-rounded product with the ability to integrate with multiple applications (HRIS, Payroll, Finance, ERP, etc.). NOVAtime wants your organization to have the best workforce management tool, in order to run efficiently throughout all departments. From an employee's first punch, to a paycheck being issued, NOVAtime's goal is to work with your organization to create a complete solution that is best suited for your organization. The NOVAtime 4000 application can be delivered as Software as a Service, a licensed model, or a hybrid solution, giving your organization the option to choose the most fitting method. The system is fully scalable to support time, attendance, leave, and scheduling as standard modules within a single database— all of which are completely integrated within the application. This means, as real-time hours affect the accruing of time off, balances will be calculated and displayed immediately, in real time. NOVAtime 4000 also tracks a variety of data, including hours worked, attendance policies, accrual balances, leave taken, expense accounts, overtime, and more. The system is intuitive and user-friendly, making it easy to learn by any user type. Additionally, NOVAtime 4000 is workflow enabled and can send notifications to supervisors via email or through the use of the customizable dashboard. Electronic communications are provided through secure, confidential communications— streamlining processes and operations, while eliminating the need for paper trails. SSL protocol provides authenticity of the NOVAtime 4000 database, but it also ensures privacy and data integrity through encryption. Firewalls and intrusion prevention systems are deployed to prevent unauthorized access, and the only data that can enter is SSL traffic. Furthermore, because the NOVAtime 4000 application is Plynt Certified, your organization can be confident that all system data is secure.
CONTRACT: 3072816 Time Clock Systems
Jul-28-2016 to Jul-25-2019 EDGAR COMPLIANCE : (Contact TIPS for Verification)
Novatime Technology Inc
CONTRACT: 3072816 Time Clock Systems
Jul-28-2016 to Jul-25-2019
EDGAR COMPLIANCE : (Contact TIPS for Verification)
Novatime Technology Inc

Print
Time Clock Systems(3072816)
Exp.Date 07/25/2019 EDGAR: (Contact TIPS for Verification)
| | |
| --- | --- |
| DISADVANTAGED/MINORITY/WOMAN BUSINESS ENTERPRISE | No |
| HISTORICALLY UNDERUTILIZED BUSINESS (HUB) | No |
| | |
| --- | --- |
| | AL , AK , AZ , AR , CA , CO , CT , DE , DC , FL , GA , HI , ID , IL , IN , IA , KS , KY , LA , ME , MD , MA , MI , MN , MS , MO , MT , NE , NV , NH , NJ , NM , NY , NC , ND , OH , OK , OR , PA , RI , SC , SD , TN , TX , UT , VT , VA , WA , WI , WY |
Live Oak Equipment Finance is the exclusive financial parter of TIPS! Allow LOEF to help assist you in your financial needs today!

We are committed to provide a financing experience based on unwavering integrity, unmatched service and complete transparency. Our processes have been established with the client in mind, and we are dedicated to ensuring that you enjoy your experience working with our team. Our goal is for you to build a long-term relationship with Live Oak Equipment Finance, not only as your financial partner, but also a firm that can help you grow and excel as a professional in your industry.
Contact Information:
Phone: (512) 726-0367
Email: tips@loeqf.com
Website: www.loeqf.com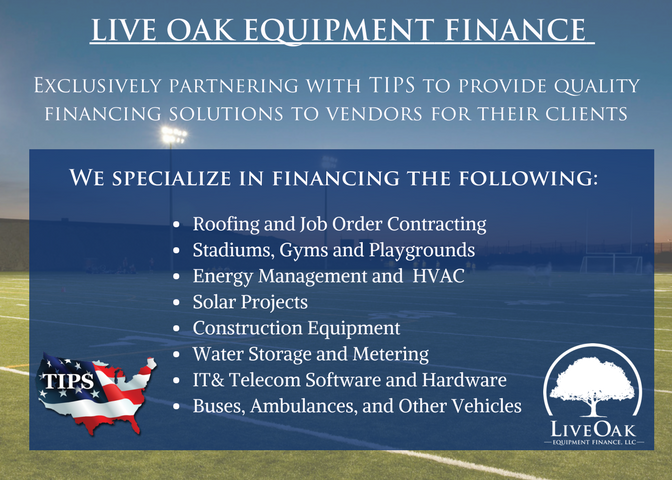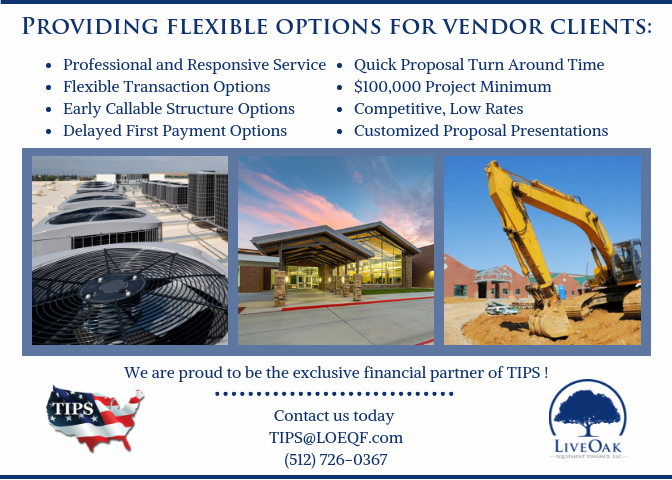 Get VCard for Primary Contact by Contract
Novatime Technology Inc
Resellers listed below may also hold a current TIPS contract. PO's for quotes provided by a reseller that are also awarded in the same category will be processed and sent directly to that reseller.

Please check under "ALL VENDORS" before requesting a quote from any listed reseller.
Resellers
Address
Andrews Technology www.andrewstechnology.com
Contact: Jamie Blundell
Contact Phone:(516) 592-0885
Contact Email: jamie@andrewstechnology.com
1213 Culbreth Drive, Wilmington, NC 28405
Phone:(516) 592-0885
Fax: