EMAIL PO & VENDOR QUOTE TO: TIPSPO@TIPS-USA.COM
PO MUST REFERENCE VENDOR'S TIPS CONTRACT NUMBER
ATTACH PO AS A PDF - ONLY ONE PO (WITH QUOTE) PER ATTACHMENT

Print
VENDOR

Berliner Seilfabrik Play Equipment Corporation

96 Brookfield Oaks Dr Suite 140 Greenville SC,29607

WEBSITE

berliner-playequipment.com

SERVICE/PRODUCTS DESCRIPTION

The quality of the Berliner ropes has gained a world wide reputation. The first net structures developed for climbing equipment were created in the early 70's. Now, with over 46 years of experience in the playground equipment industry, combined with our extensive rope manufacturing knowledge we have designed a variety of products for unique playground landscapes which comply with international safety standards. Our playground landscapes are instantly recognizable, due to the combination of extensive rope design development and creative ideas. Our playgrounds are made for generations – built to last for decades to bring movement not just to our kids, but to their kids also; therefore addressing sustainability in the interests of future generations. At Berliner Seilfabrik, we don't just think green, we work green. All of our products meet and exceed the regulations for lead in paint, lead in substrate and phosphates to protect both: our kids and the environment. Visit us at www.berliner-playequipment.com and discover what Play Equipment for Life means.
Berliner Seilfabrik Play Equipment Corporation
CONTRACT: 18070401 Playground Equipment and Installation Services (2 Part) with JOC Section
Sep-27-2018 to Sep-30-2021
EDGAR COMPLIANCE : Yes
Berliner Seilfabrik Play Equipment Corporation

Print
Playground Equipment and Installation Services (2 Part) with JOC Section(18070401)
Exp.Date 09/30/2021 EDGAR: Yes
| | |
| --- | --- |
| DISADVANTAGED/MINORITY/WOMAN BUSINESS ENTERPRISE | No |
| HISTORICALLY UNDERUTILIZED BUSINESS (HUB) | No |
| | |
| --- | --- |
| | AL , AK , AZ , AR , CA , CO , CT , DE , DC , FL , GA , HI , ID , IL , IN , IA , KS , KY , LA , ME , MD , MA , MI , MN , MS , MO , MT , NE , NV , NH , NJ , NM , NY , NC , ND , OH , OK , OR , PA , RI , SC , SD , TN , TX , UT , VT , VA , WA , WI , WY |
Live Oak Equipment Finance is the exclusive financial parter of TIPS! Allow LOEF to help assist you in your financial needs today!

We are committed to provide a financing experience based on unwavering integrity, unmatched service and complete transparency. Our processes have been established with the client in mind, and we are dedicated to ensuring that you enjoy your experience working with our team. Our goal is for you to build a long-term relationship with Live Oak Equipment Finance, not only as your financial partner, but also a firm that can help you grow and excel as a professional in your industry.
Contact Information:
Phone: (512) 726-0367
Email: tips@loeqf.com
Website: www.loeqf.com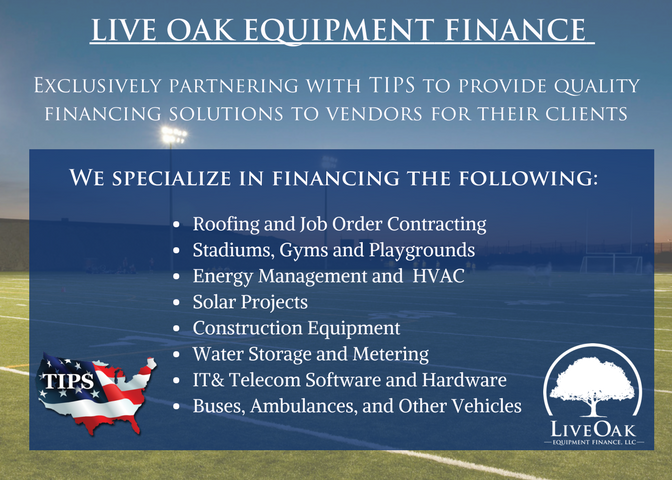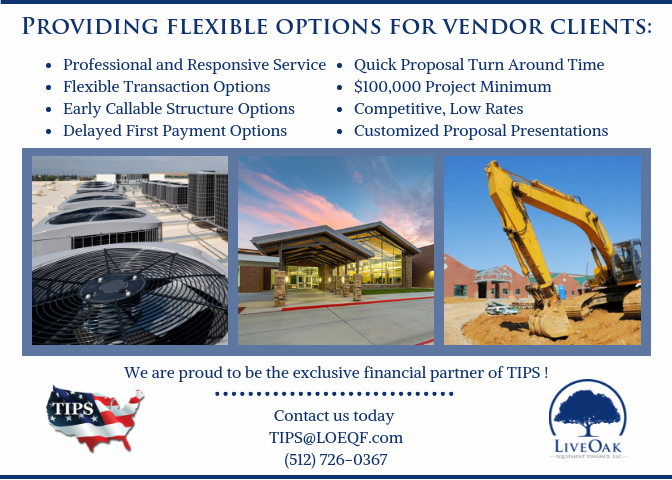 Get VCard for Primary Contact by Contract
Berliner Seilfabrik Play Equipment Corporation
Resellers listed below may also hold a current TIPS contract. PO's for quotes provided by a reseller that are also awarded in the same category will be processed and sent directly to that reseller.

Please check under "ALL VENDORS" before requesting a quote from any listed reseller.
Resellers
Address
ABCreative http://abcreative.net
Contact: Karen Herren
Contact Phone:(913) 583-3332
Contact Email: karen@abcreative.net
32225 W 88th St DeSoto KS 66018
Phone:(913) 583-1436
Fax:(913) 583-1436
Advanced Recreation Consultants www.arcflorida.com
Contact: Tami Ortiz
Contact Phone:(866) 957-2355
Contact Email: tortiz@arcflorida.com
3125 Skyway Circle Melbourne FL 32934
Phone:(321) 242-3220
Fax:(321) 242-3220
All Around Recreation www.allaroundrec.com
Contact: John Sphatt
Contact Phone:(720) 270-5878
Contact Email: johnspahtt@comcast.net
6614 S Franklin St Centennial CO 80121
Phone:(303) 798-0291
Fax:(303) 798-0291
All Play Systems www.allplaysystems.com
Contact: Jeff Hansen
Contact Phone:(425) 766-7822
Contact Email: jeff@allplaysystems.com
PO Box 1886
Phone:(253) 276-0014
Fax:(253) 276-0014
Davis Athletics wwwdavisathletics.net
Contact: Fred Davis
Contact Phone:(304) 428-3000
Contact Email: davisathletics@gmail.com
2325 Liberty Street Parkersburg OH 26101
Phone:
Fax:
Designed for Fun www.designedforfun.com
Contact: Brett Haddaway
Contact Phone:(866) 464-7529
Contact Email: dffi.brett@verison.net
1800 Mearns Road, Ste GG Warminister PA
Phone:(215) 675-8702
Fax:(215) 675-8702
Edwards Recreation Contact: Leslie Voss
Contact Phone:(831) 659-7212
Contact Email: crmlvalley@aol.com
PO Box 909 Carmel Valley CA 93924
Phone:
Fax:
Fireflies www.firefliesplay.com
Contact: Camille Calderaro
Contact Phone:(651) 221-0915
Contact Email: camille@lunningwende.com
275 E 4th St Ste 620 St Paul MN 55101
Phone:(651) 222-6259
Fax:(651) 222-6259
Great Lakes Recreation Company www.glrec.com
Contact: Jim Kennedy
Contact Phone:(586) 228-9390
Contact Email: jimkennedy.sales@gmail.com
480 N Fairview Rd, Ste 1 Zeeland, MI 49464
Phone:
Fax:
Great Southern Recreation www.greatsouthernrec.com
Contact: Justin Vance
Contact Phone:(800) 390-8438
Contact Email: justin@greatsouthernrec.com
2441-Q Old Fort Pkwy Mufreesboro TN
Phone:
Fax:
Kraftsman www.kraftsmanplaygrounds.com
Contact: Korey Soderberg
Contact Phone:(800) 451-4869
Contact Email: koreys@kppe.com
19535 Haude Rd Spring TX 77388
Phone:
Fax:
Lucky Dog Recreation luckydogrec.com
Contact: Nicole Stoddard
Contact Phone:
Contact Email: nicole@luckydogrec.com
1251 North 3700 East, Ashton ID 83420
Phone:(208) 652-7926
Fax:
MaxPlayFit LLC www.maxplayfit.com
Contact: Pat McNamara
Contact Phone:(888) 574-3033
Contact Email: pat@maxplayfit.com
1254 Eyrie View Dr. Lynchburg VA 24503
Phone:
Fax:
Miracle Play Systems www.miracleplaygroup.com
Contact: Kit Steven
Contact Phone:(800) 879-7730
Contact Email: kit@miracleplaygroup.com
PO Box 263 Oakland CA 94507
Phone:
Fax:
Miracle Playground Sales www.miracleplayground.com
Contact: Monte Corley
Contact Phone:(800) 905-1411 Ext. 10
Contact Email: monte@miracleplayground.com
9106 Pulsar Court Unit C Corona CA
Phone:
Fax:
MTS Recreation http://www.mtsrecreations.com
Contact: Mit Smith
Contact Phone:
Contact Email: nitsmith@verizon.net
140 Beverly Road Ashland, VA 23005
Phone:(804) 337-3963
Fax:
Pacific Park and Playground www.pacparkplay.com
Contact: Lisa Allen
Contact Phone:(714) 846-4885
Contact Email: lisa@pacparkplay.com
PO Box 1909 Huntington Beach CA 92647
Phone:
Fax:
Park Street Playgrounds www.parkstreetplaygrounds.com
Contact: Margie Salt
Contact Phone:(978) 664-0239
Contact Email: msalf1@verizon.net
263 Park Street North Reading MA
Phone:(978) 664-5999
Fax:(978) 664-5999
Parkreation www.parkreation.com
Contact: John Simonaitis
Contact Phone:(800) 677-6608
Contact Email: john@parkreation.com
27 E Palatine Rd Prospect Heights IL 60070
Phone:
Fax:
Play By Design, Inc. Contact: Cheryl Sumners
Contact Phone:
Contact Email: playbydesigninc@hotmail.com
2929 East 56th Place Tulsa, OK 74105
Phone:
Fax:
Playground Safety Services www.playgroundsafetyservices.com
Contact: Greg Taylor
Contact Phone:(800) 373-4508
Contact Email: gtcpsi@carolina.rr.com
PO Box 729 Shelby NC 28151
Phone:(704) 480-7775
Fax:(704) 480-7775