EMAIL PURCHASE ORDER TO: TIPSPO@TIPS-USA.COM
ATTACH PO AS A PDF - ONLY ONE PO PER EMAIL
PO MUST REFERENCE TIPS CONTRACT NUMBER
VENDOR

Presidio Networked Solutions Inc

WEBSITE

www.presidio.com

SERVICE/PRODUCTS DESCRIPTION

Presidio is one of the largest technology solutions provider in the U.S. We combine experience, scale, and stability with regional expertise and service, so you can rest assured we'll be everywhere you need us to support your global business technology needs. We are not just trusted partners, we enable new thinking. Quick Facts - 2,000+ IT professionals including over 1,000 highly certified consulting engineers - 3,500+ technical industry certifications - Local delivery model with 50+ offices located across the United States - 15+ years of sustained annual double-digit growth rates.
CONTRACT: 1071615 Networking Equipment, Software and Services
Jul-16-2015 to Jul-26-2018
Presidio Networked Solutions Inc
CONTRACT: 1071615 Networking Equipment, Software and Services
Jul-16-2015 to Jul-26-2018
TIPS CONTACT

PAYMENT TO

NAME

Meredith Barton

ADDRESS:

8161 Maple Lawn Blvd., Suite 150

POSITION

TIPS CONTACT

PHONE

(866)-839-8477

CITY:

Fulton

FAX

(866)-839-8472

STATE:

MD

MOBILE

(903)-243-4789

ZIP:

20759

EMAIL

tips@tips-usa.com
| | |
| --- | --- |
| FEDERAL OR EDGAR COMPLIANCE DOCUMENTS FILED WITH CONTRACT: | NO |
| DISADVANTAGED/MINORITY/WOMAN BUSINESS ENTERPRISE | NO |
| HISTORICALLY UNDERUTILIZED BUSINESS (HUB) | NO |
| | |
| --- | --- |
| | AL AK AZ AR CA CO CT DE DC FL GA HI ID IL IN IA KS KY LA ME MD MA MI MN MS MO MT NE NV NH NJ NM NY NC ND OH OK OR PA RI SC SD TN TX UT VT VA WA WI WY |
0

We are committed to provide a financing experience based on unwavering integrity, unmatched service and complete transparency. Our processes have been established with the client in mind, and we are dedicated to ensuring that you enjoy your experience working with our team. Our goal is for you to build a long-term relationship with Live Oak Equipment Finance, not only as your financial partner, but also a firm that can help you grow and excel as a professional in your industry.
Contact Information:
Phone: (512) 726-0367
Email: tips@loequipmentfinance.com
Website: www.loequipmentfinance.com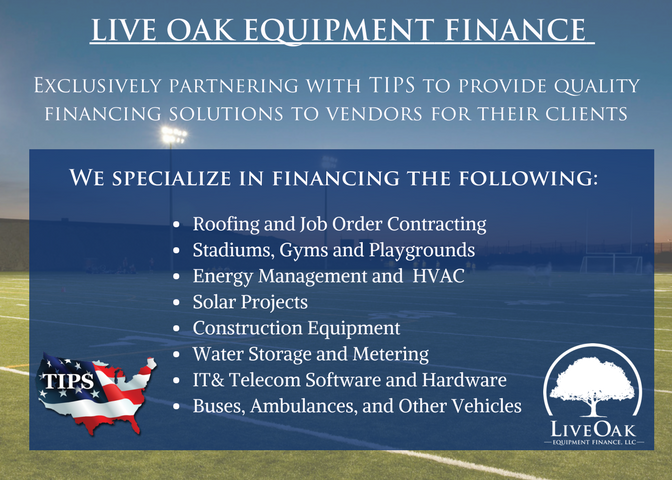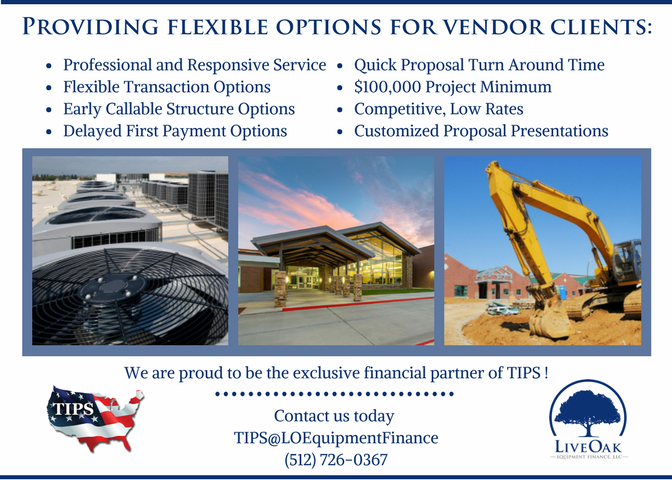 Resellers listed below may also hold a current TIPS contract. PO's for quotes provided by a reseller that are also awarded in the same category will be processed and sent directly to that reseller.
Please check under "ALL VENDORS" before requesting a quote from any listed reseller.
Resellers
Address
Allot Communications Contact:
Contact Phone:(877) 255-6826
Contact Email: sales-usa@allot.com
300 Trade Center, Woburn, MA 01801
Phone:
Fax:
Aruba Networks Contact:
Contact Phone:(408) 227-4500
Contact Email: sales-usa@aruba.com
1344 Crossman Ave., Sunnyvale, CA 94089
Phone:
Fax:
Axis Communications Contact:
Contact Phone:(978) 614-2000
Contact Email: sales@axis.com
300 Apollo Drive, Chelmsford, MA 01824
Phone:
Fax:
Blue Coat Systems Contact:
Contact Phone:(408) 220-2200
Contact Email: insidesales@bluecoat.com
420 N Mary Ave, Sunnyvale, CA 94085
Phone:
Fax:
BlueCat Contact:
Contact Phone:(416) 646-8400
Contact Email: sales@bluecat.com
4101 Yonge St, Ste 502, Toronto, CAN M2P1N6
Phone:
Fax:
Brocade/Foundry Contact:
Contact Phone:(408) 333-8000
Contact Email: sales@brocade.com
130 Holger Way, San Jose, CA 95134
Phone:
Fax:
Check Point Contact:
Contact Phone:(800) 429-4391
Contact Email: sales@checkpoint.com
959 Skyway Road, St 300, San Carlos CA
Phone:
Fax:
Cisco Contact:
Contact Phone:(800) 553-6387
Contact Email: sales@cisco.com
170 W Tasman Dr., San Jose, CA 95134
Phone:
Fax:
Commvault Contact:
Contact Phone:(888) 746-3849
Contact Email: sales@commvault.com
1 CommVault Way, Tinton Falls, NJ 07724
Phone:
Fax:
Ekahau Contact:
Contact Phone:(866) 435-2428
Contact Email: sales-americas@ekahau.com
1851 Alexander Bell Drive, Reston, VA 20191
Phone:
Fax:
EMC Contact:
Contact Phone:(857) 413-3090
Contact Email: info@emc.com
125 High Street, Boston MA 02110
Phone:
Fax:
Extreme Networks Contact:
Contact Phone:(888) 257-3000
Contact Email: sales@extremenetworks.com
145 Rio Robles, San Jose, CA 95134
Phone:
Fax:
Fluke Networks Contact:
Contact Phone:(800) 283-5853
Contact Email: info@flukenetworks.com
6920 Seaway Blvd., Everett, WA 98203
Phone:
Fax:
Four Winds Interactive Contact:
Contact Phone:(720) 259-5000
Contact Email: info@fourwindsinteractive.com
3012 Huron St., Denver, CO 80202
Phone:
Fax:
Infoblox Contact:
Contact Phone:(408) 986-4000
Contact Email: info@infoblox.com
3111 Coronado Dr., Santa Clara, CA 95054
Phone:
Fax:
lpswitch Contact:
Contact Phone:(800) 793-4825
Contact Email: info@ipswitch.com
83 Hartwell Ave., Lexington, MA 02421
Phone:
Fax:
NetScout Contact:
Contact Phone:(800) 357-7666
Contact Email: info@netscout.com
310 Littleton Rd., Westford, MA 01886
Phone:
Fax:
Nimble Storage Contact:
Contact Phone:(877) 364-6253
Contact Email: info@nimblestorage.com
211 River Oaks Pkwy, San Jose, CA 95134
Phone:
Fax:
Nutanix Contact:
Contact Phone:(855) 688-2659
Contact Email: info@nutanix.com
1740 Technology Dr., Ste 150, San Jose, CA
Phone:
Fax:
Palo Alto Networks Contact:
Contact Phone:(866) 320-4788
Contact Email: info@paloaltonetworks.com
4401 Great America Pkwy., Santa Clara, CA
Phone:
Fax:
Pure Storage Contact:
Contact Phone:(800) 379-7873
Contact Email: sales@purestorage.com
650 Castro St, Ste 260, Mountain View, CA
Phone:
Fax:
Riverbed Contact:
Contact Phone:(877) 483-7233
Contact Email: sales@riverbed.com
680 Folsom St., San Francisco, CA 94107
Phone:
Fax:
Tipping Point Contact:
Contact Phone:(650) 857-1501
Contact Email: sales@hp.com
3000 Hanover St., Palo Alto, CA 94304
Phone:
Fax:
Veeam Contact:
Contact Phone:(678) 353-2140
Contact Email: info@veeam..com
2520 Northwinds Pkwy, Alpharetta GA 30009
Phone:
Fax: