AUTOMATED VENDOR (DO NOT SEND PO TO TIPS)
EMAIL PURCHASE ORDER TO: Timothy.LaBrie@officedepot.com
PO MUST REFERENCE TIPS CONTRACT NUMBER
VENDOR

Office Depot

WEBSITE

www.business.officedepot.com

SERVICE/PRODUCTS DESCRIPTION

Office Depot, Inc. is a leading global provider of products, services, and solutions for every workplace ? whether your workplace is an office, home, school or car.Office Depot, Inc. is a resource and a catalyst to help customers work better. We are a single source for everything customers need to be more productive, including the latest technology, core office supplies, print and document services, business services, facilities products, furniture, and school essentials.The Company has annual sales of approximately $11 billion, employs approximately 38,000 associates, and serves consumers and businesses in North America and abroad with approximately 1,400 retail stores, award-winning e-commerce sites and a dedicated business-to-business sales organization ? all delivered through a global network of wholly owned operations, franchisees, licensees and alliance partners. The Company operates under several banner brands including Office Depot, OfficeMax, Grand & Toy, and Viking. The company'?s portfolio of exclusive product brands include TUL, Foray, Brenton Studio, Ativa, WorkPro, Realspace and HighMark.Office Depot, Inc.'?s charitable arm, The Office Depot Foundation, supports programs that enhance quality of life for children, strengthen communities, encourage local and international economic growth, and empower schools and non-profit organizations. Office Depot and OfficeMax also provides resources and support to small businesses through its Business Solutions Center. The center provides informative tips, advice, articles, videos and more designed to help businesses achieve their goals.
CONTRACT: 170104 Janitorial and Sanitation Supplies and Services
Mar-23-2017 to Mar-26-2020
CONTRACT: 170904 Managed Print Services
Nov-16-2017 to Nov-19-2020
Office Depot
CONTRACT: 170104 Janitorial and Sanitation Supplies and Services
Mar-23-2017 to Mar-26-2020
Office Depot
CONTRACT: 170904 Managed Print Services
Nov-16-2017 to Nov-19-2020
TIPS CONTACT

PAYMENT TO

NAME

Meredith Barton

ADDRESS:

6600 North Military Trail

POSITION

TIPS CONTACT

PHONE

(866)-839-8477

CITY:

Boca Raton

FAX

(866)-839-8472

STATE:

FL

MOBILE

(903)-243-4789

ZIP:

33496

EMAIL

tips@tips-usa.com
| | |
| --- | --- |
| FEDERAL OR EDGAR COMPLIANCE DOCUMENTS FILED WITH CONTRACT: | NO |
| DISADVANTAGED/MINORITY/WOMAN BUSINESS ENTERPRISE | NO |
| HISTORICALLY UNDERUTILIZED BUSINESS (HUB) | NO |
| | |
| --- | --- |
| | AL AK AZ AR CA CO CT DE DC FL GA HI ID IL IN IA KS KY LA ME MD MA MI MN MS MO MT NE NV NH NJ NM NY NC ND OH OK OR PA RI SC SD TN TX UT VT VA WA WV WI WY |
0

We are committed to provide a financing experience based on unwavering integrity, unmatched service and complete transparency. Our processes have been established with the client in mind, and we are dedicated to ensuring that you enjoy your experience working with our team. Our goal is for you to build a long-term relationship with Live Oak Equipment Finance, not only as your financial partner, but also a firm that can help you grow and excel as a professional in your industry.
Contact Information:
Phone: (512) 726-0367
Email: tips@loequipmentfinance.com
Website: www.loequipmentfinance.com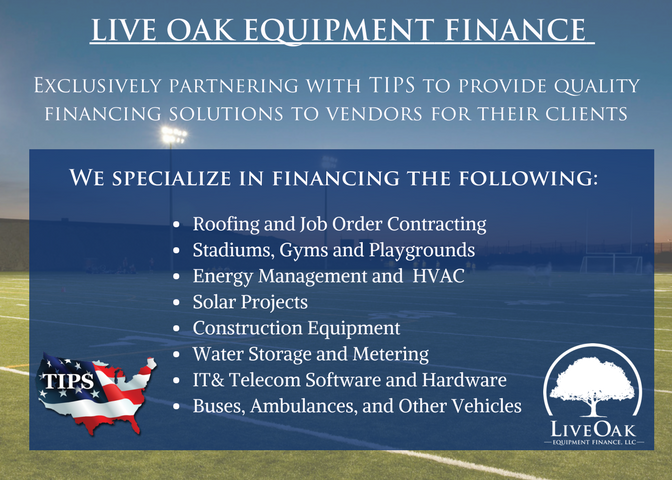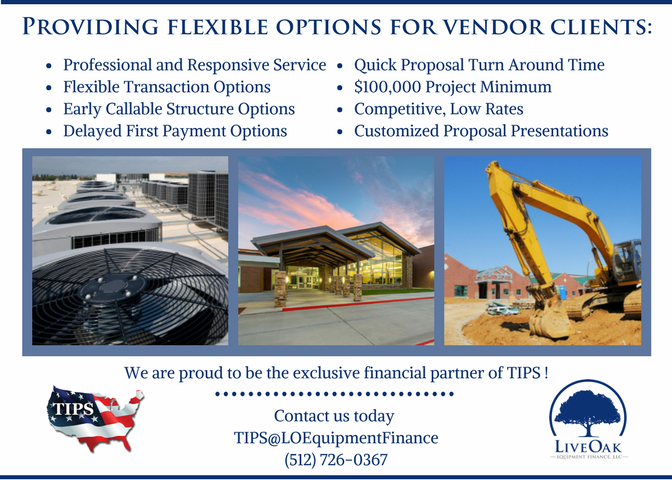 Office Depot Registration Page Information

To set up a new account or to attach the Office Depot/TIPS Pricing to your existing Office Depot account, please select the appropriate form from the below list and complete the required information. If you are an existing Office Depot customer, you must provide your existing account number(s). Please allow 5 to 7 business days for your request to be processed. You will also be receiving an email or phone call from your local Office Depot representative with all of the contract information and your representative will be able to answer any questions about the TIPS Program. Please contact TIPS at tips@tips-usa.com or call toll free at (866)839-8477. If you need assistance from an Office Depot representative, please email or call Pam Pedler at pam.pedler@officedepot.com, or (860)883-9281.