EMAIL PURCHASE ORDER TO: TIPSPO@TIPS-USA.COM
ATTACH PO AS A PDF - ONLY ONE PO PER EMAIL
PO MUST REFERENCE TIPS CONTRACT NUMBER
VENDOR

ESI Ergonomic Solutions

WEBSITE

www.esiergo.com

SERVICE/PRODUCTS DESCRIPTION

ESI carries a full line of ergonomic worktools available for the office, healthcare and education environments. Products include Monitor Arms, Keyboard Solutions,LED Lighting, Sit-Stand Solutions, Adjustable Tables, Power and CPU devices. Our product offering is continuously expanding as a result of listening to our customers and providing those products that are being asked for in the marketplace. ESI Ergonomic Solutions has been providing superior ergonomic worktools at affordable prices since 1988.
CONTRACT: 1102215 Furniture (Expires Oct 2018)
Oct-22-2015 to Oct-25-2018
ESI Ergonomic Solutions
CONTRACT: 1102215 Furniture (Expires Oct 2018)
Oct-22-2015 to Oct-25-2018
PRIMARY CONTACT

SECONDARY CONTACT

NAME

Michelle Warren
Phil Hansen

POSITION

Vice President, Government Sales
Customer Service Manager

PHONE

(410) 707-6569
(480) 517-1871

FAX

(480) 517-1872
(480) 517-1872

MOBILE

EMAIL

Mwarren@esiergo.com
phansen@esiergo.com

WEBSITE

www.esiergo.com
TIPS CONTACT

PAYMENT TO

NAME

Meredith Barton

ADDRESS:

4030 East Quenton Dr.

POSITION

TIPS CONTACT

PHONE

(866)-839-8477

CITY:

Mesa

FAX

(866)-839-8472

STATE:

AZ

MOBILE

ZIP:

85215

EMAIL

tips@tips-usa.com
| | |
| --- | --- |
| FEDERAL OR EDGAR COMPLIANCE DOCUMENTS FILED WITH CONTRACT: | Yes |
| DISADVANTAGED/MINORITY/WOMAN BUSINESS ENTERPRISE | YES |
| HISTORICALLY UNDERUTILIZED BUSINESS (HUB) | NO |
| | |
| --- | --- |
| | AL AK AZ AR CA CO CT DE DC FL GA HI ID IL IN IA KS KY LA ME MD MA MI MN MS MO MT NE NV NH NJ NM NY NC ND OH OK OR PA RI SC SD TN TX UT VT VA WA WI WY |
0

We are committed to provide a financing experience based on unwavering integrity, unmatched service and complete transparency. Our processes have been established with the client in mind, and we are dedicated to ensuring that you enjoy your experience working with our team. Our goal is for you to build a long-term relationship with Live Oak Equipment Finance, not only as your financial partner, but also a firm that can help you grow and excel as a professional in your industry.
Contact Information:
Phone: (512) 726-0367
Email: tips@loequipmentfinance.com
Website: www.loequipmentfinance.com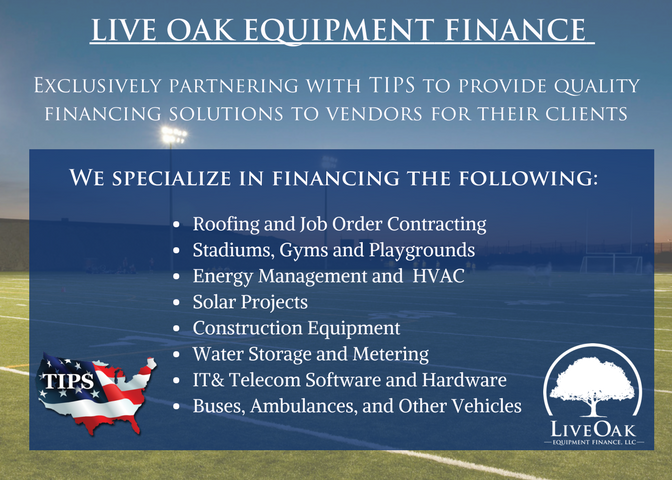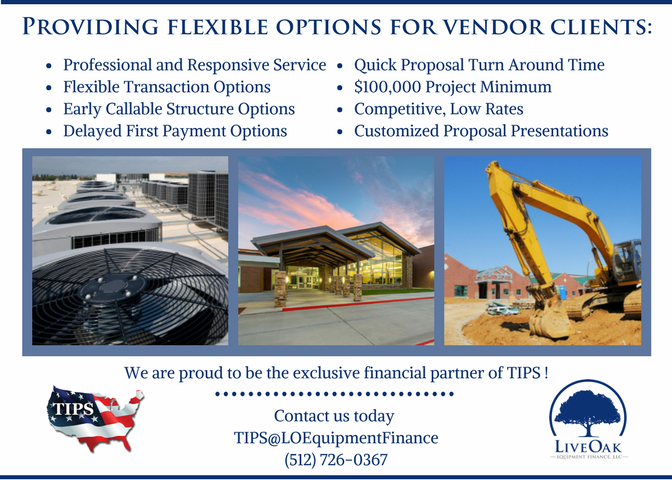 Resellers listed below may also hold a current TIPS contract. PO's for quotes provided by a reseller that are also awarded in the same category will be processed and sent directly to that reseller.

Please check under "ALL VENDORS" before requesting a quote from any listed reseller.
Resellers
Address
360 OFFICE SOLUTIONS http://360-os.com/
Contact: Vic Shay
Contact Phone:
Contact Email: vics@360-OS.com
3676 Pierce Parkway, , Billings, MT
Phone:406-869-0416
Fax:406-869-0416
ALTERNATIVE BUSINESS FURNITURE http://www.altbusfurn.com/
Contact:
Contact Phone:
Contact Email: info@altbusfurn.com
6533 FLYING CLOUD DRIVE #800, , EDEN PRAIRIE, MN
Phone:952.937.7688
Fax:952.937.7688
Arenson Office Furnishings - CT http://www.aof.com/
Contact: Carl Milianta
Contact Phone:
Contact Email: info@aof.com
300 First Stamford Place, , Stamford, CT
Phone:(203) 348-2900
Fax:(203) 348-2900
Arenson Office Furnishings - NJ http://www.aof.com/
Contact: Carl Milianta
Contact Phone:
Contact Email: info@aof.com
90 Woodbridge Center Drive, Ste. 160,, Woodbridge,, NJ
Phone:(732) 283-9395
Fax:(732) 283-9395
Arenson Office Furnishings - NY http://www.aof.com/
Contact: Carl Milianta
Contact Phone:
Contact Email: info@aof.com
1115 Broadway, 6th Floor, NEW YORK, NY
Phone:(212) 633-2400
Fax:(212) 633-2400
BUSINESS ENVIRONMENTS- NM http://www.businessenvironments.com/
Contact:
Contact Phone:
Contact Email: info@businessenvironments.com
5351 WILSHIRE AVE NE, , ALBUQUERQUE, NM
Phone:(505) 888-4400
Fax:(505) 888-4400
BUSINESS INTERIORS BY STAPLES- STX http://prod.staplesadvantage.com/office-furniture/#/
Contact: Peter Brodsky
Contact Phone:
Contact Email: peter.brodsky@staples.com
6400 HOLLISTER, , HOUSTON, TX
Phone:713-934-6328
Fax:713-934-6328
BUSINESS INTERIORS- TX http://businessinteriors.com/
Contact: Greg Miller
Contact Phone:
Contact Email: gmiller@businessinteriors.com
1111 VALLEY VIEW LANE, , IRVING, TX
Phone:817-994-5759
Fax:817-994-5759
CAPITAL OFFICE SYSTEMS http://www.capital-office.com/Home
Contact: John Rafferty
Contact Phone:
Contact Email: jrafferty@capital-office.com
1120 E 35th Ave, , Anchorage, AK
Phone:907-777-1500
Fax:907-777-1500
CCG HOWELLS http://www.ccghowells.com/
Contact:
Contact Phone:
Contact Email: ccgh@ccghowells.com
358 SOUTH RIO GRANDE, , SALT LAKE CITY, UT
Phone:801.359.6622
Fax:801.359.6622
CIS - CORPORATE INTERIOR SYSTEMS http://www.cisinphx.com/
Contact: Jessica Smith
Contact Phone:
Contact Email: sales@cisinphx.com
3311 E BROADWAY RD. #A, , PHOENIX, AZ
Phone:602.304.0100
Fax:602.304.0100
CJ & ASSOCIATES, INC. http://cjassociatesinc.com/
Contact: Jessica Hartung
Contact Phone:
Contact Email: jhartung@cjassociatesinc.com
16915 W. VICTOR RD., , NEW BERLIN, WI
Phone:262-786-1772
Fax:262-786-1772
COMMERCIAL FURNITURE INTERIORS http://cfioffice.com/
Contact:
Contact Phone:
Contact Email:
1154 ROUTE 22, , MOUNTAINSIDE, NJ
Phone:908.518.1670
Fax:908.518.1670
COMMERCIAL OFFICE INTERIORS- WA http://www.coiseattle.com/
Contact:
Contact Phone:
Contact Email: info@coiseattle.com
2601 4TH AVE SUITE 700, , SEATTLE, WA
Phone:206.448.7333
Fax:206.448.7333
COMPASS OFFICE SOLUTIONS http://www.compass-office.com/
Contact:
Contact Phone:
Contact Email: info@compass-office.com
3320 ENTERPRISE WAY, , MIRAMAR, FL
Phone:954-430-4590
Fax:954-430-4590
CONTINENTAL OFFICE ENVIRONMENTS http://www.continentaloffice.com/
Contact:
Contact Phone:
Contact Email: info@continentaloffice.com
2601 SILVER DR, , COLUMBUS, OH
Phone:614-262-5010
Fax:614-262-5010
CONTRACT FURNISHINGS INC - CO http://contractdenver.com/
Contact: Christopher Leach
Contact Phone:
Contact Email: leachc@contractdenver.com
3115 E. 40TH AVE., , DENVER, CO
Phone:720-956-1515
Fax:720-956-1515
CORE BUSINESS INTERIORS http://www.corebusinessinteriors.com/
Contact: Sonja Sorrick
Contact Phone:
Contact Email: info@corebusinessinteriors.com
7910 N INGRAM, SUITE 103, FRESNO, CA
Phone:559.297.6400
Fax:559.297.6400
CRAWFORD & COMPANY http://www.crawford-co.com/
Contact: Bill Crawford
Contact Phone:
Contact Email: bcrawford@crawford-co.com
BMEA ENTERPRISES INC, 13370 KIRKHAM WAY, POWAY, CA
Phone:858-513-6584
Fax:858-513-6584
CREATIVE OFFICE PAVILION-ME http://creativeofficepavilion.com/
Contact:
Contact Phone:
Contact Email: web-portland@cop-inc.com
141 MIDDLE STREET, , PORTLAND, ME
Phone:(207) 775-7100
Fax:(207) 775-7100
DEBNER+COMPANY http://www.debner.com/PAGES/Home/Index.html
Contact: Tim Debner
Contact Phone:
Contact Email: timd@debner.com
8020 KATY FREEWAY, , HOUSTON, TX
Phone:713.782.1300
Fax:713.782.1300
EMPIRE OFFICE - FL http://www.empireoffice.com/
Contact:
Contact Phone:
Contact Email:
951 Broken Sound Parkway, Suite 300, Boca Raton, FL
Phone:561.826.6868
Fax:561.826.6868
EVENSONBEST - DC http://www.evensonbest.com/main6/
Contact: Vernon Evanson
Contact Phone:
Contact Email: info@evensonbest.com
1915 EYE STREET NW, SUITE 800, WASHINGTON, DC
Phone:202-540-5700
Fax:202-540-5700
EVENSONBEST - NJ http://www.evensonbest.com/main6/
Contact: Vernon Evanson
Contact Phone:
Contact Email: info@evensonbest.com
400 CONNELL DRIVE, SUITE 2100, BERKELY HEIGHTS, NJ
Phone:908-663-2700
Fax:908-663-2700
EVENSONBEST - NY http://www.evensonbest.com/main6/
Contact: Vernon Evanson
Contact Phone:
Contact Email: info@evensonbest.com
641 AVE OF THE AMERICAS, , NEW YORK, NY
Phone:212-549-8000
Fax:212-549-8000
FACILITEC http://www.facilitec-inc.com/
Contact: Susie Fishleder
Contact Phone:
Contact Email: salesaz@facilitec-inc.com
4501 E. MCDOWELL RD., , PHOENIX, AZ
Phone:602-275-0101
Fax:602-275-0101
FACILITEC OF WASHINGTON http://www.facilitec-inc.com/
Contact:
Contact Phone:
Contact Email: SalesWA@facilitec-inc.com
18642 68TH AVE SOUTH, , KENT, WA
Phone:206.435.7700
Fax:206.435.7700
FENS ASSOCIATES - GA www.fensassociates.com
Contact: Jennifer Hurst
Contact Phone:
Contact Email: Jhurst@FensAssociates.com
6485 SHILOH ROAD, , ALPHARETTA, GA
Phone:770-889-8884
Fax:770-889-8884
FENS ASSOCIATES - MA www.fensassociates.com
Contact: Jennifer Hurst
Contact Phone:
Contact Email: Jhurst@FensAssociates.com
PO BOX 186, , GROVELAND, MA
Phone:978-372-2650
Fax:978-372-2650
GENERAL OFFICE PRODUCTS CO http://www.gopco.com/
Contact:
Contact Phone:
Contact Email: info@gopco.com
4521 HIGHWAY SEVEN, , MINNEAPOLIS, MN
Phone:(952) 925-7500
Fax:(952) 925-7500
GOODMANS INC http://www.goodmansinc.com/
Contact: Stacey Huld
Contact Phone:
Contact Email: customercare@goodmans.info
1400 E. Indian School Road, , Phoenix, AZ
Phone:602.263.1110
Fax:602.263.1110
Harris Worksystems Inc http://www.harrisworksystems.com/
Contact: Colleen Harris
Contact Phone:
Contact Email: ColleenH@HarrisWorksystems.com
12150 SW Garden Place, , Tigard, OR
Phone:(800)-577-4797
Fax:(800)-577-4797
HENRIKSEN BUTLER DESIGN GROUP - UT http://hbdg.com/
Contact:
Contact Phone:
Contact Email: postmaster@henriksenbutler.com
249 SOUTH 400 EAST, , SALT LAKE CITY, UT
Phone:801.363.5881
Fax:801.363.5881
HERALD OFFICE SYSTEMS http://www.hosnet.net/
Contact: Becky Osmond
Contact Phone:
Contact Email: bosmond@hosnet.net
708 N 1ST AVE, , DILLON, SC
Phone:843-556-1007
Fax:843-556-1007
HST CORPORATE INTERIORS http://hstcorporateinteriors.com/
Contact: Brenda Pond
Contact Phone:
Contact Email: bpond@hstci.com
680 RUNDLE AVE, , NASHVILLE, TN
Phone:615-321-9590
Fax:615-321-9590
INNOVATIVE OFFICE SOLUTIONS http://www.innovativeos.com/
Contact:
Contact Phone:
Contact Email: cs@innovativeos.com
151 EAST CLIFF ROAD, , BURNSVILLE, MN
Phone:866.574.5389
Fax:866.574.5389
INSIDE SOURCE/YOUNG http://www.youngos.com/
Contact: Rose Young
Contact Phone:
Contact Email: youngrose@youngoffice.com
985 INDUSTRIAL RD., SUITE 101, SAN CARLOS, CA
Phone:415-399-5300
Fax:415-399-5300
INTERIOR ALLIANCE http://www.interioralliance.com/
Contact:
Contact Phone:
Contact Email: info@interioralliance.com
746 HOLLIE AVE., , FARMINGTON, UT
Phone:801-694-1855
Fax:801-694-1855
INTERIOR OFFICE SOLUTIONS- OR http://interiorofficesolutions.com
Contact:
Contact Phone:
Contact Email: info@iosinc.net
240 N BROADWAY #100, , PORTLAND, OR
Phone:503.534.0200
Fax:503.534.0200
INTERIOR SOLUTIONS- AZ http://www.interiorsolutions.net/
Contact: Cat Heyn
Contact Phone:
Contact Email: cheyn@interiorsolutions.net
4645 S 35TH ST, POC: Henry 480.223.9228, PHOENIX, AZ
Phone:480-223-9250
Fax:480-223-9250
INTERIOR WORKPLACE SOLUTIONS http://www.interiorworkplace.com/home
Contact:
Contact Phone:
Contact Email: info@interiorworkplace.com
6765 AMBASSADOR DR., , ALLENTOWN, PA
Phone:(610) 391-0733
Fax:(610) 391-0733
J.C. WHITE OFFICE FURNITURE http://www.jcwhite.com/
Contact: Steve Kahn
Contact Phone:
Contact Email: steve.kahn@jcwhite.com
3501 COMMERCE PARKWAY, , MIRAMAR, FL
Phone:954-499-6677
Fax:954-499-6677
KING BUSINESS INTERIORS http://www.kbiinc.com/
Contact: Darla King
Contact Phone:
Contact Email: darlaking@kbiiinc.com
6155 HUNTLEY RD #D, , COLUMBUS, OH
Phone:614-430-0020
Fax:614-430-0020
MIDWEST COMMERCIAL INTERIORS http://www.midwestcommercialinteriors.com/
Contact: Marshall Tate
Contact Phone:
Contact Email: MarshallT@MWCIutah.com
987 S WEST TEMPLE, , SALT LAKE CITY, UT
Phone:(801) 505-4288
Fax:(801) 505-4288
MILES TREASTER & ASSOCIATES http://www.mtaoffice.com/
Contact: Joseann Tse
Contact Phone:
Contact Email: tkingsbury@mtaoffice.com
3480 INDUSTRIAL BLVD #100, , WEST SACRAMENTO, CA
Phone: 916.373.1800
Fax: 916.373.1800
MILLER'S OF COLUMBIA, INC Contact: Janice Smith
Contact Phone:
Contact Email: info@millersinc.com
2905 TWO NOTCH ROAD, , COLUMBIA, SC
Phone:"803.254.1656
Fax:"803.254.1656
MODERN BUSINESS SYSTEMS INC. http://www.mbsaugusta.com/
Contact: Bill Pitts
Contact Phone:
Contact Email: bpitts@mbsaugusta.com
1445 GREENE ST, , AUGUSTA, GA
Phone:
Fax:
MY OFFICE PRODUCTS- OH https://www.myofficeproducts.com
Contact: Dwayne Deal
Contact Phone:
Contact Email: dwayne.deal@myofficeproducts.com
22 CENTURY BLVD, SUITE 420, NASHVILLE, TN
Phone:864-978-8154
Fax:864-978-8154
NFL OFFICEWORKS- GA http://www.nflinc.com/
Contact: Rick Robillard
Contact Phone:
Contact Email: RickRobillard@nflinc.com
2865 LOG CABIN DRIVE, , SMYRNA, GA
Phone:404-872-7280
Fax:404-872-7280
NORTHERN BUSINESS PRODUCTS http://www.nbpoffice.com/
Contact:
Contact Phone:
Contact Email: customerservice@nbpoffice.com
2326 W. Superior Street, , Duluth, MN
Phone:218-726-0167
Fax:218-726-0167
OFFICE DEPOT/OFFICE MAX http://www.officedepot.com/
Contact: Kris Anderson
Contact Phone:
Contact Email: kristin.anderson@officedepot.com
602 S. 63RD AVE, , PHOENIX, AZ
Phone:623-907-6006
Fax:623-907-6006
OFFICE ENVIRONMENTS AND SERVICES http://www.oesjax.com/
Contact: Jennifer Cook
Contact Phone:
Contact Email: jcook@officeenvironments.com
1524 SAN MARCO BLVD., , JACKSONVILLE, FL
Phone:850-434-1165
Fax:850-434-1165
OFFICE ENVIRONMENTS- PA http://www.oeonline.net/
Contact: Melissa Cosgrove
Contact Phone:
Contact Email: mcosgrove@oeonline.net
1500 GRUNDY'S LANE, , BRISTOL, PA
Phone:267 553 1000
Fax:267 553 1000
OFFICE FURNITURE INC (OFI) http://www.myofi.com/
Contact: Iris Rosado
Contact Phone:
Contact Email: IRosado@myofi.com
CONTRACT INTERIORS, 28 GARFIELD ST., NEWINGTON, CT
Phone:800.283.3357
Fax:800.283.3357
OFFICE SOLUTIONS & SERVICES http://os2inc.com/
Contact:
Contact Phone:
Contact Email:
1020 NORTH AVE WEST, , MISSOULA, MT
Phone:406-541-2020
Fax:406-541-2020
OFFICESCAPES - DENVER http://www.officescapes.com/
Contact:
Contact Phone:
Contact Email: info@officescapes.com
9900 E. 51ST, , DENVER, CO
Phone:(303) 574-1115
Fax:(303) 574-1115
OFFICEWORKS, LLC - TN http://www.officeworksllc.com/
Contact:
Contact Phone:
Contact Email: info@officeworksllc.com
318 NANCY LYNN LANE, , KNOXVILLE, TN
Phone:865.588.7280
Fax:865.588.7280
OMNI WORKSPACE COMPANY LLC DBA ATMOSP http://www.atmosphereci.com/
Contact: Rock Rickert
Contact Phone:
Contact Email: rock.rickert@targetinteriors.com
8530 S.Priest Dr., , Phoenix, AZ
Phone:602-417-1266
Fax:602-417-1266
ONE WORKPLACE L. FERRARI http://www.oneworkplace.com/
Contact:
Contact Phone:
Contact Email: info@oneworkplace.com
2500 DE LA CRUZ BLVD, , SANTA CLARA, CA
Phone:(669) 800-2500
Fax:(669) 800-2500
OPEN SQUARE - Seattle (Workspace Developmen http://www.open-sq.com/
Contact:
Contact Phone:
Contact Email: sales@open-sq.com
5601 6TH AVE S, , SEATTLE, WA
Phone:(800) 762-8002
Fax:(800) 762-8002
PIVOT INTERIORS http://www.pivotinteriors.com/
Contact: Aimee Fisher
Contact Phone:
Contact Email: info@pivotinteriors.com
1135 Montague Expressway, , Milpitas, CA
Phone:657-232-9300
Fax:657-232-9300
PIVOT INTERIORS  http://www.pivotinteriors.com/
Contact: Aimee Fisher
Contact Phone:
Contact Email: info@pivotinteriors.com
2740 ZANKER ROAD#100, , SAN JOSE, CA
Phone:408-432-5600
Fax:408-432-5600
PRICE MODERN LLC - DC http://pricemodern.com
Contact: Tom Adams
Contact Phone:
Contact Email: tom.adams@pricemodern.com
4400 FORBES BLVD, , BALTIMORE, MD
Phone:301-459-8111
Fax:301-459-8111
PRICE MODERN LLC - MD http://pricemodern.com
Contact: Brent Matthews
Contact Phone:
Contact Email: Brent.matthews@pricemodern.com
2604 SISSON ST, , BALTIMORE, MD
Phone:410-366-5500
Fax:410-366-5500
RECONDITIONED SYSTEMS http://www.rsisystemsfurniture.com/
Contact: John Fitz
Contact Phone:
Contact Email: rsisales@resy.net
235 S. 56TH ST., , CHANDLER, AZ
Phone:800-280-5000
Fax:800-280-5000
REFURBISHED OFFICE FURNITURE http://www.rofinc.net/
Contact:
Contact Phone:
Contact Email: info@rofinc.com
1212 NORTH 39TH ST., , TAMPA, FL
Phone:(877) 763-4400
Fax:(877) 763-4400
RSFI http://rsfi.com/
Contact:
Contact Phone:
Contact Email:
RECYCLED SYSTEMS FURNITURE INC, 401 EAST WILSON BRIDGE RD, WORTHINGTON, OH
Phone:614.880.9110
Fax:614.880.9110
SAXTON http://www.saxtoninc.com/
Contact: Kim Augspurger
Contact Phone:
Contact Email: kim-augspurger@saxtoninc.com
600 3RD ST., SUITE #300, CEDAR RAPIDS, IA
Phone:319-365-6967
Fax:319-365-6967
SCHOOL SPECIALTIES https://store.schoolspecialty.com
Contact: Greg Hall
Contact Phone:
Contact Email: ghall@schoolspecialty.com
PO BOX 1017, , APPLETON, WI
Phone:916-691-0553
Fax:916-691-0553
SIDEMARK CORPORATE FURNITURE - SNCL Contact:
Contact Phone:
Contact Email: sales@sidemark.com
3312 WOODWARD AVE, , SANTA CLARA, CA
Phone:"408.490.3300
Fax:"408.490.3300
STEPHENS OFFICE SYSTEMS - NC http://www.stephensoffice.com/
Contact: John Stephens IV
Contact Phone:
Contact Email: john4@stephensoffice.com
300 FOSTER AVE., , Charlotte, NC
Phone:
Fax:
STORR OFFICE ENVIRONMENTS OF THE TRIAD http://www.storr.com/
Contact:
Contact Phone:
Contact Email: salesinfo@storr.com
10800 WORLD TRADE BLVD, , RALEIGH, NC
Phone:
Fax:
TANGRAM INTERIORS-SANTE FE SPGS http://tangraminteriors.com/
Contact: Joseph Lozowski
Contact Phone:
Contact Email:
9200 SORENSON AVE, , SANTA FE SPRINGS, CA
Phone:
Fax:
Texas Wilson http://www.texaswilson.com/
Contact: Lori Lopez
Contact Phone:(210) 647-2313
Contact Email: llopez@texaswilson.com
6812 Fairgrounds Parkway San Antonio TX 78238
Phone:
Fax:
THE OFIS BY POWELL http://www.theofis.com/
Contact: Rachel Kennedy
Contact Phone:
Contact Email: rkennedy@theofis.com
7110 OLD KATY RD #200, , HOUSTON, TX
Phone:
Fax:
TUCSON BUSINESS INTERIORS http://www.tbi-inc.com/
Contact: Dottie
Contact Phone:
Contact Email: dottie@tbi-inc.com
305 S Euclid Ave #107, , Tucson, AZ
Phone:520.620.1555
Fax:520.620.1555
TURNKEY PROJECT SERVICES LLC Contact:
Contact Phone:
Contact Email:
15000 GRAND RIVER RD, STE #111, FORT WORTH, TX
Phone:"(817) 633-3030
Fax:"(817) 633-3030
WESTFALL COMMERCIAL FURNITURE http://www.westfall.co/
Contact:
Contact Phone:
Contact Email: Customerservice@Westfall.com
444 SOUTH FLOWER ST #4280, , LOS ANGELES, CA
Phone:
Fax:
WORKPLACE ELEMENTS LLC - CO http://www.workplaceelements.com/
Contact:
Contact Phone:
Contact Email:
DBA ELEMENTS, 2501 BLAKE ST, DENVER, CO
Phone:303.471.4334
Fax:303.471.4334
WORKPLACE RESOURCE - DEN http://www.wrcolo.com/
Contact:
Contact Phone:
Contact Email:
1899 WYNKOOP SUITE 550, , DENVER, CO
Phone:(303) 571-5211
Fax:(303) 571-5211
WORKSPACES - AZ http://www.workspacesaz.com/
Contact: Andrea Bailey
Contact Phone:
Contact Email:   abailey@workspacesaz.com
7720 N. 16TH ST., SUITE 375, PHOENIX, AZ
Phone:602.956.1550
Fax:602.956.1550