AUTOMATED VENDOR (DO NOT SEND PO TO TIPS)
EMAIL PURCHASE ORDER TO: Customer.Service@Keilhauer.com
PO MUST REFERENCE TIPS CONTRACT NUMBER

Print
VENDOR

Keilhauer Ltd

1450 Birchmount Road Toronto ON,M1P 2E3

WEBSITE

www.Keilhauer.com

SERVICE/PRODUCTS DESCRIPTION

Founded in 1981, Keilhauer is a privately owned, design-focused contract furniture manufacturer. We specialize in seating and tables for all areas of an organization where there is an exchange of ideas. Keilhauer is internationally recognized for award-winning design and responding to our clients' needs. We have built a reputation for providing value and quality to our customers from Asia to Europe, to the United States of America. Our growth has been the result of a continuing commitment to our staff and our customers and we remain, to this day, committed to creating seating that is well constructed and delivered on time. Keilhauer products are engineered and manufactured out of our two company-owned facilities, each piece built with extreme craftsmanship, to the highest environmental standards at an affordable price.
Keilhauer Ltd
CONTRACT: 180305 Furniture, Furnishings and Services (2)
May-25-2018 to May-31-2020
EDGAR COMPLIANCE : Yes
Keilhauer Ltd

Print
Furniture, Furnishings and Services (2) (180305)
Exp.Date 05/31/2020 EDGAR: Yes
| | |
| --- | --- |
| DISADVANTAGED/MINORITY/WOMAN BUSINESS ENTERPRISE | No |
| HISTORICALLY UNDERUTILIZED BUSINESS (HUB) | No |
| | |
| --- | --- |
| | AL , AK , AZ , AR , CA , CO , CT , DE , DC , FL , GA , HI , ID , IL , IN , IA , KS , KY , LA , ME , MD , MA , MI , MN , MS , MO , MT , NE , NV , NH , NJ , NM , NY , NC , ND , OH , OK , OR , PA , RI , SC , SD , TN , TX , UT , VT , VA , WA , WI , WY |
Live Oak Equipment Finance is the exclusive financial parter of TIPS! Allow LOEF to help assist you in your financial needs today!

We are committed to provide a financing experience based on unwavering integrity, unmatched service and complete transparency. Our processes have been established with the client in mind, and we are dedicated to ensuring that you enjoy your experience working with our team. Our goal is for you to build a long-term relationship with Live Oak Equipment Finance, not only as your financial partner, but also a firm that can help you grow and excel as a professional in your industry.
Contact Information:
Phone: (512) 726-0367
Email: tips@loeqf.com
Website: www.loeqf.com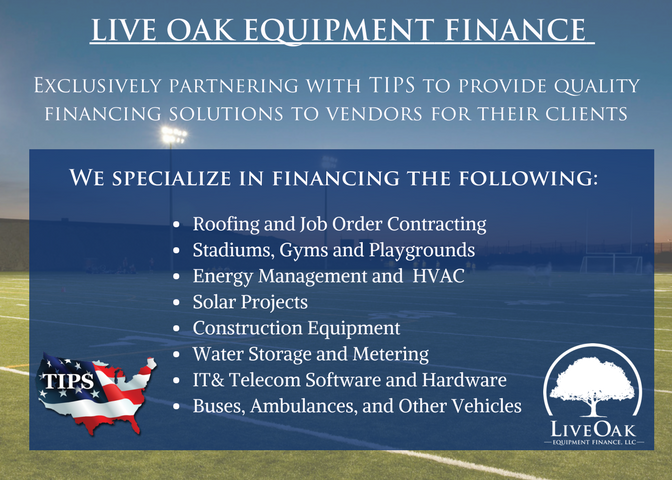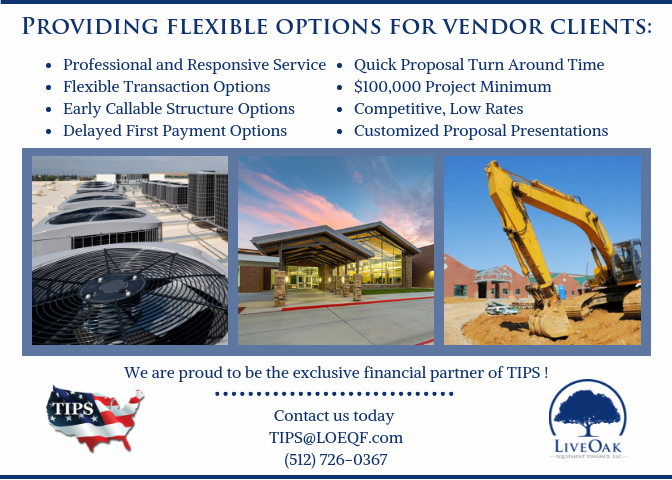 Get VCard for Primary Contact by Contract
Keilhauer Ltd
Resellers listed below may also hold a current TIPS contract. PO's for quotes provided by a reseller that are also awarded in the same category will be processed and sent directly to that reseller.

Please check under "ALL VENDORS" before requesting a quote from any listed reseller.
Resellers
Address
A. Pomerantz & Company martin@pomerantz.com
Contact:
Contact Phone:Bob Martin
Contact Email:
123 South Broad Street, Philadelphia, PA 19109
Phone:215-408-2100
Fax:
Ables-Land Inc. cody@ablesland.com
Contact:
Contact Phone:Cody Ables
Contact Email:
P. O. Box 7933 Tyler TX 75711
Phone:903-593-8407
Fax:
ACI dandrews@aciinc.com
Contact:
Contact Phone:Drew Andrews
Contact Email:
7001 Muirkirk Meadows Dr, Beltsville, MD 20705
Phone:301-931-3600
Fax:
Advanced Office Environments bfinnicum@advancedofficeenv.com
Contact:
Contact Phone:Bruce Finicum
Contact Email:
160 Quaker Lane, Malvern, PA 19355
Phone:610-993-3450
Fax:
Advantage Office Solutions mark@usaadvantage.net
Contact:
Contact Phone:Mark Camp
Contact Email:
65 Leggert Drive, Villa Rica, GA 30180
Phone:770-830-6868
Fax:
Advent Business Interiors gaye.authur@adventbi.com
Contact:
Contact Phone:Gaye Arthur
Contact Email:
1318 U.S. Hwy 82 West, Leesburg, GA 31763
Phone:229-439-7418
Fax:
Affordable office Interiors jmiskowski@affordableoffice.com
Contact:
Contact Phone:Jessica Miskowski
Contact Email:
1954 S. Stoughton Road Madison, WI 53716
Phone:608-442-0430
Fax:
AI Corporate Interiors cwaters@aibirm.com
Contact:
Contact Phone:Cathy Waters
Contact Email:
3017B 2nd Avenue South, Birmingham AL 35223
Phone:205-871-4599
Fax:
Alpha Office carmine.soto@alphaos.com
Contact:
Contact Phone:Carmine Soto
Contact Email:
2066 W Hunting Park Ave, Philadelphia, PA 19140
Phone:800-966-2123
Fax:
Alternative Business Furniture ken@altbusfurn.com
Contact:
Contact Phone:Ken Theisen
Contact Email:
6533 Flying Cloud Drive, Suite 800, Eden Prairie, MN 55344
Phone:952-937-7688
Fax:
American Interiors mcaples@aminteriors.com
Contact:
Contact Phone:Melissa Caples
Contact Email:
1001 Lakeside Ave. E , Suite 150, Cleveland, OH 44114
Phone:216-912-1200
Fax:
American Office mrey@americanoffice.com
Contact:
Contact Phone:Mare Reh
Contact Email:
309 N. Calvert Street Baltimore, MD 21202
Phone:410-539-7529
Fax:
AOI Corporation www.aoicorp.com
Contact: Keri Palmer
Contact Phone:(402) 896-5520
Contact Email: kpalmer@aoicorp.com
8801 S 137th Circle, Omaha, NE 68138
Phone:
Fax:(402) 896-9445
APG Office Furnishings cmathews@apgof.com
Contact:
Contact Phone:Cary Mathew
Contact Email:
310 Culvert Street, Cincinnati, Ohio 45202
Phone:513-621-9111
Fax:
Arbee Associates khancock@arbee.com
Contact:
Contact Phone:Kelly Hancock
Contact Email:
9300 Gaither Road Gaithersburg, Maryland 20877
Phone:301-963-3900
Fax:
Arenson Office Furnishing info@aof.com
Contact:
Contact Phone:-
Contact Email:
1115 Broadway 6th Floor, New York, NY 10010
Phone:646-395-3563
Fax:
Arnold & Associates Interiors Inc darnold@arnold-associates.net
Contact:
Contact Phone:Delissa Arnold  
Contact Email:
3707 Government Street, Baton Rouge, LA 70806
Phone:225-343-2702
Fax:
Art of Space LLC. stacy@theartofspace.com
Contact:
Contact Phone:Stacy Narrow
Contact Email:
11140 Korman Drive, Potomac MD 20854
Phone:301-775-7547
Fax:
Associated office Systems (AOS) b.breaux@thinkaos.com
Contact:
Contact Phone:Bud breau  
Contact Email:
400 Poydras Street, New Orleans LA 70130
Phone:504-561-8400
Fax:
Atmosphere Commercial Interiors mike.martin@atmosphereci.com
Contact:
Contact Phone:Mike Martin
Contact Email:
999 Fourier Drive Ste 200 Madison WI 53717
Phone:608-819-1546
Fax:
Austin Business Furniture jfemal@abfurn.com
Contact:
Contact Phone:Jay Femal
Contact Email:
4030 W. Braker Ln Austin TX 78759
Phone:512-617-4349
Fax:
Bartholomew Contract Interiors bartholomew01@snet.net
Contact:
Contact Phone:Suzy Eckstein
Contact Email:
3324 Main Street Hartford CT 06120
Phone:860-522-5555
Fax:
BBE Office Interiors dan@bbeoffice.com
Contact:
Contact Phone:Daniel Proskin
Contact Email:
122 North Street Pittsfield MA 01201
Phone:413-446-9896
Fax:
Bellia Office Interiors abellia@bellia.net
Contact:
Contact Phone:Anthony Bellia
Contact Email:
1047 N Broad St, Woodbury, NJ 08096
Phone:856-845-2234
Fax:
Benhar Office Interiors Contact:
Contact Phone:-
Contact Email:
148 W 37th St, New York, NY 10018
Phone:212-481-6666
Fax:
Benjamin Roberts Ltd rob@benjaminrobertsltd.com
Contact:
Contact Phone:Robert Bomberger
Contact Email:
240 N Price St, Lancaster, PA 17603
Phone:717-291-1001
Fax:
Bernards Office Furniture, INC gbernard@bernardsfurniture.com
Contact:
Contact Phone:Garry Bernard
Contact Email:
20935 Warner Center Ln, Woodland Hills, CA 91367
Phone:818-703-6969
Fax:
Bialek Healthcare Environments druble@bialek.com
Contact:
Contact Phone:Dave Ruble
Contact Email:
530 Gaither Road, Suite 300 Rockville, MD 20850-5971
Phone:301-738-0380
Fax:
Bilt Well Showrooms bilt-well@verizon.net
Contact:
Contact Phone:George Zolot
Contact Email:
2317 Chestnut St, Philadelphia, PA 19103
Phone:215-568-4600
Fax:
BOS Orlando http://www.bos.com/florida/
Contact: Suzanne Tillman
Contact Phone:(407) 708-5919
Contact Email: suzanne.tillman@bos.com
200 Technology Park Lake Mary FL 32746
Phone:
Fax:
Brennans Office Interiors ebrennan@brennansoi.com
Contact:
Contact Phone:Ed Brennan
Contact Email:
967 E Swedesford Rd, Exton, PA 19341
Phone:610-251-2331
Fax:
Broadway Office Interiors ron@broadwayoffice.com
Contact:
Contact Phone:Ron Gordenstein
Contact Email:
90 Tapley Street Springfield MA 01104
Phone:413-734-8911
Fax:
Building Service Inc. - Corporate ltorrison@buildingservice.com
Contact:
Contact Phone:Lori Torrison
Contact Email:
W222 N630 Cheaney RD Waukesha, WI 53186
Phone:262-955-6211
Fax:
Building Service Inc. - North ltorrison@buildingservice.com
Contact:
Contact Phone:Lori Torrison
Contact Email:
2920 N. Ballard RD STE B Appleton, WI 54911
Phone:262-955-6211
Fax:
Burke & Michael, Inc. fran@burkeandmichael.com
Contact:
Contact Phone:Fran Barbush
Contact Email:
833 Beech Ave, Pittsburgh, PA 15233
Phone:412-321-2301
Fax:
Business Interiors apizzitola@businteriors.com
Contact:
Contact Phone:Alan Pizzitola
Contact Email:
2309 5th Ave. South, Birmingham AL 35233
Phone:205-939-1008
Fax:
Business Interiors - Irving ssmith@businessinteriors.com
Contact:
Contact Phone:Sally Smith
Contact Email:
1111 Valley View Lane Irving TX 75061
Phone:817-858-2000
Fax:
Business Interiors by Staples grace.ober@staples.com
Contact:
Contact Phone:Grace Ober
Contact Email:
1000 Springbrooke Blvd, Aston, PA 19014
Phone:610-245-2400
Fax:
Business Interiors By Staples - Houston, Staples Contract And Commercial, Inc. carol.shadwell@staples.com
Contact:
Contact Phone:Carol Shadwell
Contact Email:
6400 Hollister Houston TX 77040
Phone:614-402-5110
Fax:
Business Interiors Northwest, Inc dba Catalyst Workplace Activation cspeno@catalystactivation.com
Contact:
Contact Phone:Chris Speno
Contact Email:
1707 Dock St Tacoma, WA 98402
Phone:253-592-6000
Fax:
C M Eichenlaub Company sshovel@ptd.net
Contact:
Contact Phone:Shari DeLuca Shovel
Contact Email:
206 Forest Hills Plaza, Pittsburgh, PA 15221
Phone:717-514-4421
Fax:
Campbell Keller pgoddard@campbellkeller.com
Contact:
Contact Phone:Pete Goddard
Contact Email:
3041 65th St #3, Sacramento, CA 95820
Phone:916-737-3300
Fax:
Capital Office Systems ahouston@capital-office.com
Contact:
Contact Phone:Allison Houston
Contact Email:
1120 East 35th Avenue, Anchorage AK 99508
Phone:907-777-1500
Fax:
Capital Office Systems ahouston@capital-office.com
Contact:
Contact Phone:Allison Houston
Contact Email:
1120 East 32th Avenue, Anchorage AK 99508
Phone:907-777-1500
Fax:
Carithers-Wallace-Courtenay, LLC, dba C-W-C scott.marshall@c-w-c.com
Contact:
Contact Phone:Scott Marshall
Contact Email:
4343 Northeast Expressway, Atlanta, GA 30340
Phone:770-493-8200
Fax:
CBI niki.hudson@cbi-tn.com
Contact:
Contact Phone:Niki Hudson
Contact Email:
701 Cherry Street, #100, Chattanooga, TN 37402
Phone:865-321-4905
Fax:
CBI dean.vance@cbi-tn.com
Contact:
Contact Phone:Dean Vance
Contact Email:
128 S Gay St, Knoxville, TN 37902
Phone:865-321-4900
Fax:
CHL Business Interiors mhoover@chlbi.com
Contact:
Contact Phone:Mary Hoover
Contact Email:
801 17th St NW, Washington, DC 20006
Phone:202-835-1444
Fax:
Cofco Office Furniture jwaters@cofcogroup.com
Contact:
Contact Phone:Joan Waters
Contact Email:
2200 N American St, Philadelphia, PA 19133
Phone:215-291-4648
Fax:
Collective Spaces aflynn@colletivespacesdw.com
Contact:
Contact Phone:Amanda Flynn
Contact Email:
420 Springfield Pike Suite H, Cincinnati, OH 45215
Phone:513-761-0885
Fax:
Commercial Furnishings bruce@commerical-furnishings.com
Contact:
Contact Phone:Bruce Johnson
Contact Email:
598 Third Street Macon, GA 31201
Phone:478-765-1515
Fax:
Commercial Furniture Interiors (CFI) www.cfioffice.com
Contact: Michael Blau
Contact Phone:
Contact Email: mblau@cfioffice.com
1154 Route 22 West, Mountainside, NJ 07092
Phone:(908) 664-3301
Fax:
Commercial Furniture Services johnsorteberg@cfsmn.com
Contact:
Contact Phone:John Sorteberg
Contact Email:
4301 Highway 7 St. Louis Park, MN 55416
Phone:952-922-6683
Fax:
Commercial Office Interiors stinnetta@coiseattle.com
Contact:
Contact Phone:Toni Stinnett
Contact Email:
2601 4th Ave #700, Seattle, WA 98121
Phone:206-448-7333
Fax:
Commercial Office Interiors stinnetta@coiseattle.com
Contact:
Contact Phone:Toni Stinnett
Contact Email:
2601 4th Ave #700, Seattle, WA 98121
Phone:206-448-7333
Fax:
Commonwealth School Equipment, Inc. www.commonwealthschoolequipment.com
Contact: David Hawkins
Contact Phone:(804) 739-4575
Contact Email: David@cseva.net
21403 Hull Street Road, Moseley, Virginia 2312
Phone:
Fax:
Contract Business Interiors Inc stephen@contractbusinessinteriors.com
Contact:
Contact Phone:Stephen Gamble
Contact Email:
3455 N. Desert Drive Building 3, Suite 103, East Point, GA 30344
Phone:404-684-0800
Fax:
Contract Furnishings Contact:
Contact Phone:-
Contact Email:
3129 Main Street, Kansas City, MO 64111
Phone:816-931-0900
Fax:
Contract Furniture Options, Inc. karen@cfo-inc.net
Contact:
Contact Phone:Karen Altschuler
Contact Email:
7932 Lakenheath Way, Potomac, MD 20854
Phone:301-299-9778
Fax:
Contract Interiors Service Sheree@contractinteriorservices.com
Contact:
Contact Phone:Sherre Bosch
Contact Email:
3 Kent Road, Annapolis, MD 21401
Phone:410-768-7964
Fax:
Contract Resource Group, Inc. erdeljacc@crgoffice.com
Contact:
Contact Phone:Chris Erdeljac
Contact Email:
7108 Old Katy Rd, Suite #150 Houston TX 77024
Phone:713-803-0155
Fax:
Cooper's Technology Group Contact:
Contact Phone:
Contact Email:
102 East Lincoln, Fergus Falls MN 56537
Phone:"
Fax:
Corporate Business Interiors darren@cbimail.com
Contact:
Contact Phone:Darren Stiles
Contact Email:
3501 Jamboree Rd, Newport Beach, CA 92660
Phone:949-225-3900
Fax:
Corporate Design Interiors Contact:
Contact Phone:Kelly Sullivan
Contact Email:
1711 Paramount Court Waukesha WI 53186
Phone:262-544-8693
Fax:
Corporate Environments tnelson@ceofga.com
Contact:
Contact Phone:Tony Nelson
Contact Email:
1636 Northeast Expressway, Atlanta, GA 30329
Phone:404-679-8999
Fax:
Corporate Environments of Oregon dba Environments tamit@environmentsnw.com
Contact:
Contact Phone:Tami Traeden
Contact Email:
707 SE Belmont St., Portland OR 97214
Phone:503-236-3600
Fax:
Corporate Facilities Inc. scox@cfinj-knoll.com
Contact:
Contact Phone:Michael Yekenchik
Contact Email:
2129 Chestnut St, Philadelphia, PA 19103
Phone:215-279-9999
Fax:
Corporate Facilities of Central PA dbesselman@cfi-knoll.com
Contact:
Contact Phone:David Besselman
Contact Email:
401 East Winding Hill Rd, Suite 110, Mechaniscsburg, PA 17055
Phone:717-574-8209
Fax:
Corporate Facilities of New Jersey scox@cfinj-knoll.com
Contact:
Contact Phone:Michael Yekenchik
Contact Email:
2129 Chestnut St, Philadelphia, PA 19103
Phone:215-279-9999
Fax:
Corporate Facilities of the Lehigh Valley beverley@cfilv-knoll.com
Contact:
Contact Phone:Beverley Kahler
Contact Email:
1042 Hamilton St, Allentown, PA 18101
Phone:610-434-7236
Fax:
Corporate Interiors nmarshall@corporate-interiors.com
Contact:
Contact Phone:Neil Marshall
Contact Email:
550 East Swedesford Rd, Suite 110, Wayne, PA 19087
Phone:610-631-5400
Fax:
Corporate Interiors Concepts mwilmers@cic-group.com
Contact:
Contact Phone:Matt Wilmers
Contact Email:
1404 Goodale Blvd #200, Columbus, OH 43212
Phone:614-291-7880
Fax:
Corporate Interiors Systems CIS sbourland@cisinphx.com
Contact:
Contact Phone:Stephanie Bourland
Contact Email:
3311 East Broadway Road Phoenix, AZ 85040
Phone:602-304-0100
Fax:
COS Business Products and Interiors JLove@cosonline.com
Contact:
Contact Phone:Joy Love
Contact Email:
1548 Riverside Drive, Chattanooga, TN 37406
Phone:423-424-4732
Fax:
Creative Business Interiors jnorfolk@creativebusinessinteriors.com
Contact:
Contact Phone:John Norfolk
Contact Email:
1535 S 101st St Milwaukee  WI  53214
Phone:414-545-8500
Fax:
Creative Business Interiors rbrown@creativebusinessinteriors.com
Contact:
Contact Phone:Rebecca Brown
Contact Email:
201 Moravian Valley Road Waunakee WI 53597
Phone:608-249-0904
Fax:
Creative Business Interiors david.davis@cbiltd.com
Contact:
Contact Phone:David Davis
Contact Email:
145 Stewart Rd, Wilkes Barrre, PA 18706
Phone:570-288-7211
Fax:
Creative Office Environments RCarr@creative-va.com
Contact:
Contact Phone:Rick Carr
Contact Email:
11798 North Lakeridge Pkwy, Ashland, Virginia 23005
Phone:804-329-0400
Fax:
Creative Office Environments ed@coe-ri.com
Contact:
Contact Phone:Ed Gillheeney
Contact Email:
41 Commercial Way East Providence RI 02914
Phone:401-435-4141
Fax:
Creative Office Interiors rkeane@coisolutions.net
Contact:
Contact Phone:Renee Keane
Contact Email:
144 Elliott Street East Hartford CT 06114
Phone:860-525-3133
Fax:
Creative Office Pavilion (COP) mclancy@cop-inc.com
Contact:
Contact Phone:Mike Clancy
Contact Email:
One Design Center Place, #734 Boston MA 02210
Phone:617-956-4100
Fax:
Crest Office Furniture bobs@crest.com
Contact:
Contact Phone:Bob Schad
Contact Email:
2840 N Lima St #110, Burbank, CA 91504
Phone:818-333-3160
Fax:
CRI JArent@cri-sf.com
Contact:
Contact Phone:Jaimee Arent
Contact Email:
130 Sutter St 3rd Floor San Francisco, CA 94104
Phone:415-989-0773
Fax:
Daubman Corporate Interiors denice@daubmans.com
Contact:
Contact Phone:Denice Ross
Contact Email:
272 Titusville Rd, Poughkeepsie, NY 12603
Phone:845-454-3379
Fax:
DBI Holding Company www.dbiyes.com
Contact: David Snyder
Contact Phone:(517) 485-3200
Contact Email: David.Snyder@dbiyes.com
912 East Michigan Ave. Lansing MI 48912
Phone:
Fax:
DC Interiors darlene@dcioffice.com
Contact:
Contact Phone:Darlene
Contact Email:
6896A Alamo Downs Pkwy., Ste. 100 San Antonio, TX 78238
Phone:210-521-9900
Fax:
De Clercq Office Group carl@dog-office.com
Contact:
Contact Phone:Carl Gendron
Contact Email:
1227 Whitney Avenue Hamden CT 06517
Phone:203-230-9144
Fax:
Debner+Company pamt@debner.com
Contact:
Contact Phone:Pam Teel
Contact Email:
8020 Katy Freeway Houston TX 77024
Phone:713-425-6129
Fax:
DeKalb Office mterry@dekalboffice.com
Contact:
Contact Phone:Mike Terry
Contact Email:
2901 2nd Ave South, Suite 170 Birmingham AL, 35233
Phone:205-930-4684
Fax:
DeKalb Office Environments eoconnor@dekalboffice.com
Contact:
Contact Phone:Ed O'Connor
Contact Email:
1320 Ridgeland Parkway, Alpharetta, GA 30004
Phone:770-360-0200
Fax:
Delaware School & Office jamie@dsofurniture.com
Contact:
Contact Phone:Jamie Kegerise
Contact Email:
1609 E Newport Pike, Wilmington, DE 19804
Phone:302-996-0652
Fax:
Demo Group drhody@thedemogroup.com
Contact:
Contact Phone:Deb Rhody
Contact Email:
2015 Silver Bell Road Suite 190, Eagan MN 55122
Phone:651-366-6900
Fax:
Douron abramble@douron.com
Contact:
Contact Phone:Alana Bramble
Contact Email:
10 Painters Mill Road, Owings Mills, MD 21117
Phone:410-363-2600
Fax:
Douron Inc. ematthews@douron
Contact:
Contact Phone:Ed Matthews
Contact Email:
10 Painters Mill Rd, Owings Mills, MD 21117
Phone:410-363-2600
Fax:
Easley & Rivers, Inc. Bronwyn@easleyandrivers.com
Contact:
Contact Phone:Bronwyn McClure-James
Contact Email:
207 Townsend Drive, Monroeville, PA 15146
Phone:412-795-4482
Fax:
Educational Furniture Solutions joe@efs-llc.com
Contact:
Contact Phone:Joe Donato
Contact Email:
536 N Trooper Rd Norristown, PA 19403
Phone:610-630-3995
Fax:
Elements IV Interiors svaughn@elementsiv.com
Contact:
Contact Phone:Susan Vaughan
Contact Email:
3680 Wyse Rd, Dayton, OH 45414
Phone:937-918-1000
Fax:
Embury Ltd mona.deming@emburyltd.com
Contact:
Contact Phone:Bruce or Mona Deming
Contact Email:
809 Burton Blvd Unit E DeForest WI 53532
Phone:855-846-0999
Fax:
Emmons Business Interiors  - Madison danp@ebiweb.com
Contact:
Contact Phone:Dan Parker, Sales Consultant
Contact Email:
4604 Hammersley Rd Madison, WI 53711
Phone:608-516-9502
Fax:
Encompas Corporation herman@encompas.com
Contact:
Contact Phone:Herman Weist
Contact Email:
1512 Grand Blvd, Kansas City, MO 64108
Phone:816-300-1122
Fax:
Environmental Interiors dschwan@ei-ofusa.com
Contact:
Contact Phone:Dale Schwan
Contact Email:
5010 Linglestown Rd, Harrisburg, PA 17112
Phone:800-366-7913
Fax:
Environments 4 Business cpetkosh@thinke4b.com
Contact:
Contact Phone:Cara Petkosh
Contact Email:
3421 Ridgewood Rd, Akron, OH 44333
Phone:330-294-1380
Fax:
Environments At Work kenp@environmentsatwork.com
Contact:
Contact Phone:Ken Patrick
Contact Email:
300 A Street, 1st Floor Boston MA 02210
Phone:617-830-5300
Fax:
Evenson Best s_stuek@evensonbest.com
Contact:
Contact Phone:Sam Stuek
Contact Email:
1000 Vermont Avenue NW Washington DC 20005
Phone:202-540-5700
Fax:
Exterus Business Furniture tim@exterusfurniture.com
Contact:
Contact Phone:Tim Williams
Contact Email:
4750 Shelburne Road Shelburne VT 05482
Phone:802-383-1740
Fax:
Facilities Resource Group rgentry@frginteriors.com
Contact:
Contact Phone:Robin Gentry
Contact Email:
6915 Spanish Fort Blvd Spanish Fort, AL 36527
Phone:251-626-3048
Fax:
Facility Interiors, Inc. - Plano mikem@fmgi.com
Contact:
Contact Phone:Mike Moore
Contact Email:
6100 W Plano Parkway, Suite 1400 Plano TX 75093
Phone:214-556-4764
Fax:
FCI Tim.marshall@e-fci.com
Contact:
Contact Phone:Tim Marshall
Contact Email:
255 State Street, 8th Floor Boston MA 02109
Phone:617-670-3775
Fax:
Fens Associates fapicella@fensassociates.com
Contact:
Contact Phone:Frank Apicella
Contact Email:
939 Salem Street Groveland MA 01834
Phone:978-372-2650
Fax:
Fluid Interiors berk.clairborne@fluidinteriors.com
Contact:
Contact Phone:Berk Claiborne
Contact Email:
100 North 6th Street Suite 100A, Minneapolis, MN 55403
Phone:612-746-8700
Fax:
Fowler Office Interiors tfowler@folcoinc.com
Contact:
Contact Phone:Todd Fowler
Contact Email:
940 W. Broad Street, Athens, GA 30601
Phone:706-543-1320
Fax:
Franklin Interiors pheilman@franklininteriors.com
Contact:
Contact Phone:Paula Heilman
Contact Email:
2740 Smallman St, Ste 600, Pittsburgh, PA 15222-4720
Phone:412-255-4058
Fax:
Frost Barber rschega@frost-barber.com
Contact:
Contact Phone:Richard Schega 
Contact Email:
9822 Sinterline Ave, Baton Rouge Louisiana
Phone:225-926-5000
Fax:
Furniture For Business marcy@furnitureforbusiness.com
Contact:
Contact Phone:Marcy Edwards
Contact Email:
4801 Freidrich Lane, Ste. 108 Austin TX 78744
Phone:512-833-9000
Fax:
Furniture Marketing Group, Inc. - Austin jest@fmgi.com
Contact:
Contact Phone:Jes Torben
Contact Email:
3300 N IH35 Austin TX 78754
Phone:512-908-4600
Fax:
Furniture Solutions brian@furnituresolutionsftw.com
Contact:
Contact Phone:Brian Fortin
Contact Email:
1329 E Kemper Rd #4104, Cincinnati, OH 45246
Phone:513-891-2010
Fax:
G. L. Seaman & Company - Carrollton sdesjardins@glsc.com
Contact:
Contact Phone:Sara Desjardins
Contact Email:
4201 International Parkway Carrollton TX 75007
Phone:469-546-2008
Fax:
G/M Business Interiors makin@gmbi.net
Contact:
Contact Phone:Mike Akin
Contact Email:
1099 W La Cadena Dr, Riverside, CA 92501
Phone:800-686-6583
Fax:
Gazor Group farid@gazor.com
Contact:
Contact Phone:Farid Gazor
Contact Email:
624 Bush St, San Francisco, CA 94108
Phone:415-291-8300
Fax:
GBI brenna.payne@gbinashville.com
Contact:
Contact Phone:Brenna Payne
Contact Email:
7111 Commerce Way, Brentwood, TN 37027
Phone:615-425-5252
Fax:
General Office Products bcrawford@gopco.com
Contact:
Contact Phone:Ben Crawford
Contact Email:
4521 Highway 7, Minneapolis, MN 55416
Phone:952-925-7500
Fax:
Gibian tg@gibiandesigngroup.com
Contact:
Contact Phone:Thresa Gibian
Contact Email:
PO Box 75 Ithaca, New York 14851
Phone:607-227-9091
Fax:
Hannaher's phannaher@hannahers.com
Contact:
Contact Phone:Paul Hannaher
Contact Email:
920 Washington Avenue Detroit Lakes, Minnesota 56501
Phone:218-844-4570
Fax:
HBI Office Solutions, Inc. susan@hbi-inc.com
Contact:
Contact Phone:Susan Ellis
Contact Email:
308 State Highway 75 North, Suite B Huntsville TX 77320
Phone:936-295-5708
Fax:
Henricksen & Co., Inc S.Block@henricksen.com
Contact:
Contact Phone:Shirley Block
Contact Email:
5202 Eastpark Boulevard Ste 102 Madison, WI 53718
Phone:608-244-1400
Fax:
Henricksen & Co., Inc c.knoeppel@henricksen.com
Contact:
Contact Phone:Chris Knoeppel
Contact Email:
3070 Gateway Rd., Brookfield, WI 53045
Phone:262-373-3201
Fax:
Herald Office Solutions bmcbain@Hosnet.net
Contact:
Contact Phone:Beverly McBain
Contact Email:
3250 Tile Drive, Charleston SC 29405
Phone:843-556-1007
Fax:
Hillsman, Inc. edgarhillsman@hillsmaninc.com
Contact:
Contact Phone:Edgar Hillsman
Contact Email:
870 Northside Drive, Suite 200, Atlanta, GA 30318
Phone:678-608-3098
Fax:
ICI Finishes nancyd@icifurniture.com
Contact:
Contact Phone:Nancy Dudas
Contact Email:
806 Silvia St West, Trenton, NJ 08628
Phone:609-538-8800
Fax:
ID+ A, Inc kgoins@id-a.com
Contact:
Contact Phone:Kim Goins
Contact Email:
1700 S. 5th Street, Louisville, KY 40208
Phone:502-562-9255
Fax:
IMA Corporate Interiors carruthers@imaci.net
Contact:
Contact Phone:Scott Carruthers
Contact Email:
1140 Hammond Drive NE Building K, Suite 210, Atlanta, GA 30328
Phone:678-393-1299
Fax:
Impact Office Interiors Inc. mmilam@impactofficeinteriors.com
Contact:
Contact Phone:Mark Milam
Contact Email:
222 Meriwether Street, Griffin, GA 30224
Phone:770-228-0706
Fax:
Indoff, INC dana.miller@indoff.com
Contact:
Contact Phone:Dana Miller
Contact Email:
4201 Native Dancer Dr, Bakersfield, CA 93312
Phone:661-587-6127
Fax:
Innerspaice Architectural Interiors hmccain@innerspaice.com
Contact:
Contact Phone:Harvey McCain
Contact Email:
2830 6th Avenue South Birmingham, Alabama 35233
Phone:205-323-2491
Fax:
Innovative Office Solutions aleddick@innovativeos.com
Contact:
Contact Phone:Andrew Leddick
Contact Email:
151 East cliff Road, Burnsville MN 55337
Phone:952-808-9900
Fax:
Innovative Office Solutions jwinner@ios-inc.com
Contact:
Contact Phone:Jason Winner
Contact Email:
151 Cliff Road East, Burnsville, MN 55337
Phone:952-808-9900
Fax:
Insalco Corporation harry-insalco@snet.net
Contact:
Contact Phone:Harry Gruss, Jr.
Contact Email:
7 Capital Drive Wallingford CT 06492
Phone:860-519-7892
Fax:
Inside Source awagner@insidesource.com
Contact:
Contact Phone:Anne Wagner
Contact Email:
985 Industrial Road, #101 San Carlos, CA 94070
Phone:650-508-9101
Fax:
Intelligent Interiors Inc. sbahr@intelligentinteriors.net
Contact:
Contact Phone: Scott Bahr
Contact Email:
16837 Addison Rd. #500 Addison TX 75001
Phone:972-716-9979
Fax:
Inter Arc Solutions Inc. jmasonbaer@interarcsolutions.com
Contact:
Contact Phone:John Baer
Contact Email:
598 West Boot Rd, West Chester, PA 19380
Phone:610-918-8601
Fax:
Intereum, Inc. lvanulzen@intereum.com
Contact:
Contact Phone:Lori Van Hulzen
Contact Email:
9800 8th Avenue North Plymouth, MN 55441
Phone:763-417-3300
Fax:
Interior Elements dh@in-elements.com
Contact:
Contact Phone:David Hardy
Contact Email:
830 Wilson Drive Ridgeland, MS 39157
Phone:877-392-8642
Fax:
Interior Elements bmullins@in-elements.com
Contact:
Contact Phone:Bryan Mullins
Contact Email:
2320 1st Ave North, Suite 110 Birmingham, AL 35203
Phone:205-873-4306
Fax:
Interior Investments Contact:
Contact Phone:
Contact Email:
4001 Felland Road Ste 111 Madison, WI 53718
Phone:"608-216-7914
Fax:
Interior Investments tbessent@interiorinvestments.com
Contact:
Contact Phone:Tracy Bessent
Contact Email:
756 N Milwaukee St  Ste 100 Milwaukee, WI 53202
Phone:414-287-0000
Fax:
Interior Motions jburton@interiormotions.com
Contact:
Contact Phone:Jennifer Burton
Contact Email:
1490 Park Ave, Emeryville, CA 94608
Phone:510-653-6100
Fax:
Interior Office Concepts Clair@IOCTeam.com
Contact:
Contact Phone:Clair Steffens
Contact Email:
150 N Bartlett St, Medford, OR 97501,
Phone:541-776-4043
Fax:
Interior Office Solutions ibreazile@iosinc.net
Contact:
Contact Phone:Iana Breazile
Contact Email:
705 5th Avenue South Suite 825, Seattle WA 98104
Phone:206-435-7700
Fax:
Interior Office Solutions jjones@iosinc.net
Contact:
Contact Phone:Jennifer Jones
Contact Email:
17800 Mitchell N, Irvine, CA 92614
Phone:949-724-9444
Fax:
Interior Resource randyrossello@interiorresourcegroup.com
Contact:
Contact Phone:Randy Rossello
Contact Email:
11095 Hidden Trail Drive Owings Mills, MD 21117
Phone:410-654-3611
Fax:
Interior Resources Group https://www.irgroupdfw.com
Contact: Melissa Taylor
Contact Phone:(972) 619-7400
Contact Email: melissa@irgroupdfw.com
1444 Oak Lawn Avenue, Suite 301, Dallas, TX 75207
Phone:
Fax:(972) 619-7401
Interior Workplace Solutions gclewell@interiorworkplace.com
Contact:
Contact Phone:Gary Clewell
Contact Email:
6765 Ambassador Dr, Allentown, PA 18106
Phone:610-391-0733
Fax:
Interscape Commercial Environments josh@interscapece.com
Contact:
Contact Phone:Josh Hagstrom
Contact Email:
960 Main Street Hartford CT 06103
Phone:860-882-5903
Fax:
Interstate Office Products  kchristensen@i-o-p.com
Contact:
Contact Phone:Kristi Christensen 
Contact Email:
228 S. Main Ave Sioux Falls, South Dakota 57104
Phone:605-339-0300 
Fax:
iSpace jpeterson@ispacefurniture.com
Contact:
Contact Phone:Joel Peterson
Contact Email:
811 Glenwood Avenue Minneapolis, Minnesota 55405
Phone:612-922-1300
Fax:
J. Tyler Services Inc. longbothamj@jtyler.com
Contact:
Contact Phone:Jennifer Longbotham
Contact Email:
5920 Milwee St. Houston TX 77092
Phone:713-468-2166
Fax:
Jeannetta Design Associates Inc. customerservice@jeannettadesign.com
Contact:
Contact Phone:Jeannetta Jordan
Contact Email:
1905 Buford Dam Road, Buford, GA 30518
Phone:770-831-6206
Fax:
JMJ Corporation christine@jmjcorporation.com
Contact:
Contact Phone:Christine Stenerson
Contact Email:
7910 W Broad St, Richmond, VA 23294
Phone:804-270-7400
Fax:
John A. Marshall Company jeff@jamarshall.com
Contact:
Contact Phone: Jeff Frederes
Contact Email:
10930 Lackman Road, Lenexa, KS 66219
Phone:913-599-4700
Fax:
John Watts Associates Inc. kimh@jwatts.com
Contact:
Contact Phone:Kim Watts
Contact Email:
121 Roberts Street East Hartford CT 06108
Phone:860-528-1110
Fax:
Jules Seltzer Associates j.kaufman@julesseltzer.com
Contact:
Contact Phone:Jeff Kaufman
Contact Email:
9020 W Olympic Blvd, Beverly Hills, CA 90211
Phone:310-274-7243
Fax:
KBM/Hogue jack.wimberly@kbm-hogue.com
Contact:
Contact Phone:Jack WImberly
Contact Email:
723 S St #100, Sacramento, CA 95811
Phone:916-455-1515
Fax:
Kershner Office Furniture Inc. bruer@kershneroffice.com
Contact:
Contact Phone:Bruer Kershner
Contact Email:
600 Clark Avenue, King of Prussia, PA 19406
Phone:610-768-0200
Fax:
King Business Interiors darlaking@kbiinc.com
Contact:
Contact Phone:Darla King
Contact Email:
1400 Goodale Blvd Suite 102, Columbus, OH 4321
Phone:614-430-0020
Fax:
Legacy Group louis@legacygroupinteriors.com
Contact:
Contact Phone:Louis Lanthier
Contact Email:
1600 SW 43rd St #100, Renton, WA 98057
Phone:206-217-0310
Fax:
Lerdahl Business Interiors TZurfluh@lerdahl.com
Contact:
Contact Phone:Tonya Zurfluh
Contact Email:
7182 Highway 14  PO Box 620586 Middleton, WI 53562-0586
Phone:608-824-8211
Fax:
Lexington Group jeff@lexingtongroupinc.com
Contact:
Contact Phone:Jeff Oakes
Contact Email:
380 Union Street West Springfield MA 01089
Phone:413-746-3064 x218
Fax:
Library Interiors sfife@libraryinteriorsinc.com
Contact:
Contact Phone:Stewart Fife
Contact Email:
125 Drum Point Rd, Brick, NJ 08723
Phone:800-962-5180
Fax:
Loth Office Environments myoung@lothinc.com
Contact:
Contact Phone:Marilyn Young
Contact Email:
3574 E. Kemper Road, Cincinnati, Ohio 45241
Phone:513-554-4900
Fax:
Lowery McDonnell Company www.lowerymcdonnell.com
Contact: Tim Peraino
Contact Phone:(630) 846-1414
Contact Email: tperaino@lmcinc.net
960 Lively Blvd Wood Dale IL 60191
Phone:(630) 846-1414
Fax:
M&M Office Interiors bwarrington@mmoffice.com
Contact:
Contact Phone:Brett Warrington
Contact Email: 244
8720 Montclair Drive Middleton WI 53562
Phone:608-836-4466
Fax:
M&M Office Interiors trudd@mmoffice.com
Contact:
Contact Phone:Tim  Rudd
Contact Email:
W233 N2833 Roundy Circle West Pewaukee, WI 53072-5794
Phone:262-781-2600
Fax:
M3 LLC alisa@m3office.com
Contact:
Contact Phone:Alisa Lansdale
Contact Email:
161 Pasadena Avenue, Suite A South Pasadena, CA 91030
Phone:626-441-0300
Fax:
Mahla Office Furniture mahla@verizon.net
Contact:
Contact Phone:Dick Mahla
Contact Email:
713 Penn Ave, Pittsburgh, PA 15222-3401
Phone:412-471-1714
Fax:
Mason Inc. jlconners@mason-inc.com
Contact:
Contact Phone:Joe Conners
Contact Email:
300 West Broughton Street, Savannah, GA 31401
Phone:912-232-4192
Fax:
MBI Systems Inc MicheleM@mbiseattle.com
Contact:
Contact Phone:Michele Moore
Contact Email:
600 Stewart St #1350 Seattle, WA 98101
Phone:206-343-5800
Fax:
McCoy-Rockford, Inc. dba Rockford Business Interiors - Austin john@rockford-texas.com
Contact:
Contact Phone:John Rademacher
Contact Email:
211 East Riverside Drive Austin TX 78704
Phone:512-416-4317
Fax:
McGarity's scottmcgarity@mcgaritys.com
Contact:
Contact Phone:Scott McGarity
Contact Email:
870 Grove Street, Gainesville, GA 30501
Phone:770-534-7316
Fax:
McKinney Office Supply, Inc. reedr@mckinneyofficesupply.com
Contact:
Contact Phone:Reed Ruschhaupt
Contact Email:
117 W. Louisiana St. McKinney TX 75069
Phone:972-562-5020
Fax:
Meadows Office Interiors Contact:
Contact Phone:-
Contact Email:
885 Third Avenue, 29th Floor, New York, NY 10022
Phone:212-741-0333
Fax:
MG West jaimes@mgwest.com
Contact:
Contact Phone:Jaime Swickard
Contact Email:
2 Shaw Alley #2, San Francisco, CA 94105
Phone:415-284-4800
Fax:
Miles Treaster rbennett@mtaoffice.com
Contact:
Contact Phone:Rachael Bennett
Contact Email:
1810 13th St #100, Sacramento, CA 95811
Phone:916-373-1800
Fax:
Modern Business Systems Inc. bpitts@mbsaugusta.com
Contact:
Contact Phone:Bill Pitts
Contact Email:
1445 Greene Street, Augusta, GA 30901
Phone:706-724-8700
Fax:
MOI, Inc. clint@moii.com
Contact:
Contact Phone:Clint Wagner
Contact Email:
2923 Lord Baltimore Dr., Baltimore, MD 21244
Phone:410-265-5600
Fax:
Munson Business Inc. midy@mbifurniture.com
Contact:
Contact Phone:Mindy Munson
Contact Email:
2307 River Rd suite 100, Louisville, KY 40206
Phone:502-589-1236
Fax:
National Office Systems scott@natoffsys.com
Contact:
Contact Phone:Scott Center
Contact Email:
120 East 42nd Street, Savannah, GA 31401
Phone:912-238-0539
Fax:
New Day Office Products jcolmery@hewv.com
Contact:
Contact Phone:Jill Colmery
Contact Email:
7025 Harbour View Blvd #108, Suffolk, VA 23435
Phone:757-398-0718
Fax:
NW Office Interiors Kyle@nwofficeinteriors.com
Contact:
Contact Phone:Kyle Zimmerman
Contact Email:
224 Corporate Center, 6400 SE Lake Rd, Milwaukie, OR 97222
Phone:503-785-1515
Fax:
Objekts JCarter@objektsllc.com
Contact:
Contact Phone:Janine Carter
Contact Email:
2323 3rd Ave, Seattle, WA 98121
Phone:206-267-1597
Fax:
Office Basics (BF Molz) brianw@officebasics.com
Contact:
Contact Phone:Brian Walsh
Contact Email:
One Whittendale Drive, Ste A, Moorestown NJ 08057
Phone:800-423-0074
Fax:
Office Creations Inc. joy@officecreations.net
Contact:
Contact Phone:Joy Mitchell
Contact Email:
305 Shawnee North Drive, Suite 700, Suwanee, GA 30024
Phone:678-714-7474
Fax:
Office Environments mmiller@officenvironments.com
Contact:
Contact Phone:Mike Miller
Contact Email:
1827 First Avenue North, Suite 101 Birmingham AL 35203
Phone:205- 443-8300
Fax:
Office Environments Inc. rcitorik@oei-vt.com
Contact:
Contact Phone:Ron Citorik
Contact Email:
5 Green Tree Place South Burlington VT 05403
Phone:802-864-3000
Fax:
Office Environments Inc. ncross@oeonline.net
Contact:
Contact Phone:Chris Ross
Contact Email:
1500 Grundys Lane, Bristol, PA 19007
Phone:267-553-1000
Fax:
Office Furniture Innovations - Houston jedison@ofillc.com
Contact:
Contact Phone:Jayne Edison
Contact Email:
6363 Richmond Ave 4th floor Houston TX 77057
Phone:713-868-2634
Fax:
Office Furniture Plus frank@officefurnitureplus.com
Contact:
Contact Phone:Frank Farmer Jr.
Contact Email:
210 Bridgewater Rd, Ste 1, Aston, PA 19014
Phone:610-497-9120
Fax:
Office Interiors Inc. mkamenca@oiatlanta.com
Contact:
Contact Phone:Michelle Kamenca
Contact Email:
260 Peachtree Street NW, Suite 501, Atlanta, GA 30303
Phone:770-804-1589
Fax:
Office Interiors Limited ebates@officeinteriorsltd.com
Contact:
Contact Phone:Ellen Bates
Contact Email:
85 Washington Street Dover NH 03820
Phone:603-749-6200
Fax:
Office Pavilion - Houston mellerkamp@ophouston.com
Contact:
Contact Phone:Mollie Ellerkamp
Contact Email:
10030 Bent Oak Drive Houston TX 77040
Phone:713-803-0000
Fax:
Office Resources robtenaglia@ori.com
Contact:
Contact Phone:Robert Tenaglia
Contact Email:
374 Congress Street Boston MA 02210
Phone:617-423-9100
Fax:
Office Scapes CFourmy@OfficescapesMemphis.com
Contact:
Contact Phone:Carol Fourmy
Contact Email: 116
8390 Wolf Lake Drive, #101, Bartlett, TN 38133
Phone:901-385-8000
Fax:
Office Service Company tboltz@officeservicecompany.com
Contact:
Contact Phone:Tiffany Bolz
Contact Email:
1009 Tuckerton Ct, Reading, PA 19605
Phone:610-926-9850
Fax:
Officeworks mark@officeworksinc.com
Contact:
Contact Phone:Mark Loughlin
Contact Email:
20 Terry Avenue Burlington MA 01803
Phone:617-901-9612
Fax:
OfficeWorks cory@officeworksllc.com
Contact:
Contact Phone:Cory Bond
Contact Email:
6739 Baum Drive, Knoxville, TN 37919
Phone:865-588-7280
Fax:
Officeworks dmorris@officeorks.net
Contact:
Contact Phone:Dan Morris
Contact Email:
12000 Exit 5 Pkwy, Fishers, IN 46037
Phone:317-577-3510
Fax:
Offix Systems edschuler@offixsystems.com
Contact:
Contact Phone:Ed Schuler
Contact Email:
924 Marcon Blvd Ste 102, Allentown, PA 18109
Phone:610-231-2300
Fax:
OFI Contract Interiors bmurray@myofi.com
Contact:
Contact Phone:Brian Murray
Contact Email:
28 Garfield Street Newington CT 06111
Phone:860-257-5330
Fax:
Ohio Desk Company twodarczk@ohodesk.com
Contact:
Contact Phone:Tracy Wodarczyk
Contact Email:
1122 Prospect Avenue, Cleveland, Ohio 44115
Phone:216-623-0600
Fax:
One Point (Corporate Environments) toechsle@ceg-pa.com
Contact:
Contact Phone:Tom Oechsle
Contact Email:
605 E Broad St, Bethlehem, PA 18018
Phone:610-974-7990
Fax:
One Point Inc. awelman@opoffice.com
Contact:
Contact Phone:Mandy Welman
Contact Email:
100 Poplar St, Scranton, PA 18509
Phone:570-207-2842
Fax:
One Workplace cferrari@oneworkplace.com
Contact:
Contact Phone:Chris Ferrari
Contact Email:
2500 De La Cruz Blvd, Santa Clara, CA 95050
Phone:669-800-2500
Fax:
Osterman Cron, Inc. keith@ostermancron.com
Contact:
Contact Phone:Keith Cron
Contact Email:
10830 Millington Court, Cincinnati, OH 45242
Phone:513-771-3377
Fax:
Pacific Office Interiors ftaylor@poi.bz
Contact:
Contact Phone:Free Taylor
Contact Email:
5304 Derry Ave # U, Agoura Hills, CA 91301
Phone:818-735-0333
Fax:
Parameters davidh@parameters.com
Contact:
Contact Phone:David Haines
Contact Email:
800 Hennepin Ave Suite 500, Minneapolis, MN 55403
Phone:952-903-5200
Fax:
Parron Hall Office INT KBoyce@parronhall.com
Contact:
Contact Phone:Kay Boyce
Contact Email:
9655 Granite Ridge Drive Suite100 San Diego, CA 92123
Phone:858-268-1212
Fax:
PBI pburnham@pbi-inc.com
Contact:
Contact Phone:Patricia Burnham
Contact Email:
115 West Street, Suite 301 Annapolis, MD 21401
Phone:410-280-3500
Fax:
Peabody Office Furniture scott.peckham@peabodyoffice.com
Contact:
Contact Phone:Scott Peckham
Contact Email:
234 Congress Street Boston MA 02210
Phone:617-531-7381
Fax:
Phillips Office Solutions liagnemma@buyphillips.com
Contact:
Contact Phone:Linda Iagnemma
Contact Email:
501 Fulling Mill Rd, Middletown, PA 17057
Phone:717-944-0400
Fax:
Phoenix Contract rtr1@rcn.com
Contact:
Contact Phone:Rich Racosky
Contact Email:
2741 Bel Air Rd, Bethlehem, PA 18017
Phone:610-867-7171
Fax:
Pivot Interiors pdonlon@pivotinteriors.com
Contact:
Contact Phone:Patrick Donlon
Contact Email:
3355 Scott Blvd #110, Santa Clara, CA 95054
Phone:408-432-5600
Fax:
PMC Commercial Interiors Inc. jane@pmccommericalinteriors.com
Contact:
Contact Phone:Jane Ansbrow
Contact Email:
18 Markley Street, Greenville SC 29601
Phone:864-342-7605
Fax:
POD Office soo@podoffice.com
Contact:
Contact Phone:Soo Emens
Contact Email:
636 Chenery St, San Francisco, CA 94131
Phone:415-908-1875
Fax:
Premier Office Solutions paul@premierofficesolutions.com
Contact:
Contact Phone:Paul Barr
Contact Email:
601 Davisville Rd, Willow Grove, PA 19090
Phone:215-734-2300
Fax:
Prevolv jewine@prevolv.com
Contact:
Contact Phone:John Ewine
Contact Email:
2635 University Avenue West #120 St. Paul, MN 55114
Phone:651-645-2055
Fax:
Price Modern, LLC colin.jones@pricemodern.com
Contact:
Contact Phone:Colin Jones
Contact Email:
2604 Sisson Street Baltimore, Maryland 21211
Phone:410-366-5500
Fax:
Red Thread JGaffney@red-thread.com
Contact:
Contact Phone:Joe Gaffney
Contact Email:
22 Boston Wharf Road Boston MA 02210
Phone:617-443-6700
Fax:
Resource and Design Ann.Pantera@rdi-sf.com
Contact:
Contact Phone:Ann Pantera
Contact Email:
747 Front St #100, San Francisco, CA 94111
Phone:415-777-0202
Fax:
Resource Partnership christine@resourcepartnership.net
Contact:
Contact Phone:Christine Barbieri
Contact Email:
600 Clark Avenue, King of Prussia, PA 19406
Phone:610-768-7000
Fax:
River City Furniture ann.lang@thercgroup.com
Contact:
Contact Phone:Anna Lang
Contact Email:
6454 Centre Park Drive West Chester, OH, 45069
Phone:513-612-7303
Fax:
RJE Business Interiors ckeller@rjecincy.com
Contact:
Contact Phone:Chris Keller
Contact Email:
623 Broadway St, Cincinnati, OH 45202
Phone:513-641-3700
Fax:
Robert H Lord Company RobRomay@rhlco.com
Contact:
Contact Phone:Rob Romay
Contact Email:
220 Chapel Road Manchester CT 06042
Phone:860-512-2126
Fax:
Royal Business Interiors rmeyerhoff@royalbusinessint.com
Contact:
Contact Phone:Randy Meyerhoff
Contact Email:
1208 E Market St, York, PA 17403
Phone:717-845-8775
Fax:
Schroeder Solutions pcherchian@schroedersolutions.com
Contact:
Contact Phone:Peter Cherchian
Contact Email:
1920 S. Calhoun Road New Berlin WI 53151
Phone:262-207-6346
Fax:
Scott Rice stevej@scottrice.com
Contact:
Contact Phone:Steve Jobe
Contact Email:
14720 West 105th St., Lenexa, Kansas 66215
Phone:913-888-7600
Fax:
Seats and Stations rebecca@seatsandstations.com
Contact:
Contact Phone:Rebecca Roman
Contact Email:
1430 Blue Oaks Blvd #150, Roseville
Phone:916-786-8005
Fax:
Sedgwick Business Interiors jkleiman@sedgwickbusiness.com
Contact:
Contact Phone:Janet Kleiman
Contact Email:
176 Anderson Ave, Rochester, NY 14607
Phone:585-461-5070
Fax:
Sheehan's Office Interiors jsheehan@sheehansoffice.com
Contact:
Contact Phone:Jack Sheehan
Contact Email:
524 Park Avenue Portsmouth RI 02871
Phone:401-683-3150
Fax:
Shelton Keller Group, Inc. dkeller@skgtexas.com
Contact:
Contact Phone:Diana Keller
Contact Email:
6301-9 East Stassney Lane, Suite 100 Austin TX 78744
Phone:512-481-1500
Fax:
Sheppard's Business Interiors https://www.sbi-omaha.com
Contact:
Contact Phone:
Contact Email: mfelker@sbi-omaha.com
725 South 72nd street, Omaha, NE 68114
Phone:(402) 393-8888
Fax:(402) 393-0113
Sidemark Corporate Furniture eransone@sidemark.com
Contact:
Contact Phone:Emily Ransone
Contact Email:
96 N 2nd St, San Jose, CA 95113
Phone:408-490-3300
Fax:
Sierra School Equipment Company dennisshaw@ssecinc.com
Contact:
Contact Phone:Dennis Shaw
Contact Email:
1911 Mineral Ct, Bakersfield, CA 93308
Phone:661-399-2993
Fax:
Smithcfi rupa.malakar@smithcfi.com
Contact:
Contact Phone:Rupa Malakar
Contact Email:
620 Northeast 19th Avenue Portland, OR, 97232
Phone:503-226-4151
Fax:
Source One Furniture jesse@sourceonefurniture.com
Contact:
Contact Phone:Jesse Domeracki
Contact Email:
100 Springdale Rd,A3-310 Cherry Hill, NJ 08003
Phone:609-704-7510
Fax:
Spaces Inc tallenbrand@spacesinc.com
Contact:
Contact Phone:Trisha Allenbrand
Contact Email:
14950 W 86th St, Lenexa, KS 66215
Phone:913-894-8900
Fax:
Specialized Marketing Ltd. lauren@smarketltd.com
Contact:
Contact Phone:Lauren Samson
Contact Email:
138 West St, Annapolis, MD 21401
Phone:410-267-0545
Fax:
Spectrum Workplace mgross@spectrumworkplace.com
Contact:
Contact Phone:Peggy Kelly
Contact Email:
1122 Longford Rd, Docks 20 & 21, Oaks, PA 19460
Phone:610-354-0300
Fax:
Stone Office Interiors tjstone@stoneofficeinc.com
Contact:
Contact Phone:TJ Stone
Contact Email:
321-327 Pear Street, Scranton, PA 18505
Phone:800-827-1477
Fax:
Strategic Workspaces kamran@strategicworkspaces.com
Contact:
Contact Phone:Kamran Nafissi
Contact Email:
40 Broad Street Boston MA 02109
Phone:617-426-0777
Fax:
Supplysource Inc. larryb@supplysourceinc.com
Contact:
Contact Phone:Larry Basile
Contact Email:
415 W 3rd St, Williamsport, PA 17701
Phone:570-327-1500
Fax:
Synergy mmoore@synergybe.com
Contact:
Contact Phone:Michael Moore
Contact Email:
800 6th Avenue South Suite 200, Nashville, TN 37023
Phone:615-383-6799
Fax:
System Source, INC. EKravtsov@systemsource.com
Contact:
Contact Phone:Emiliya Kravtsov
Contact Email:
6701 Center Drive West, Ste 850 Los Angeles, CA. 90045
Phone:310-234-9814
Fax:
Systems Furniture curt.beilke@systemsfurniture.com
Contact:
Contact Phone:Curt Beilke
Contact Email:
125 S Broadway DePere WI 54115
Phone:920-336-1510
Fax:
Talu, LLC. barbara.issacs@akima.com
Contact:
Contact Phone:Barbara Isaacs
Contact Email:
13873 Park Center Road Suite 400N Herndon, VA 20171
Phone:571-323-5201
Fax:
Tangram Interiors rmadjlessi@tangraminteriors.com
Contact:
Contact Phone:Roya Madjlessi
Contact Email:
9200 Sorensen Ave, Santa Fe Springs, CA 90670
Phone:562-365-5000
Fax:
Texas Wilson Office Furniture & Services jwhite@texaswilson.com
Contact:
Contact Phone:Jayne White
Contact Email:
6812 Fairgrounds Pkwy. San Antonio, TX 78238
Phone:210-647-2308
Fax:
The Mell Group mell@themellgroupllc.com
Contact:
Contact Phone:Mell Smith
Contact Email:
100 Union Hill Drive, Suite 100 Birmingham, AL 35209
Phone: 205-877-3131
Fax:
Think Office clint@thinkofficellc.com
Contact:
Contact Phone:Clint Johnson
Contact Email:
1320 E 68th Avenue, Suite 101 Anchorage, AK 99518-2340
Phone:907-338-4465
Fax:
Total Office Interiors charles@tointeriors.com
Contact:
Contact Phone:Charlie Loughery
Contact Email:
527 Plymouth Rd Ste 401, Plymouth Meeting, PA 19462
Phone:610-828-3808
Fax:
Transact Commercial Interiors https://www.transactinteriors.com
Contact: Kasey McBroom
Contact Phone:(602) 251-3838
Contact Email: kmcbroom@transactinteriors.com
2034 N. 3rd Street, Phoenix, Arizona 85004
Phone:
Fax:(602) 251-3833
Transamerican Office Furniture vdigiesi@transamfurn.com
Contact:
Contact Phone:Vincent DiGiesi
Contact Email:
3800 Main St, Philadelphia, PA 19127
Phone:215-482-8550
Fax:
TurnerBoone Contract tara@turnerboone.com
Contact:
Contact Phone:Tara O'Gorman
Contact Email:
1320 Ellsworth Industrial Blvd., Suite A-1600, Atlanta, GA 30318
Phone:404-733-1060
Fax:
Union Office Interiors fragoso@unionoffice.com
Contact:
Contact Phone:Louie Fragoso
Contact Email:
226 Andover Street Wilmington MA 01887
Phone:781-396-6400
Fax:
Union Office Interiors - Boston rpoverman@unionoffice.com
Contact:
Contact Phone:Rich Poverman
Contact Email:
33 Broad Street Boston MA 02109
Phone:617-456-3010
Fax:
Union Transco alachance@unionoffice.com
Contact:
Contact Phone:Anne LaChance
Contact Email:
257 Water Street Augusta ME 04330
Phone:207-622-6252
Fax:
Unisource Solutions sjohns@unisourceit.com
Contact:
Contact Phone:Stephanie Johns
Contact Email:
8350 Rex Road Pico Rivera, CA 90660
Phone:562-949-1111
Fax:
Unisource Solutions (Northern CA) wkastner@unisourceit.com
Contact:
Contact Phone:Wendy Jacobs (Kastner)
Contact Email:
31101 Wiegman Rd, Hayward, CA 94544
Phone:510-475-2000
Fax:
USBI U S Business Interiors kurtw@usbionline.com
Contact:
Contact Phone:Kurt Weiss
Contact Email:
9200 Alaking Ct #100, Capitol Heights, MD 20743
Phone:301-350-8700
Fax:
Vanguard Environments, Inc. aelicia@vanguardenviorments.com
Contact:
Contact Phone:Aelicia Baylilss
Contact Email:
7026 Old Katy Rd., Ste. 103 Houston TX 77024
Phone:713-871-8686
Fax:
Waldners Contact:
Contact Phone:-
Contact Email:
215 Lexington Ave, New York, NY 10016
Phone:212-696-7500
Fax:
Washington Group Solutions jbuchanan@wgsoffice.com
Contact:
Contact Phone:Jud Buchanan
Contact Email:
2nd Floor, 101 W Broad St, Falls Church, VA 22046
Phone:703-237-9596
Fax:
Washington Workplace cmiller@washingtonworkplace.com
Contact:
Contact Phone:Christine Miller-Langemak
Contact Email:
2300 9th St S, Arlington, VA 22204
Phone:703-979-7835
Fax:
WB Mason kim.kearney@wbmason.com
Contact:
Contact Phone:Kim Kearney
Contact Email:
1435 Melrose Hwy, Pennsauken, NJ 08110
Phone:888-495-9650
Fax:
WB Mason - Brockton steve.bliss@wbmason.com
Contact:
Contact Phone:Steve Bliss
Contact Email:
59 Centre Street Brockton MA 02303
Phone:508-586-3434
Fax:
WB Mason - East Windsor Contact:
Contact Phone:-
Contact Email:
43 North Road East Windsor CT 06088
Phone:888-962-2766
Fax:
Western Contract Furnishers percyh@westerncontract.com
Contact:
Contact Phone:Hallie Percy
Contact Email:
11455 Folsom Blvd, Rancho Cordova, CA 95742
Phone:916-638-3338
Fax:
Western Contract Interiors robert@westerncontract.net
Contact:
Contact Phone:Robert Mahowald
Contact Email:
298 Jackson St, San Jose, CA 95112
Phone:408-275-9600
Fax:
Western Office Interiors kthompson@westernoffice.com
Contact:
Contact Phone:Kelly Thompson
Contact Email:
500 Citadel Drive Suite 250 Los Angeles, CA 90040
Phone:323-271-1800
Fax:
Wilson Office Interiors, LLC kdenson@wilsonoi.com
Contact:
Contact Phone:Karen Denson
Contact Email:
1341 W. Mockingbird Suite #1100W Dallas TX 75247
Phone:972-488-4174
Fax:
Wilton's Officeworks, Ltd Sbishop@wiltons.com
Contact:
Contact Phone:Scott Bishop
Contact Email:
181 No. Earl Rudder Freeway Bryan TX 77802
Phone:979-268-0062
Fax:
Wittigs Office Interiors cay.wilchek@wittigs.com
Contact:
Contact Phone:Cay Wilchek
Contact Email:
2018 Ave. B, Ste 300 San Antonio TX 78215
Phone:210- 270-0100
Fax:
Workflow Interiors eliot@workflowinteriors.com
Contact:
Contact Phone:Peter Eliot
Contact Email:
132 Canal Street Boston MA 02114
Phone:617-570-0774
Fax:
Working Spaces Pacific Inc wphilippo@workingspaces.com
Contact:
Contact Phone:Willem Philippo
Contact Email:
330 120th Ave NE # 205, Bellevue, WA 98005
Phone:425-462-1966
Fax:
Workplace Consulting Group paulina@workspacecg.com
Contact:
Contact Phone:Paulina Ribadeneyra
Contact Email:
2777 Summer Street Stamford CT 06905
Phone:203-548-0305
Fax:
Workplace Environments jharper@workplaceenvironments.com
Contact:
Contact Phone:Jean Harper
Contact Email:
37 Germantown Pike East, Plymouth Mtg 19462
Phone:610-834-9877
Fax:
Workplace Resource crusso@wprltd.com
Contact:
Contact Phone:Claudia Russo
Contact Email: x23
162 Prescott Street Worcester MA 01605
Phone:508-770-1900
Fax:
Workplace Resource - Austin virginia.visser@wrstx.com
Contact:
Contact Phone:Virginia Visser
Contact Email:
1717 W. 6th St., Ste. 190 Austin TX 78703
Phone:512-472-7300
Fax:
Workplace Resource - San Antonio virginia.visser@wrstx.com
Contact:
Contact Phone:Virginia Visser
Contact Email:
4400 NE Loop 410, Suite 130, San Antonio TX 78218
Phone:512-472-7300
Fax:
Workplace Resource of Oregon larry_demarco@wroregon.com
Contact:
Contact Phone:Larry Demarco
Contact Email:
825 NE Multnomah, Suite 270 Portland Oregon 97232
Phone:503-238-1590
Fax:
Workplace Solutions, Inc. - Dallas acks@wpsolutions.com
Contact:
Contact Phone:Joe Cunningham
Contact Email:
2651 N. Harwood Suite 120, Dallas TX 75201
Phone:214-741-9667
Fax:
Workpointe, Inc stacy@workpointe.com
Contact:
Contact Phone:Stacy Johnson
Contact Email:
9877 40th Ave S, Seattle, WA 98118
Phone:206-763-4030
Fax:
Workscape, Inc. design@workscapeinc.com
Contact:
Contact Phone:Lisa Impavido
Contact Email:
1900 Lowe St, Pittsburgh, PA 15220
Phone:412-920-6300
Fax:
Workspace Development, LLC dba Opensquare hbreier@open-sq.com
Contact:
Contact Phone:Hal Breier
Contact Email:
5601 6th Ave South Suite 470 Seattle, Washington 98108
Phone:206-768-8000
Fax:
Workspace Interiors & Furniture - Office Depot colleen.forgash@officedepot.com
Contact:
Contact Phone:Colleen Forgash
Contact Email:
3001 Frost Rd, Bristol, PA 19007
Phone:215-788-1212
Fax:
Workspace LLC jimb@workspacellc.com
Contact:
Contact Phone:Jim Blessing
Contact Email:
261 N 3rd St, Philadelphia, PA 19106
Phone:215-733-9770
Fax:
Workspace Resources karens@workspaceresources.com
Contact:
Contact Phone:Karen Strachan
Contact Email:
3527 Mt. Diablo Boulevard, #138 Lafayette, CA 94549
Phone:925-284-6262
Fax:
WRG LLC https://wrgtexas.com
Contact: Kevin Marino
Contact Phone:
Contact Email: kmarino@wrgtexas.com
2639 E Rosemeade Pkwy Carrollton, TX 75007
Phone:(972) 389-8859
Fax:(972) 446-1209
WS Goff Company Inc. barrygoff@wsgoff.com
Contact:
Contact Phone:J. Barry Goff, Jr.
Contact Email:
5104 Oakwood Blvd, Mays Landing, NJ 08330
Phone:609-625-5600
Fax:
Wulbern-Koval Company Inc. jtarr@wulbern-koval.com
Contact:
Contact Phone:Joseph Tarr
Contact Email:
1111 Morrison Drive, Charleston SC 29403
Phone:843-577-7666
Fax:
Wyndham Corporate Interiors, LLC mmcnally@buydesk.com
Contact:
Contact Phone:Mark McNally
Contact Email:
208 Providence Road Brooklyn CT 06234
Phone:860-774-8110
Fax:
Xcelerated Concepts LLC swhelan@xcelerated-concepts.com
Contact:
Contact Phone:Sarah Hunter
Contact Email:
111 Mill St, Ste 1-S, Danville, PA 17821
Phone:570-275-6130
Fax:
Young Office Environments, Inc. awebster@youngos.com
Contact:
Contact Phone:Alita Webster
Contact Email:
1280 Ridge Road, Greenville SC 29607
Phone:864-254-7558
Fax: