EMAIL PO & VENDOR QUOTE TO: TIPSPO@TIPS-USA.COM
PO MUST REFERENCE VENDOR'S TIPS CONTRACT NUMBER
ATTACH PO AS A PDF - ONLY ONE PO (WITH QUOTE) PER ATTACHMENT

Print
VENDOR

Indeco Sales Inc

805 East 4th Avenue Belton TX,76513

WEBSITE

www.indecosales.com

SERVICE/PRODUCTS DESCRIPTION

Dealer/Distributer/Manufacturer/Design Services. Furniture for school/office, classroom, library, labs. Commercial Kitchen and Cafeteria Equipment, Instructional Furniture, Library Auditorium & Office Furniture.
Indeco Sales Inc
CONTRACT: 171102 Commercial Cafeteria Equipment and Furniture
Jan-25-2018 to Jan-26-2021
EDGAR COMPLIANCE : Yes
As of February 2016, TIPS cannot guarantee compliance with the new USDA and Texas Department of Agriculture(TDA) Child Nutrition Food Service Procurement Regulations found in the TDA document entitled "ARM Section 17" that was issued in February 2016 and updated periodically since. Texas Department of Agriculture's ARM Section 17 includes specific requirements that are not included in 2 CFR Part 200. Also, we are not sure how compliance is affected for other states with the use of USDA Federal Child Nutrition funds expenditures. TIPS leaves it to the Member entity to review our due diligence and decide for themselves if compliance is adequate.
CONTRACT: 170302 Furniture, Furnishings and Services
May-26-2017 to May-31-2020
EDGAR COMPLIANCE : Yes
Indeco Sales Inc

Print
Commercial Cafeteria Equipment and Furniture(171102)
Exp.Date 01/26/2021 EDGAR: Yes
Furniture, Furnishings and Services(170302)
Exp.Date 05/31/2020 EDGAR: Yes
| | |
| --- | --- |
| DISADVANTAGED/MINORITY/WOMAN BUSINESS ENTERPRISE | No |
| HISTORICALLY UNDERUTILIZED BUSINESS (HUB) | No |
| | |
| --- | --- |
| | NM , OK , TX , WV |
Live Oak Equipment Finance is the exclusive financial parter of TIPS! Allow LOEF to help assist you in your financial needs today!

We are committed to provide a financing experience based on unwavering integrity, unmatched service and complete transparency. Our processes have been established with the client in mind, and we are dedicated to ensuring that you enjoy your experience working with our team. Our goal is for you to build a long-term relationship with Live Oak Equipment Finance, not only as your financial partner, but also a firm that can help you grow and excel as a professional in your industry.
Contact Information:
Phone: (512) 726-0367
Email: tips@loeqf.com
Website: www.loeqf.com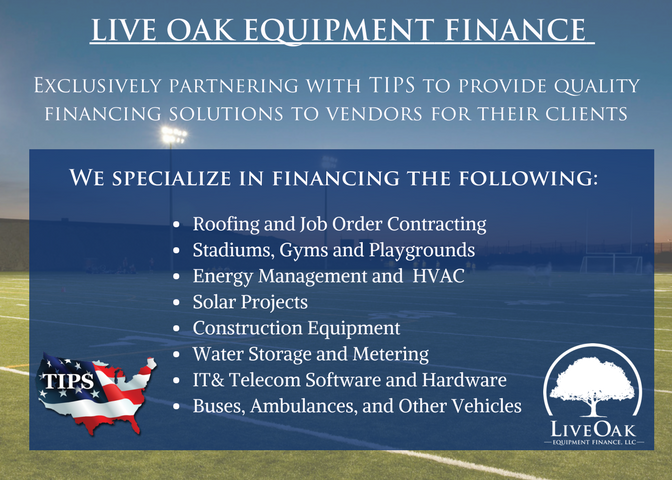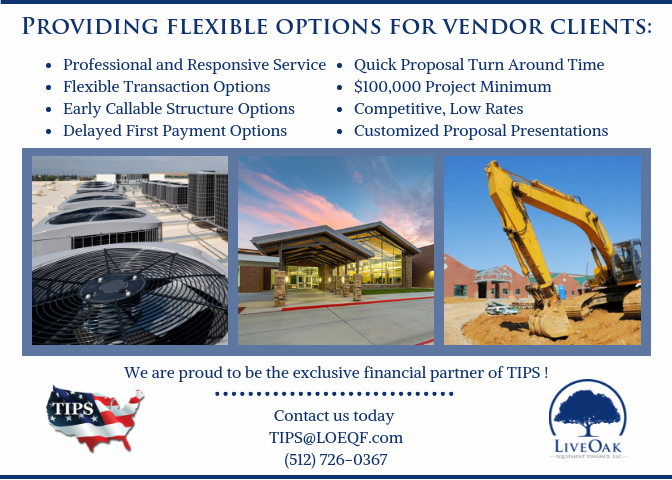 Get VCard for Primary Contact by Contract
Indeco Sales Inc
Resellers listed below may also hold a current TIPS contract. PO's for quotes provided by a reseller that are also awarded in the same category will be processed and sent directly to that reseller.

Please check under "ALL VENDORS" before requesting a quote from any listed reseller.
Resellers
Address
Tom Sexton & Associates Contact:
Contact Phone:
Contact Email:

Phone:
Fax: