EMAIL PO & VENDOR QUOTE TO: TIPSPO@TIPS-USA.COM
PO MUST REFERENCE VENDOR'S TIPS CONTRACT NUMBER
ATTACH PO AS A PDF - ONLY ONE PO (WITH QUOTE) PER ATTACHMENT

Print
VENDOR

AmTab Manufacturing Corporation

652 N. Highland Ave Aurora IL,60506

WEBSITE

www.amtab.com

SERVICE/PRODUCTS DESCRIPTION

Since 1958, AmTab is a world-class American manufacturer of mobile folding cafeteria tables, specialty tables, stages and choral risers serving educational, hospitality, healthcare, banquet and industrial markets. All AmTab tables are proudly manufactured and assembled in America with domestic material and labor and are made uncompromising quality and careful attention to customer satisfaction. Our core principals are Safety, Ease of Operation, Quality and Durability and Value for Your Investment.
AmTab Manufacturing Corporation
CONTRACT: 171102 Commercial Cafeteria Equipment and Furniture
Jan-25-2018 to Jan-26-2021
EDGAR COMPLIANCE : Yes
As of February 2016, TIPS cannot guarantee compliance with the new USDA and Texas Department of Agriculture(TDA) Child Nutrition Food Service Procurement Regulations found in the TDA document entitled "ARM Section 17" that was issued in February 2016 and updated periodically since. Texas Department of Agriculture's ARM Section 17 includes specific requirements that are not included in 2 CFR Part 200. Also, we are not sure how compliance is affected for other states with the use of USDA Federal Child Nutrition funds expenditures. TIPS leaves it to the Member entity to review our due diligence and decide for themselves if compliance is adequate.
CONTRACT: 170302 Furniture, Furnishings and Services
May-26-2017 to May-31-2020
EDGAR COMPLIANCE : Yes
AmTab Manufacturing Corporation

Print
Commercial Cafeteria Equipment and Furniture(171102)
Exp.Date 01/26/2021 EDGAR: Yes
Furniture, Furnishings and Services(170302)
Exp.Date 05/31/2020 EDGAR: Yes
| | |
| --- | --- |
| DISADVANTAGED/MINORITY/WOMAN BUSINESS ENTERPRISE | No |
| HISTORICALLY UNDERUTILIZED BUSINESS (HUB) | No |
| | |
| --- | --- |
| | AL , AK , AZ , AR , CA , CO , CT , DE , DC , FL , GA , HI , ID , IL , IN , IA , KS , KY , ME , MD , MA , MI , MN , MS , MO , MT , NE , NV , NH , NJ , NM , NY , NC , ND , OH , OK , OR , PA , RI , SC , SD , TN , TX , UT , VT , VA , WA , WV , WI , WY |
Live Oak Equipment Finance is the exclusive financial parter of TIPS! Allow LOEF to help assist you in your financial needs today!

We are committed to provide a financing experience based on unwavering integrity, unmatched service and complete transparency. Our processes have been established with the client in mind, and we are dedicated to ensuring that you enjoy your experience working with our team. Our goal is for you to build a long-term relationship with Live Oak Equipment Finance, not only as your financial partner, but also a firm that can help you grow and excel as a professional in your industry.
Contact Information:
Phone: (512) 726-0367
Email: tips@loeqf.com
Website: www.loeqf.com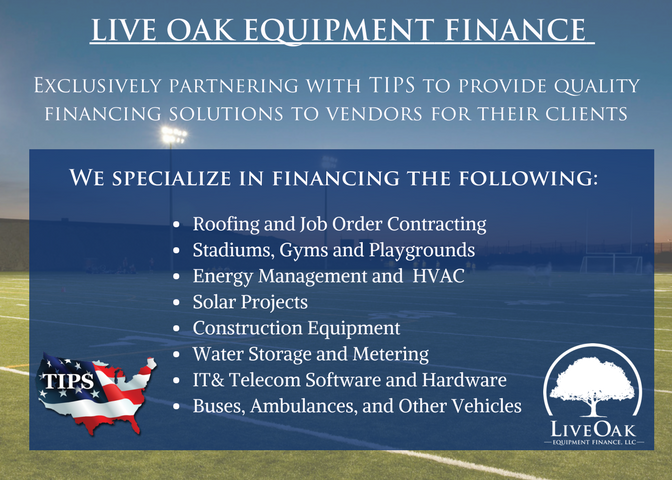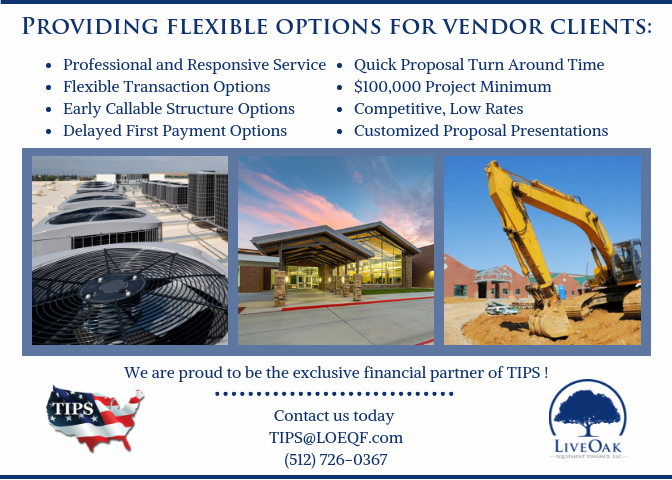 Get VCard for Primary Contact by Contract
AmTab Manufacturing Corporation
Resellers listed below may also hold a current TIPS contract. PO's for quotes provided by a reseller that are also awarded in the same category will be processed and sent directly to that reseller.

Please check under "ALL VENDORS" before requesting a quote from any listed reseller.
Resellers
Address
Amarillo ISD www.amaisd.org
Contact: Tyler Young
Contact Phone:(806) 326-1174
Contact Email: tyler.young@ama.isd.org
7200 I-40 W Amarillo TX 79106
Phone:(806) 354-4363
Fax:(806) 354-4363
Bayne Contact: Jim Bayne
Contact Phone:(319) 846-3763
Contact Email: bayneschool@southslope.net
318 Vanderbill St, Fairfax IA
Phone:(319) 846-3763
Fax:(319) 846-3763
Catalyst Workplace Activation www.catalystactivation.com
Contact: Claire Sander
Contact Phone:(206) 615-9276
Contact Email: csander@catalystactivation.com
10848 E Marginal Way S
Phone:(206) 615-9276
Fax:
CI Select Contact: Tracey Nash
Contact Phone:(314) 909-1990
Contact Email: tnash@ciselect.com
11840 West Line Industrial Dr., St Louis, MO
Phone:(314) 909-1911
Fax:(314) 909-1911
Concepts Contact: Bruce Lang
Contact Phone:(951) 296-5591
Contact Email: blang@concepts-furnishings.com
27480 Colt Ct, Temecula CA
Phone:(951) 296-5594
Fax:(951) 296-5594
Contrax Furnishings Contact: Bill Latham
Contact Phone:(352) 373-7516
Contact Email: Blatham@contrax.com
690 NE 23rd Ave, Gainsville, FL
Phone:(877) 373-0622
Fax:(877) 373-0622
Elontec www.elontec.com
Contact: Franc Nagel
Contact Phone:(602) 759-5497
Contact Email: fnagel@elontec.com
5502 W Buckeye Rd #100 Phoenix, AZ
Phone:(602) 759-5502
Fax:(602) 759-5502
Ernie Morris Enterprises Inc Contact: Adin Burchfield
Contact Phone:(404) 822-6958
Contact Email: aburchfield@erniemorris.com
232 N Main Bushnell, FL 33513
Phone:(404) 581-5169
Fax:(404) 581-5169
Frank Cooney Contact: Kevin Cooney
Contact Phone:(630) 694-8800
Contact Email: kevin@frankcooney.com
1226 N. Michael Dr. Ste. C, Wooddale, IL
Phone:(630) 694-8804
Fax:(630) 694-8804
Georgia Specialty Contact: Randall Cottril
Contact Phone:(770) 461-2090
Contact Email: rcottrill@gseequip.com
137 North Pkwy, Fayetteville GA
Phone:(770) 461-2517
Fax:(770) 461-2517
Hertz Contact: David Mocton
Contact Phone:(201) 529-2100
Contact Email: dmocton@hertzfurniture.com
95 McKee Dr., Mahwah, NJ
Phone:(201) 529-2800
Fax:(201) 529-2800
Indeco Contact: Mike Johnson
Contact Phone:(405) 373-3313
Contact Email: mike.johnson@indecosales.com
805 E. 4th Ave., Belton, TX
Phone:(405) 373-1523
Fax:(405) 373-1523
Indoff www.indoff.com
Contact: Bruce Lang
Contact Phone:(951) 551-3095
Contact Email: bruce.lang@indoff.com
11816 Lackland Rd St. Louis MO 63146
Phone:(951) 302-1061
Fax:(951) 302-1061
Interior Systems Contact: Christina Berg
Contact Phone:(843) 703-9095
Contact Email: christina.berg@interiorsystemsinc.com
6667 NC Highway, 211 E West End NC
Phone:(910) 673-2646
Fax:(910) 673-2646
J.H. Pence Contact: Robert Pence
Contact Phone:(540) 343-2434
Contact Email: rpence@hpence.com
1334 8th St., Roanoke, VA
Phone:(540) 343-6823
Fax:(540) 343-6823
K-Log www.k-log.com
Contact: Heather Crowley
Contact Phone:(847) 872-6611 Ext. 153
Contact Email: heatherc@k-log.com
1224 W 27th Zion IL 60099
Phone:(847) 872-3728
Fax:(847) 872-3728
Library Design Systems www.librarydesignsystems.com
Contact: Stu Watson
Contact Phone:
Contact Email: swatson@ldsgroupusa.com
8565 Mosley Road, # 14, Houston, TX 77075
Phone:(972) 533-8808
Fax:
Lowery McDonnell Contact: Tim Peraino
Contact Phone:(630) 846-1414
Contact Email: tperaino@lmcinc.net
255 Mittle Dr Wood Dale, IL 60191
Phone:(630) 227-1010
Fax:(630) 227-1010
Marshfield Contact: Larry
Contact Phone:(715) 387-1286
Contact Email: larry@marshfieldbook.com
M111 W. McMillan St., Marshfield WI
Phone:(715) 387-1145
Fax:(715) 387-1145
Metropolitan Nashville PS www.mnps.org
Contact: Derek Waller
Contact Phone:(615) 566-9290
Contact Email: derek.waller@mnps.org
2601 Brandsford Avenue Nashville, TN 37204
Phone:(615) 214-8897
Fax:(615) 214-8897
Midwest Furnishings Contact: Dave Welter
Contact Phone:(847) 253-5070
Contact Email: dwelter@mwfurnishings.com
702 N Maple St Prospect Heights IL 60070
Phone:(847) 253-5067
Fax:(847) 253-5067
Moser Sales Contact: Phil Moser
Contact Phone:(479) 636-3481
Contact Email: pmoser58@yahoo.com
601 North 13th St., Rogers AR
Phone:(479) 636-3489
Fax:(479) 636-3489
Red Thread Contact: Mary MacMahon
Contact Phone:(860) 291-5780
Contact Email: mmacmahon@red-thread.com
300 E River Dr, East, Hartford, CT
Phone:
Fax:
Saxton Bradley Contact: JoAnn Massey
Contact Phone:
Contact Email: joann.massey@saxtonbradley.com
6718 S. 216th Street Kent, WA 98032
Phone:(425) 970-6634
Fax:
School Furnishings Inc Contact: Charlie Call
Contact Phone:(603) 204-0581
Contact Email: charlie@schoolfurnishings.com
The White Building, 33 Main St, Nashua NH
Phone:(603) 204-0581
Fax:(603) 204-0581
School Furnishings Unlimited Contact: Mike Treadwell
Contact Phone:(505) 797-5179
Contact Email: mike@sfusales.com
9908 Lorelei, Albuquerque, NM
Phone:(505) 797-3707
Fax:(505) 797-3707
School Outfitters www.schooloutfitters.com
Contact: Mindi Rosenthal
Contact Phone:(513) 619-2824
Contact Email: mindi.rosenthal@schooloutfitters.com
3736 Regent Ave. Cincinnati OH 45212
Phone:(800) 494-1036
Fax:(800) 494-1036
School Source AZ www.schoolsourceaz.com
Contact: Doug Steiner
Contact Phone:(480) 688-3232
Contact Email: doug@schoolsourceaz.com
1544 E Leland St Mesa AZ 85203
Phone:(480) 962-6340
Fax:(480) 962-6340
School Specialty Contact: Tom Streck
Contact Phone:(888) 388-3224
Contact Email: tom.streck@schoolspecialty.com
100 Paragon Pkwy, Mansfield OH
Phone:(419) 589-1978
Fax:(419) 589-1978
Schoolsin www.schoolsin.com
Contact: Ben Kremer
Contact Phone:(513) 772-3330
Contact Email: ben.kremer@schoolsin.com
11175 Reading Rd, Ste 302, Cincinnati OH
Phone:(877) 296-3336
Fax:(877) 296-3336
Sharp School Services Contact: David Sharp
Contact Phone:(219) 741-2421
Contact Email: dsharo@sharpschoolservices.com
6400 Lincolnway, Hobart IN
Phone:(219) 942-4215
Fax:(219) 942-4215
Southwest Office Supply & Interiors Contact: Tim Schoffstall
Contact Phone:(503) 241-1921
Contact Email: tims@swofficesupply.com
3205 NW Yeon Ave. Portland, OR 97210
Phone:(503) 241-1921
Fax:
Staples Contact:
Contact Phone:
Contact Email:

Phone:
Fax:
Tanner Furniture PA Contact: Gary Poffenberger
Contact Phone:(717) 985-9700
Contact Email: gary4tanner@comcast.net
1235 S. Harrisburg St., Harrisburg, PA
Phone:(717) 985-9500
Fax:(717) 985-9500
Tanner North Jersey Contact: Mary Ann Engle
Contact Phone:(888) 722-0087
Contact Email: maryann@tannernorthjersey.com
1251 Lakewood-Farmingdale Rd, Howell NJ
Phone:(732) 886-3629
Fax:(732) 886-3629
Texas Furniture Source Contact: Terry Paden
Contact Phone:
Contact Email: tpaden25@hotmail.com
14560 Midway Road Farmers Branch, TX 75244
Phone:(806) 543-3237
Fax:
Tom Sexton www.tomsextonfurniture.com
Contact: Dave Patrina
Contact Phone:(412) 980-7873
Contact Email: dmpetrina@verizon.net
65 Cummings Dr Walton KY 41094
Phone:(859) 485-7085
Fax:(859) 485-7085
Virginia School Equipment / Gallagher-Stone Contact: Rod Gallagher
Contact Phone:(434) 851-1103
Contact Email: rod@va-school.com
916 Main St., Ste. 450 Lynchburg, VA 24505
Phone:
Fax: