AUTOMATED VENDOR (DO NOT SEND PO TO TIPS)
EMAIL PURCHASE ORDER TO: xogmajoraccounts@xerox.com.
MAKE PO OUT TO XEROX/RESELLER NAME
PO MUST REFERENCE TIPS CONTRACT NUMBER

Print
VENDOR

Xerox Corporation United States Channels Group

26600 SW Parkway Wilsonville OR,97070

WEBSITE

www.xerox.com

SERVICE/PRODUCTS DESCRIPTION

For more than a half a century, Xerox has been a leader in document technology and services. We continue to build on this heritage of innovation. Through our acquisition of Affiliated Computer Services, we now are the world's leading enterprise for business process and document management, offering global services from claims reimbursement and automated toll transaction to customer care centers and HR benefits management. The new Xerox is dedicated to innovation, service and giving our customers the freedom to focus on what matters most: your real business. 140,000+ employees. 12,000+ active patents. Founded in 1906. $600 million invested in RD & E in 2013. This contract allows for the flow through of various services and or items that the customer may require from the Xerox fulfillment partner (Reseller) relating to the installation, management, or ongoing support of the listed Xerox Equipment. These items may include, but are not limited to custom installation services, pre-configuration services, customized monthly services, as well as related and required non-Xerox ancillary hardware or software needed to achieve the desired operational benefit of the Xerox Equipment. Any additional flow through services or items will be directly related to the operation of the Xerox solutions.
Xerox Corporation United States Channels Group
CONTRACT: 180103 Copiers, Fax and Multifunction Machines and Services
Mar-22-2018 to Mar-26-2021
EDGAR COMPLIANCE : Yes
Xerox Corporation United States Channels Group

Print
Copiers, Fax and Multifunction Machines and Services(180103)
Exp.Date 03/26/2021 EDGAR: Yes
| | |
| --- | --- |
| | Primary |
| Contact | Dennis Ametrano |
| Title | Director of New Business Development |
| Phone | (212) 716-4450 |
| Email | dennis.ametrano@xerox.com |
| | |
| --- | --- |
| DISADVANTAGED/MINORITY/WOMAN BUSINESS ENTERPRISE | No |
| HISTORICALLY UNDERUTILIZED BUSINESS (HUB) | No |
| | |
| --- | --- |
| | AL , AK , AZ , AR , CA , CO , CT , DE , DC , FL , GA , HI , ID , IL , IN , IA , KS , KY , ME , MD , MA , MI , MN , MS , MO , MT , NE , NV , NH , NJ , NM , NY , NC , ND , OH , OK , OR , PA , RI , SC , SD , TN , TX , UT , VT , VA , WA , WI , WY |
Live Oak Equipment Finance is the exclusive financial parter of TIPS! Allow LOEF to help assist you in your financial needs today!

We are committed to provide a financing experience based on unwavering integrity, unmatched service and complete transparency. Our processes have been established with the client in mind, and we are dedicated to ensuring that you enjoy your experience working with our team. Our goal is for you to build a long-term relationship with Live Oak Equipment Finance, not only as your financial partner, but also a firm that can help you grow and excel as a professional in your industry.
Contact Information:
Phone: (512) 726-0367
Email: tips@loeqf.com
Website: www.loeqf.com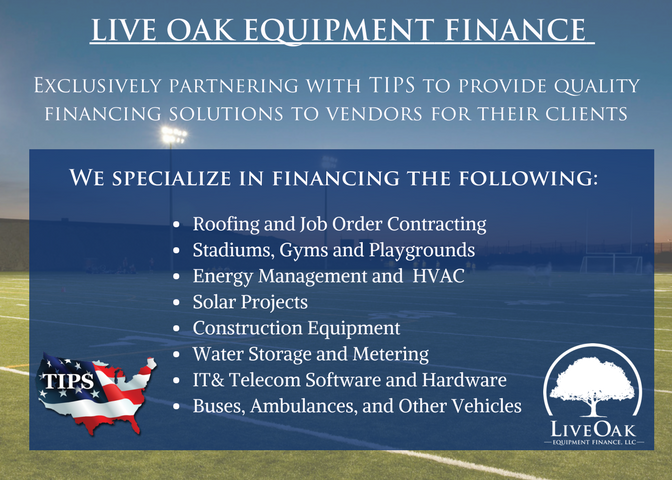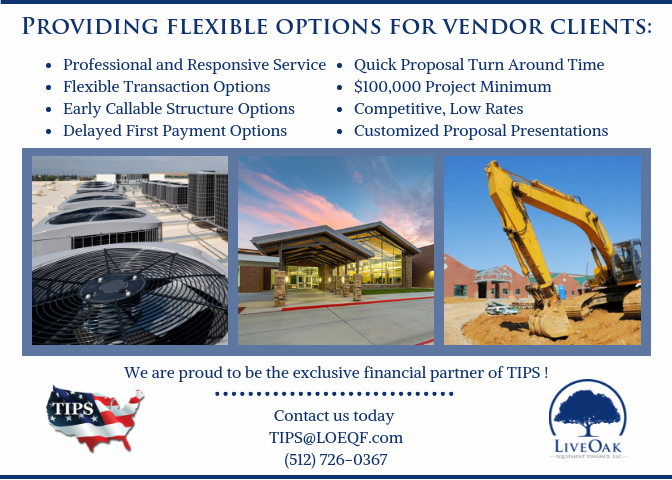 Get VCard for Primary Contact by Contract
Xerox Corporation United States Channels Group
Resellers listed below may also hold a current TIPS contract. PO's for quotes provided by a reseller that are also awarded in the same category will be processed and sent directly to that reseller.

Please check under "ALL VENDORS" before requesting a quote from any listed reseller.
Resellers
Address
ADVANCED DOCUMENT SYSTEMS INC www.advanceddocumentsystems.com
Contact: HECTOR LIZARDI
Contact Phone:
Contact Email: HLIZARDI@ADOCS.NET
19226 66TH AVE SOUTH, KENT, WA 98032
Phone:(206) 632-7007
Fax:(206) 269-2004
ADVANCED SYSTEMS INCORPORATED asiowa.com
Contact: DAVID QUINT
Contact Phone:319-232-6621
Contact Email: dquint@asiowa.com
5801 WESTMINSTER DR CEDAR FALLS,IA,50613
Phone:319-232-6621
Fax:319-232-6624
ALDRICH INC DBA AMERICAN BUSINESS SYSTEMS www.abs1.com
Contact: JOHN ALDRICH
Contact Phone:(501) 982-4104
Contact Email: ja@abs1.com
1816 SOUTH HIGHWAY 161, JACKSONVILLE, AR 72076
Phone:
Fax:(501) 985-2495
APOLLO OFFICE SYSTEMS LLC www.apolloofficesystems.com
Contact: PAMELA FOLEY
Contact Phone:281-286-3600
Contact Email: pfoley@apolloofficesystems.com
202 S HARDIE ST ALVIN,TX,77511
Phone:281-286-3600
Fax:281-331-9250
APRISA TECHNOLOGY LLC www.eaprisa.com
Contact: RUBY ADIB
Contact Phone:516-629-4771
Contact Email: ra@eaprisa.com
24 LUMBER ROAD ROSLYN,NY,11576
Phone:516-629-4771
Fax:516-403-5386
BENCHMARK BUSINESS SOLUTIONS INC www.benchmarkwtx.com
Contact: Kelly Lanham
Contact Phone:(806) 744-8744
Contact Email: klanham@benchmarkyouroffice.com
1607 BROADWAY LUBBOCK,TX,79401
Phone:(806) 744-8744
Fax:
CES COMPUTERS INC www.cescomputers.com
Contact: MIKE MOLONY
Contact Phone:563-588-9020
Contact Email: mmolony@managedsolutionsgroup.com
120 BRYANT STREET DUBUQUE,IA,52003
Phone:563-588-9020
Fax:563-588-9272
CESCO COIN EQUIPMENT SERVICE COMPANY INC www.cesco-inc.com
Contact: JEFF BRYANT
Contact Phone:214-824-8741
Contact Email: jbryant@cesco-inc.com
SUITE 130 11969 PLANO ROAD DALLAS,TX,75243
Phone:214-824-8741
Fax:214-824-0490
CLEAR CHOICE TECHNICAL SERVICES LLC DBS CLEARCHOICE TECHNICAL www.clearchoicetechnical.com
Contact: SHAWN HUBER
Contact Phone:(866) 620-2287
Contact Email: shawn@clearchoicetechnical.com
2241 Park Place Minden NV SUITE E-1 89423
Phone:(866) 620-2287
Fax:
Coastal Office Solutions LLC www.coastalofficesolutions.com
Contact: Tracey Mitchem
Contact Phone:(843) 256-6358
Contact Email: tracey@coastalofficesolutions.com
3249 Waccamaw Blvd Myrtle Beach SC 29679
Phone:(843) 256-6358
Fax:
COMPUTERS FOR BUSINESS MANAGEMENT LTD WWW.CBMTECH.COM
Contact: BLAKE JUDICE
Contact Phone: +1 337-233-5010
Contact Email: blake@cbmtech.com
218 E BRIDGE ST BREAUX BRIDGE,LA,70517
Phone: +1 337-233-5010
Fax:337-332-0705
CONNEX SYSTEMS INC www.connexsystems.com
Contact: Greg Walter
Contact Phone:(469) 916-2838
Contact Email: gwalter@connexsystems.net
2033 CHENAULT DRIVE SUITE 150 Carrolton TX 75001
Phone:(469) 916-2838
Fax:
COPY CONNECTION INC Contact: Rajat Ghandi
Contact Phone:
Contact Email: rgandhi@copyc.com
201 W HILLSIDE, SUITE 24, LAREDO, TX 78041
Phone:(956) 712-2679
Fax:(956) 728-8111
Day Business Services LLC DBA Cartridge World of Spring Hill Contact: Jerry Day
Contact Phone:(615) 302-0252
Contact Email: cw0814@cartridgeworldusa.com
2206 Spedale Ct, Suite 3, Spring Hill, TN 37174-6138
Phone:(615) 302-0252
Fax:
DELMARVA DOCUMENT SOLUTIONS INC www.delmarvadocumentsolutions.com
Contact: JENNIFER ATCHISON
Contact Phone:
Contact Email: jatchison@delmarvadocuments.com
112 SOUTH BOULEVARD SALISBURY MD 21804
Phone:(410) 548-5844
Fax:(410) 548-2335
DMC2 INC www.dmc2it.com
Contact: KEVIN FITZPATRICK
Contact Phone: +1 314-588-0900
Contact Email: kevin@dmc2it.com
10710 TRENTON AVE SAINT LOUIS,MO,63132
Phone: +1 314-588-0900
Fax:314-588-9393
DOCUMENT SOLUTIONS INC dba DSI www.documentsolutionsinc.com
Contact: ROBERT BIGHAM
Contact Phone:
Contact Email: rob.bigham@dsivictoria.com
4401 N MAIN ST, SUITE A, VICTORIA, TX 77904
Phone:(361) 575-5931
Fax:(361) 576-1651
DPS TECK LLC Contact: Frank Carroll
Contact Phone:
Contact Email: fcarroll@dpsteck.com
11937 Denton Drive, Suite 102, Dallas ,TX 75234-7251
Phone:(781) 929-0086
Fax:
ELP ENTERPRISES INC www.elpink.com
Contact: MARTHA CEBALLOS
Contact Phone:832-969-9947
Contact Email: martha@elpenterprisesinc.com
9346 ROSSTOWN WAY HOUSTON,TX,77080
Phone:832-969-9947
Fax:713-463-5682
Gateway Printing & Office Supply Inc www.gatewayp.com
Contact: Robin Tanner
Contact Phone:(210) 650-3995
Contact Email: robin@gatewayp.com
14803 BULVERDE ROAD, SAN ANTONIO TX 78247
Phone:
Fax:
GENERAL INFORMATICS LLC www.geninf.com
Contact: MOHIT VIJ
Contact Phone:225-578-7870
Contact Email: mo@geninf.com
8000 GSRI RD BUILDING 3000 BATON ROUGE,LA,70820
Phone:225-578-7870
Fax:866-728-0304
Huggins & Huggins Enterprises Inc dba Computer Zone Contact: Sandy Huggins
Contact Phone:
Contact Email: sandy@computerzone.net
613 Long Drive, Rockingham, NC 28379
Phone:
Fax:
HUNGATE BUSINESS SERVICES INC www.hbsx.com
Contact: ERIC HUNGATE
Contact Phone:276-783-5442
Contact Email: eric@hbsx.com
209 N CHESTNUT MARION,VA,24354
Phone:276-783-5442
Fax:276-783-6989
Innovative Technology Solutions 3 LLC Contact: Nick Khan
Contact Phone:(954) 696-4142
Contact Email: nkhan@itsolutions3.com
150 E Palmetto Park Rd Suite 800 Boca Raton FL 33432
Phone:(954) 696-4142
Fax:
JANCO BUSINESS SYSTEMS INC www.janco.us
Contact: JIM JANNETTY
Contact Phone:203-573-9960
Contact Email: jimj@janco.us
14 TOWNLINE ROAD WOLCOTT,CT,6716
Phone:203-573-9960
Fax:203-573-9903
JEANS NETWORK SOLUTIONS www.jeanstech.com
Contact: TERI DIXON
Contact Phone: +1 806-463-5301
Contact Email: teri.dixon@jeanstech.com
4088 BUSINESS PARK DR AMARILLO,TX,79110
Phone: +1 806-463-5301
Fax:806-355-9720
JUSTTECH LLC www.southernsolution.com
Contact: JOSHUA JUSTICE
Contact Phone:301-632-5555
Contact Email: jjustice@southernsolution.com
101 CATALPA DR SUITE 102 LA PLATA,MD,20646
Phone:301-632-5555
Fax:301-632-5525
KYLE OFFICE PRINTERS KyleOfficePrinters.com
Contact: Tracy Kyle
Contact Phone:979-260-3377
Contact Email: Tracy@Kyleofficeproducts.com
418 TARROW COLLEGE STATION,TX,77840
Phone:979-260-3377
Fax:979-260-3322
LASER LINE INC www.amalaserline.com
Contact: Peggy Sue Stankiewicz
Contact Phone:
Contact Email: pstankiewicz@amalaserline.com
7146 Montevideo Rd, Jessup, MD 20794
Phone:(410) 636-1700
Fax:(410) 636-5037
LASER WORKS INC www.verity-group.com
Contact: JOHN COOK
Contact Phone:972-422-2228
Contact Email: john.cook@verity-group.com
885 E COLLINS BLVD SUITE 102 RICHARDSON,TX,75081
Phone:972-422-2228
Fax:972-422-2713
LOFFLER COMPANIES INC Contact: Sean Carey
Contact Phone: +1 952-925-6800
Contact Email: sean.carey@loffler.com
7836 12TH AVE SOUTH BLOOMINGTON,MN,55425
Phone: +1 952-925-6800
Fax:952-925-6801
LONGVIEW OFFICE SUPPLY INC www.edgeop.com
Contact: Lester Kilpatrick
Contact Phone:903-758-0777
Contact Email: lkilpatrick@edgeop.com
1909 JUDSON ROAD LONGVIEW,TX,75605
Phone:903-758-0777
Fax:903-758-0838
LUTGEN & ASSOCIATES INC DBA DOCUMENT TECHNOLOGIES Contact: JULIE DIERCKS
Contact Phone:(505) 888-3005
Contact Email: jdiercks@doctech.com
3520 PAN AMERICAN FREEWAY NE Albuqeuerque NM SUITE A-1 87101
Phone:(505) 888-3005
Fax:
LUTGEN & ASSOCIATES INC DBA DOCUMENT TECHNOLOGIES Contact: Mike Lutgen
Contact Phone:
Contact Email: mlutgen@comcast.net
3520 PAN AMERICAN FREEWAY NE SUITE A-1 ALBUQUERQUE NM 87107
Phone:
Fax:
METRO CENTRE LP www.metro-centre.com
Contact: KARLA METZLER
Contact Phone:(800) 569-0111
Contact Email: kmetzler@metro-centre.com
679 COUNTY ROAD 404 GAINESVILLE,TX,76240
Phone:(800) 569-0111
Fax:(940) 665-5319
NATIONAL IMAGING SYSTEMS INC www.nationalimagingsystems.com/
Contact: RICHARD LEVY
Contact Phone:
Contact Email: rich@nationalimagingsystems.com
152 BLADES LN SUITE F GLENN BURNIE MD 21060
Phone:(410) 636-4800
Fax:
NEO TECHNOLOGIES INC www.neotechs.com
Contact: STEVEN JONES
Contact Phone:
Contact Email: sjones@neotechs.com
2901 DRUID PARK DRIVE Suite C401 BALTIMORE MD 21215
Phone:(410) 728-9104
Fax:
NETWORK ENHANCEMENT SYSTEMS INC Contact: EDGAR SILKEY
Contact Phone:918-665-5502
Contact Email: eddiesilkey@nes.cc
SUITE 101 10827 E MARSHALL ST TULSA,OK,74116
Phone:918-665-5502
Fax:918-665-5506
NEXT DAY TONER SUPPLIES INC www.nextdaytoner.com
Contact: TOM KOSLOSKUS
Contact Phone:708-478-1000
Contact Email: tkosloskus@nextdaytoner.com
SUITE A 11411 W 183RD STREET ORLAND PARK,IL,60467
Phone:708-478-1000
Fax:708-478-1770
ONE TOUCH SOLUTIONS INC Contact: JAYSON BEASLEY
Contact Phone:310-320-6868
Contact Email: JBEASLEY@1TOUCHOFFICE.COM
370 Amapola Ave Suite 106 TORRANCE,CA,90501
Phone:310-320-6868
Fax:310-571-3157
PARAGON ONE GROUP LLC www.paragon-one.com
Contact: FREDERICK HINES
Contact Phone:
Contact Email: fchines@paragon-one.com
25008 JOHNSON FARM RD GAITHERSBURG MD 20882
Phone:(301) 466-5716
Fax:
PARSONS OFFICE SYSTEMS INC Contact: RAY PARSONS
Contact Phone:254-776-3400
Contact Email: ray@parsonsoffice.com
212 LAKE AIR DRIVE WACO,TX,76710
Phone:254-776-3400
Fax:254-776-8800
PETROPLEX OFFICE SUPPLY INCORPORATED www.totalofficesolution.biz
Contact: DONNA WALLACE
Contact Phone:432-332-0807
Contact Email: donnac@totalofficesolution.biz
1601 N LEE AVE ODESSA,TX,79761
Phone:432-332-0807
Fax:432-332-8402
Q DOCUMENT SOLUTIONS INC www.QDOXS.com
Contact: JOEL HACKETT
Contact Phone: +1 562-435-2769
Contact Email: joel@qdoxs.com
3030 OLD RANCH PARKWAY SUITE 190 SEAL BEACH,CA,90740
Phone: +1 562-435-2769
Fax:562-546-1215
QUALPATH INC www.qualpath.com
Contact: KEVIN DEYOUNG
Contact Phone:866-851-2200
Contact Email: kevin@qualpath.com
3710 PARK CENTRAL BLVD N POMPANO BEACH,FL,33064
Phone:866-851-2200
Fax:954-252-4408
R&K TECHNOLOGIES INC www.randktechnologies.com
Contact: TIM ROLLINS
Contact Phone: +1 440-327-1530
Contact Email: timrollins@randktechnologies.com
7065 AVON BELDEN ROAD NORTH RIDGEVILLE,OH,44039
Phone: +1 440-327-1530
Fax:440-327-2223
R3 BUSINESS SOLUTIONS INC http://www.r3biz.com/
Contact: ROGER SEELEY
Contact Phone:858-779-1144
Contact Email: roger@r3biz.com
5725 KEARNY VILLA ROAD SUITE A SAN DIEGO,CA,92123
Phone:858-779-1144
Fax:
RONS LASER SERVICE INC ronslaserservice.com
Contact: RON SHOUSE
Contact Phone:936-321-3091
Contact Email: rlsinc@consolidated.net
1414 S. FRAZIER ST. SUITE 112 CONROE,TX,77301
Phone:936-321-3091
Fax:936-441-2212
SAITECH INC esaitech.com
Contact: SHALINI KALRA
Contact Phone:510-440-0256
Contact Email: govtsales@esaitech.com
42640 CHRISTY ST FREMONT,CA,94538
Phone:510-440-0256
Fax:510-440-0257
SHENANDOAH VALLEY OFFICE EQUIPMENT INC svoe.net
Contact: TIM HEBB
Contact Phone:540-248-7863
Contact Email: thebb@svoe.net
10 GREEN HILLS DR VERONA,VA,24482
Phone:540-248-7863
Fax:540-248-1131
Synapse Technologies Inc DBA SYNTECH www.syntech.net
Contact: Cesar Gonzales
Contact Phone:
Contact Email: cgonzales@syntech.net
236 Clearfield Ave SUITE 216 VIRGINIA BEACH VA 23462-1893
Phone:(757) 605-9100
Fax:
Synapse Technologies Inc DBA SYNTECH http://www.syntech.net
Contact: Cesar Gonzales
Contact Phone:
Contact Email: cgonzales@syntech.net
Add 100271 SLP Synapse Technologies Inc SYNTECH HQ 757-605-9100 236 Clearfield Ave Suite 216 Virginia Beach VA 23462-1893
Phone:
Fax:
THE DIGI GROUP INC www.thedigigroup.com
Contact: MARK GASSETT
Contact Phone:405-603-3545
Contact Email: mgassett@thedigigroup.com
8400 NW 39TH EXPY BETHANY,OK,73008
Phone:405-603-3545
Fax:405-603-3544
THE DIGITAL DOCUMENT STORE INC www.digitaldox.com
Contact: CARLOS ALLISON
Contact Phone:248-684-1110
Contact Email: callison@digitaldox.com
1100 EAST COMMERCE ROAD MILFORD,MI,48381
Phone:248-684-1110
Fax:248-684-1112
The Prescient Group LLC Contact: Brian Koch
Contact Phone:
Contact Email: bkoch@theprescientgroup.net
330 W Gray St Ste 320 NORMAN OK 73069
Phone:
Fax:
XMC INC Contact: BOB HAMILTON
Contact Phone:
Contact Email: BOBHAMILTON@XMCINC.COM
7585 AE BEATY SUITE 101 MEMPHIS TN 38133
Phone:(901) 737-8910
Fax:(901) 737-8917
XRX BUSINESS CONSULTANTS INC Contact: DAVID CAVAZOS
Contact Phone:956-682-1820
Contact Email: davidc@xrxinc.com
708 NORTH MCCOLL MCALLEN,TX,78501
Phone:956-682-1820
Fax:956-618-4501
XStructure LLC www.xstructure.net
Contact: GREG RAZEWSKI
Contact Phone: +1 704-385-4315
Contact Email: grazewski@xstructure.net
15905 Brookway Dr Suite 4102 Huntersville,NC,28078-5001
Phone: +1 704-385-4315
Fax: