EMAIL PO & VENDOR QUOTE TO: TIPSPO@TIPS-USA.COM
PO MUST REFERENCE VENDOR'S TIPS CONTRACT NUMBER
ATTACH PO AS A PDF - ONLY ONE PO (WITH QUOTE) PER ATTACHMENT

Print
VENDOR

ContentKeeper

5241 E. Santa Ana Canyon Rd Ste.120 Anaheim CA,92807

WEBSITE

SERVICE/PRODUCTS DESCRIPTION

ContentKeeper provides Web filtering and mobile security solutions to help schools proactively address the evolving security challenges in today's social and mobile learning environment and provide safe and secure access to the Internet both on and off campus: CK Web Filter Pro - Scalable Web filter that provides granular social media controls, SSL decoding/inspection and 1:1/BYOD web access control for iOS/OS X, Windows, Android and Chrome devices. ContentKeeper MobileED- Comprehensive and multi-layered 1:1 device management solution for off-campus CIPA compliance and security. Provides iOS tamper proof controls. ContentKeeper Report Central- Comprehensive and scalable real-time and historical data analysis and reporting.
ContentKeeper
CONTRACT: 181102 Internet & Network Security
Jan-24-2019 to Jan-31-2022
EDGAR COMPLIANCE : Yes
ContentKeeper

Print
Internet & Network Security(181102)
Exp.Date 01/31/2022 EDGAR: Yes
| | |
| --- | --- |
| DISADVANTAGED/MINORITY/WOMAN BUSINESS ENTERPRISE | No |
| HISTORICALLY UNDERUTILIZED BUSINESS (HUB) | No |
| | |
| --- | --- |
| | AL , AK , AZ , AR , CA , CO , CT , DE , DC , FL , GA , HI , ID , IL , IN , IA , KS , KY , LA , ME , MD , MA , MI , MN , MS , MO , MT , NE , NV , NH , NJ , NM , NY , NC , ND , OH , OK , OR , PA , RI , SC , SD , TN , TX , UT , VT , VA , WA , WI , WY |
Live Oak Equipment Finance is the exclusive financial parter of TIPS! Allow LOEF to help assist you in your financial needs today!

We are committed to provide a financing experience based on unwavering integrity, unmatched service and complete transparency. Our processes have been established with the client in mind, and we are dedicated to ensuring that you enjoy your experience working with our team. Our goal is for you to build a long-term relationship with Live Oak Equipment Finance, not only as your financial partner, but also a firm that can help you grow and excel as a professional in your industry.
Contact Information:
Phone: (512) 726-0367
Email: tips@loeqf.com
Website: www.loeqf.com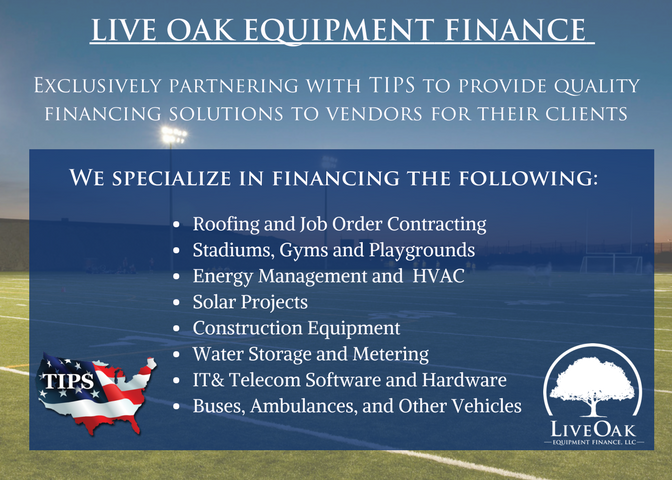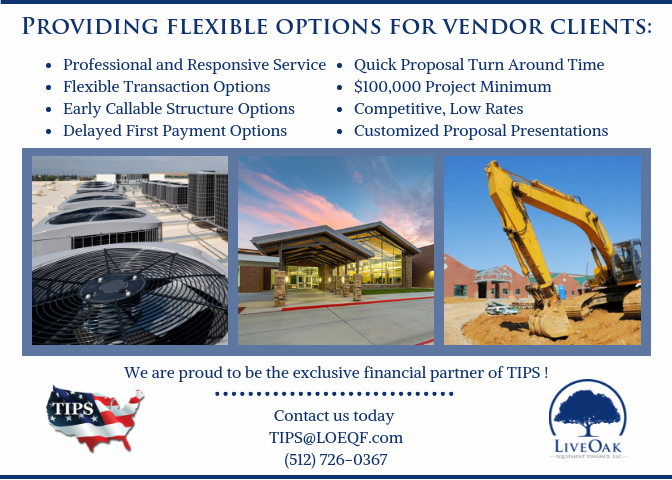 Get VCard for Primary Contact by Contract
ContentKeeper
Resellers listed below may also hold a current TIPS contract. PO's for quotes provided by a reseller that are also awarded in the same category will be processed and sent directly to that reseller.

Please check under "ALL VENDORS" before requesting a quote from any listed reseller.
Resellers
Address
BorderLAN Security http://borderlan.com
Contact: Deena Swidler
Contact Phone:(760) 736-8100
Contact Email: deena@borderlan.com
950 Boardwalk #300, San Marcos, CA 92078
Phone:(760) 736-8100
Fax:(206) 237-2455
CDW-G Contact: John Pellettiere
Contact Phone:(847) 465-6000
Contact Email: jpellettiere@cdwg.com
200 North Milwaukee Ave., Vernon Hills, IL 60061
Phone:
Fax:
ContinuityFocus Contact: Jon Newman
Contact Phone:(408) 885-7247
Contact Email: jnewman@continuityfocus.com
2784 Homestead Rd. Ste 344, Santa Clara, CA 95051
Phone:
Fax:
FilteredNet http://www.filterednet.com
Contact: Andy Chopek
Contact Phone:(609) 624-1444 Ext. 146
Contact Email: achopek@filterednet.com
12 Route 50, No. 112 Seaville, NJ 08230
Phone:(609) 624-1444
Fax:
Freestone Contact: Dave Gonnion
Contact Phone:(303) 473-8567
Contact Email: dgonnion@fstonesw.com
4610 South Ulster St., Denver, CO 80237
Phone:
Fax:
Higher Information Group Contact: Casey Milligan
Contact Phone:(717) 652-3310
Contact Email: cmilligan@higherinfogroup.com
400 North Blue Ribbon Ave. Harrisburg, PA 17112
Phone:
Fax:
KIS Contact: Al Lange
Contact Phone:(816) 200-4423
Contact Email: alange@kiscc.com
4027 Clipper St., Fremont, CA 94538
Phone:
Fax:
NetSync Network Solutions Contact: Thomas Neault
Contact Phone:(713) 218-5000
Contact Email: tneault@netsyncnetwork.com
2500 West Loop South, Ste 510 Houston, TX 77027
Phone:
Fax:
ProtectNet Contact: Brian Schmann
Contact Phone:(714) 585-5557
Contact Email: bschumann@protectnetpartners.com
17284 Newhope Ste 205, Fountain Vlly, CA 92708
Phone:
Fax:
VAR Technology Finance vartechnologyfinance.com
Contact: Michelle Root
Contact Phone:(972) 755-8200
Contact Email: mroot@vartechnologyfinance.com
2330 I-30 Mesquite, TX 75150
Phone:(972) 755-8200
Fax:(972) 755-8210