EMAIL PO & VENDOR QUOTE TO: TIPSPO@TIPS-USA.COM
PO MUST REFERENCE VENDOR'S TIPS CONTRACT NUMBER
ATTACH PO AS A PDF - ONLY ONE PO (WITH QUOTE) PER ATTACHMENT

Print
VENDOR

Fleetwood Furniture

11832 James Street Holland MI,49424

WEBSITE

www.fleetwoodfurniture.com

SERVICE/PRODUCTS DESCRIPTION

At Fleetwood, we are passionate about creating effective learning environments by providing the most cost effective mobile and collaborative furniture in the industry. Our process starts with understanding the key concerns of today's educational system at the highest level and truly identifying the user needs of students and educators using a human-centered approach. We use these insights to design product and application solutions that support activities, improve connections and enhance engagement within learning spaces throughout the whole school.
Fleetwood Furniture
CONTRACT: 180305 Furniture, Furnishings and Services (2)
May-25-2018 to May-31-2020
EDGAR COMPLIANCE : Yes
Fleetwood Furniture

Print
Furniture, Furnishings and Services (2) (180305)
Exp.Date 05/31/2020 EDGAR: Yes
| | |
| --- | --- |
| DISADVANTAGED/MINORITY/WOMAN BUSINESS ENTERPRISE | No |
| HISTORICALLY UNDERUTILIZED BUSINESS (HUB) | No |
| | |
| --- | --- |
| | AL , AK , AZ , AR , CA , CO , CT , DE , DC , FL , GA , HI , ID , IL , IN , IA , KS , KY , LA , ME , MD , MA , MI , MN , MS , MO , MT , NE , NV , NH , NJ , NM , NY , NC , ND , OH , OK , OR , PA , RI , SC , SD , TN , TX , UT , VT , VA , WA , WI , WY |
Live Oak Equipment Finance is the exclusive financial parter of TIPS! Allow LOEF to help assist you in your financial needs today!

We are committed to provide a financing experience based on unwavering integrity, unmatched service and complete transparency. Our processes have been established with the client in mind, and we are dedicated to ensuring that you enjoy your experience working with our team. Our goal is for you to build a long-term relationship with Live Oak Equipment Finance, not only as your financial partner, but also a firm that can help you grow and excel as a professional in your industry.
Contact Information:
Phone: (512) 726-0367
Email: tips@loeqf.com
Website: www.loeqf.com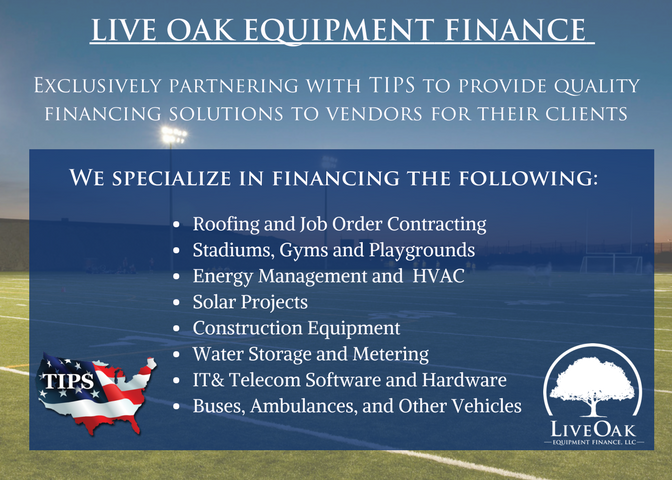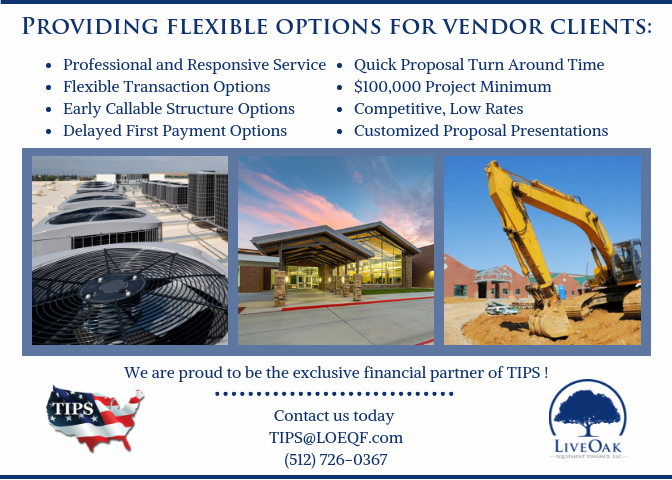 Get VCard for Primary Contact by Contract
Fleetwood Furniture
Resellers listed below may also hold a current TIPS contract. PO's for quotes provided by a reseller that are also awarded in the same category will be processed and sent directly to that reseller.

Please check under "ALL VENDORS" before requesting a quote from any listed reseller.
Resellers
Address
Add Some Class Contact: Tim McCrory
Contact Phone:
Contact Email:
1110 Plum Tree Lane Penryn, CA 95663
Phone:(916) 663-4520
Fax:
AK SALES & CONSULTING INC                          www.aksalesandconsulting.com
Contact: Art Moyle
Contact Phone:575-623-0488
Contact Email: aksalesnm@gmail.com
115 E COUNTRY CLUB ROAD , ROSWELL, NM, 88201
Phone:575-623-1488
Fax:575-623-1488
ALASKA EDUCATION AND RECREATIONAL  www.akedproducts.com
Contact: Kit Wilson
Contact Phone:866-930-0450
Contact Email: kitw@akedproducts.com
200 W 34TH AVENUE #827, ANCHORAGE, AK, 99503
Phone:866-599-6469
Fax:866-599-6469
ARCTIC OFFICE PRODUCTS                www.arcticoffice.com
Contact: Jim Strong
Contact Phone:907-279-4359
Contact Email: jstrong@arcticoffice.com
100 WEST FIREWEED LN, ANCHORAGE, AK, 99510
Phone:907-276-2322
Fax:907-276-2322
ARIZONA FURNISHINGS              www.furnishaz.com
Contact: Greg Janssen
Contact Phone:602-484-7825
Contact Email: greg@furnishaz.ocm
8601 W WASHINGTON, TOLLESO, AZ, 85353
Phone:602-484-7331
Fax:602-484-7331
Blankenship and Associates www.blankenshipassociates.com
Contact: Caroline McCormac
Contact Phone:
Contact Email: cmccormac@blankenshipassociates.com
980 Trinity Road, Raleigh, NC, 27607
Phone:919-787-1346
Fax:919-787-1346
Brame Specialty www.bramespecialty.com
Contact: Bill Freshwater
Contact Phone:
Contact Email: wfreshh20@aol.com
271 West Washington St, Durham, NC, 27702
Phone:704-458-4888
Fax:704-458-4888
CAMPBELL KELLER www.campbellkeller.com
Contact: Craig Campbell
Contact Phone:916-737-3305
Contact Email: ccampbell@campbellkeller.com
3041 65th  STREET STE. 3, SACRAMENTO, CA, 95820
Phone:916-362-0123
Fax:916-362-0123
Ci Select www.ciselect.com
Contact: Stacey Wellen
Contact Phone:314 909 1911
Contact Email: swellen@ciselect.com
11840 Westline Industrial Dr, Maryland Heights, MO, 63146
Phone:314 909 1990
Fax:314 909 1990
CN SCHOOL & OFFICE SOLUTIONS www.culver-newlin.com
Contact: Kevin Mack
Contact Phone:949-855-9577
Contact Email: kevin@culver-newlin.com
520 E RINCON STREET #102, CORONA, CA, 92879
Phone:949-288-6739
Fax:949-288-6739
Commercial Interiors www.ccfurn.com
Contact: Jerry Kanoy
Contact Phone:816 254 7447
Contact Email: jkanoy@ccfurn.com
3622 Noland Court, Independence, MO, 64005
Phone:816 254 7400
Fax:816 254 7400
Continential Office www.continentaloffice.com
Contact: Lisa Welch
Contact Phone:614 547 0223
Contact Email: lwelch@continentaloffice.com
2601 Silver Drive, Columbus, OH, 43211
Phone:614 384 4496
Fax:614 384 4496
Custer Office www.custeronline.com
Contact: Lana Voelker
Contact Phone:
Contact Email: lvoelker@custeronline.com
217 Grandville Ave SW, Grand Rapids, MI, 49546
Phone:616 456 0332
Fax:616 456 0332
Delta Graphics www.deltagraphic.com
Contact: Melisse Menchel
Contact Phone:
Contact Email: mmenchel@deltagraphic.com
12532 Branders Bridge Road, Chester, VA, 23831
Phone:804-748-6448
Fax:804-748-6448
EDUTEK CORPORATION          www.edutekcorp.com
Contact: Todd Fairburn
Contact Phone:801-747-0937
Contact Email: tfairbourn@edutekcorp.com
4060 SOUTH 500 WEST #4, SALT LAKE CITY, UT, 84123
Phone:801-747-0050
Fax:801-747-0050
Frank Cooney Company www.frankcooney.com
Contact: Gregory Cooney
Contact Phone:
Contact Email: gregory@frankcooney.com
1226 N Michael Drive, Wood Dale, IL, 60191
Phone:630 227 4950
Fax:630 227 4950
FSI Office www.fsioffice.com
Contact: Bill Waide
Contact Phone:(757) 679-5600
Contact Email: Bill.waide@fsioffice.com
2312 Mariner's Mark Way, Unit 303, Virginia Beach, VA 23451
Phone:(800) 845-2013 Ext. 2511
Fax:(704) 598-5515
gbi www.gbinashville.com
Contact: Adam Cohen
Contact Phone:
Contact Email: adam.cohen@gbinashville.com
320 Seven Springs Way, Brentwood, TN, 37027
Phone:615 425 5255
Fax:615 425 5255
Henricksen www.henricksen.com
Contact: Kristin Matter
Contact Phone:
Contact Email: k.matter@henricksen.com
3070 Gateway Rd, Brookfield, WI, 53045
Phone:262 373 3217
Fax:262 373 3217
Innovative office www.inovativeos.com
Contact: Bob Nelson
Contact Phone:
Contact Email: bob.nelson@innovativeos.com
151 E Cliff Road, Burnsville, MN, 55337
Phone:218 829 5818
Fax:218 829 5818
Intereum www.intereum.com
Contact: Kim Sorenson
Contact Phone:
Contact Email: ksorenson@intereum.com
845 Berkshire Lane, Plymouth, MN, 55441
Phone:763 417 3473
Fax:763 417 3473
Interior Systems www.interiorsystemsinc.com
Contact: Mark Goudy
Contact Phone:
Contact Email: mgoudy.isi@wildblue.net
6663 NC-211, West Lawn, NC, 27376
Phone:910-673-0633
Fax:910-673-0633
Lee Company www.leecompanyinc.com
Contact: Ken Sensemen
Contact Phone:
Contact Email: ksenseman@leecompanyinc.com
27 S 12th St, Terre Haute, IN, 47807
Phone:812 235 3587
Fax:812 235 3587
Lowery Mcdonald Co. www.lmcinc.com
Contact: Roger Johnson
Contact Phone:
Contact Email: rjohnson@lmcinc.com
208 Oak Ridge, Waverly, IA, 50677
Phone:319 596 5120
Fax:319 596 5120
Marshfield Book www.marshfieldbook.com
Contact: Dan Bubolz
Contact Phone:
Contact Email: dan@marshfieldbook.com
M111 W McMillan St, Marshfield, WI, 54449
Phone:715 387 1286
Fax:715 387 1286
MONTANA SCHOOL EQUIPMENT www.mtschoolequipment.com
Contact: Clint Jackson
Contact Phone:406-454-0439
Contact Email: clint@mtschoolequipment.com
6100 3RD AVE SOUTH, GREAT FALLS, MT, 59405
Phone:406-454-0420
Fax:406-454-0420
NBS www.navbus.com
Contact: Ingrid Ams
Contact Phone:
Contact Email: ams@navbus.com
2595 Bellingham Rd, Troy, MI, 48083
Phone:248 823 5401
Fax:248 823 5401
OFFICESCAPES (AKA JUPITER I LLC) www.officescapes.com
Contact: Lee Stapp
Contact Phone:719-574-1133
Contact Email: lstapp@officescapes.com
2506 ZEPPELIN ROAD, COLORADO SPRINGS, CO, 80916
Phone:719-574-1113
Fax:719-574-1113
Officewise www.officewiseco.com
Contact: Ruben Cardona
Contact Phone:(806) 763-2500
Contact Email: rcardona@officewiseco.com
1200 South Taylor Street
Phone:(806) 372-2236
Fax:(806) 374-2177
PEMCO www.pemcofurniture.com
Contact: Gary Eggert
Contact Phone:
Contact Email: gary@pemcofurniture.com
5335 Progress Blvd, Bethel Park, PA, 15102
Phone:412-999-5366
Fax:412-999-5366
SBI www.sbi-omaha.com
Contact: Marcia Blair
Contact Phone:
Contact Email: mblair@sbi-omaha.com
725 South 72nd St, Omaha, NE, 68114
Phone:402 393 8888
Fax:402 393 8888
School Specialty www.schoolspecialty.com
Contact: Ellen Quale
Contact Phone:414 755 1881
Contact Email: ellen.quale@schoolspecialty.com
600 Otjen St, Milwaukee, WI, 53207
Phone:414 405 3881
Fax:414 405 3881
School Specialty www.schoolspecialty.com
Contact: Jan Robinson
Contact Phone:
Contact Email: jan.robinson@schoolspecialty.com
149 Pepper Ridge Circle, Antioch, TN, 37013
Phone:615 832 0297
Fax:615 832 0297
Schoolhouse Products Inc Contact:
Contact Phone:(800) 942-3360
Contact Email:
13517 Prestige Place Suite 101 Tampa, Fl 33653
Phone:(813) 855-1414
Fax:(813) 855-5414
SERVCO PACIFIC INC        www.servco.com
Contact: Gilbert Morita
Contact Phone:808-564-2789
Contact Email: gilbertm@servco.com
2841 PUKOLOA STREET, HONOLULU, HI, 96819
Phone:808-564-2783
Fax:808-564-2783
Sexton and Associates www.tsa.com
Contact: Lonnie Hill
Contact Phone:
Contact Email: lhill@tsa.com
3450 Goose Lane, Granville, OH, 43023
Phone:614 402 5458
Fax:614 402 5458
Sharp School Services www.sharpschoolservices.com
Contact: David Sharp
Contact Phone:
Contact Email: dsharp@sharpschoolservices.com
6400 Lincolnway, Hobart, IN, 46432
Phone:219 942 6903
Fax:219 942 6903
SIERRA SCHOOL EQUIP www.ssecnc.com
Contact: Greg McDermott
Contact Phone:661-399-0218
Contact Email: gregmcdermott@ssecinc.com
1911 MINERAL CT, BAKERSFIELD, CA, 93308
Phone:661-399-2993
Fax:661-399-2993
SPACESAVER SPECIALIST, INC www.strorageplanning.com
Contact: Tom Gustafason
Contact Phone:503-924-4114
Contact Email: tom_gustafason@storageplanning.com
9730 SW HERMAN, TUALATIN, OR, 97062
Phone:503-924-4100
Fax:503-924-4100
Travis School Equip. www.travisschool.com
Contact: Barry Travis
Contact Phone:
Contact Email: barry@travisschoolequipment.net
901 68th St, Benton, KY, 42025
Phone:859 291 5223
Fax:859 291 5223
Virginia School Equipment www.va-school.com
Contact: Rod Gallagher
Contact Phone:
Contact Email: rod@va-school.com
916 Main Street, Lynchburg, VA, 24504
Phone:434-455-4648
Fax:434-455-4648
Zimmerman www.zimmermanschool.com
Contact: Steve Zimmerman
Contact Phone:614 759 4486
Contact Email: steve@zimmerman.com
209 Boller Rd, Blacklick, OH, 43004
Phone:614 861 6383
Fax:614 861 6383