AUTOMATED VENDOR (DO NOT SEND PO TO TIPS)
EMAIL PURCHASE ORDER TO: publicsector@oreillyauto.com

Print
VENDOR

OReilly Auto Parts

233 S Patterson Avenue Springfield MO,65802

WEBSITE

firstcallonline.com

SERVICE/PRODUCTS DESCRIPTION

O'Reilly Auto Parts is a publicly traded chain of auto parts stores. O'Reilly opened in November 1957 with thirteen team members at one location. The long range plans and stability of the company were solidified by a public offering of company stock in April of 1993. Since that time, the company has grown through the opening of new stores as well as numerous mergers and acquisitions. O'Reilly Auto Parts currently operates over 5,000 locations and 27 distribution centers in 47 states including Alaska and Hawaii.
OReilly Auto Parts
CONTRACT: 180603 Vehicle Parts, Supplies, Equipment and Affiliated Services
Aug-23-2018 to Aug-31-2021
EDGAR COMPLIANCE : (Contact TIPS for Verification)
OReilly Auto Parts

Print
Vehicle Parts, Supplies, Equipment and Affiliated Services(180603)
Exp.Date 08/31/2021 EDGAR: (Contact TIPS for Verification)
| | |
| --- | --- |
| | Secondary |
| Contact | Mark Bullard |
| Title | Professional Customer Pricing & Bids Manager |
| Phone | (417) 829-5879 |
| Email | ProBids@oreillyauto.com |
| | |
| --- | --- |
| DISADVANTAGED/MINORITY/WOMAN BUSINESS ENTERPRISE | No |
| HISTORICALLY UNDERUTILIZED BUSINESS (HUB) | No |
| | |
| --- | --- |
| | AK , AZ , AR CA , CO , CT , FL , GA , HI , ID , IL , IN , IA , KS , KY , ME , MA , MI , MN , MS , MO , MT , NE , NV , NH , NM , NY , NC , ND , OK , OR , PA , RI , SC , SD , TN , TX , UT , VT , VA , WA , WV , WI , WY |
Live Oak Equipment Finance is the exclusive financial parter of TIPS! Allow LOEF to help assist you in your financial needs today!

We are committed to provide a financing experience based on unwavering integrity, unmatched service and complete transparency. Our processes have been established with the client in mind, and we are dedicated to ensuring that you enjoy your experience working with our team. Our goal is for you to build a long-term relationship with Live Oak Equipment Finance, not only as your financial partner, but also a firm that can help you grow and excel as a professional in your industry.
Contact Information:
Phone: (512) 726-0367
Email: tips@loeqf.com
Website: www.loeqf.com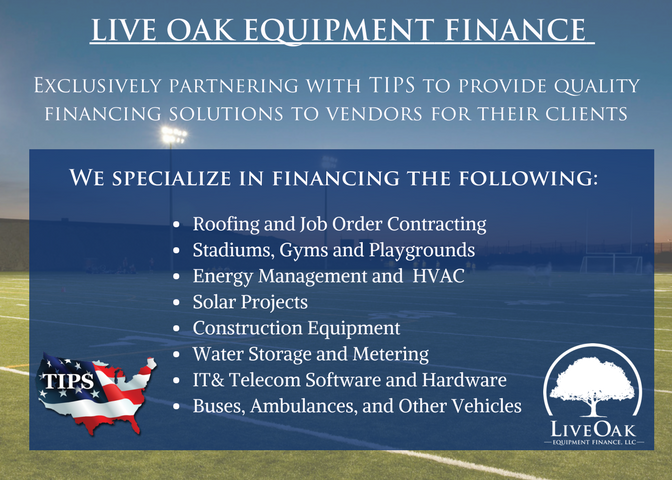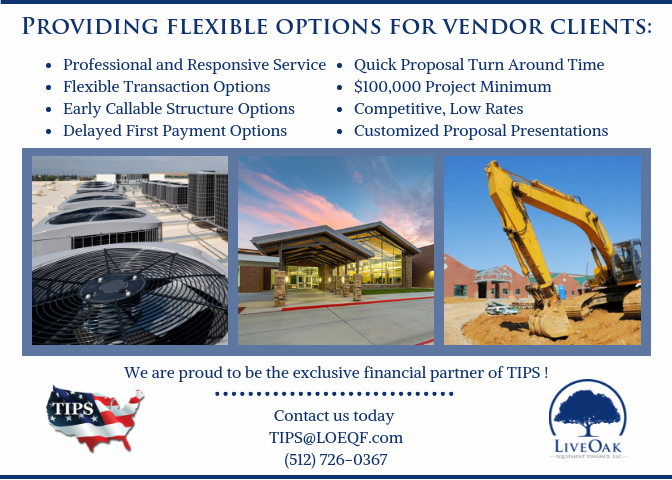 Get VCard for Primary Contact by Contract
O'Reilly Auto Parts Account Sign-Up

To setup or transfer an O'Reilly account number under the TIPS-USA O'Reilly agreement, simply enter the requested information in the form below and click the submit button. TIPS-USA participants with existing O'Reilly accounts must complete this form and provide their existing account numbers in order to receive TIPS-USA contract pricing.
Processing this form for a new account or transferring an existing account will take 1 to 2 business days. You will receive an email notification from O'Reilly informing you that your account has been linked to TIPS-USA contract pricing. Your account will not convert to the TIPS-USA contract until you receive the O'Reilly email notification.
If you have questions about this form or the TIPS-USA O'Reilly program, please contact TIPS at tips@tips-usa.com or call toll free at (866) 839-8477, or O'Reilly Auto Parts | Public Sector Team at publicsector@oreillyauto.com.