EMAIL PO & VENDOR QUOTE TO: TIPSPO@TIPS-USA.COM
PO MUST REFERENCE VENDOR'S TIPS CONTRACT NUMBER
ATTACH PO AS A PDF - ONLY ONE PO (WITH QUOTE) PER ATTACHMENT

Print
VENDOR

ViewSonic Corporation

10 Pointe Drive, #200 Brea CA,92821

WEBSITE

www.viewsonic.com

SERVICE/PRODUCTS DESCRIPTION

Founded in California in 1987, ViewSonic is a world leading visual solutions provider. As an innovator and visionary, ViewSonic keeps the world connected with a portfolio of professional level visual solutions that enhance the way we compute, collaborate, communicate and connect. Our products include LED monitors, interactive commercial displays, touch displays, projectors, thin client, zero client and smart displays. To find out more about ViewSonic, visit viewsonic.com. For 31 years, ViewSonic has been a leader and innovator in display technology. During that time, we've helped transform the market with a number of industry firsts such as bringing ultra fast response time, 3D technologies, and various embedded architectures to the desktop. Today, we are excited to bring Target the best display technology that will change the way you compute, communicate, and connect. We are much more than our products, however. We have earned a reputation as being a trusted advisor and a true partner with our customers. In partnership with ViewSonic, our customers have access to our product engineers, product champions, executive management, sales management and a full team of dedicated service personnel to ensure your complete satisfaction.
CONTRACT: 180306 Technology Solutions Products and Services (2)
May-25-2018 to May-31-2020 EDGAR COMPLIANCE : Yes
ViewSonic Corporation
CONTRACT: 180306 Technology Solutions Products and Services (2)
May-25-2018 to May-31-2020
EDGAR COMPLIANCE : Yes
ViewSonic Corporation

Print
Technology Solutions Products and Services (2) (180306)
Exp.Date 05/31/2020 EDGAR: Yes
| | |
| --- | --- |
| | Primary |
| Contact | Alex Faris |
| Title | Territory Manager - South Central Region |
| Phone | (512) 541-6372 |
| Email | alex.faris@viewsonic.com |
| | |
| --- | --- |
| DISADVANTAGED/MINORITY/WOMAN BUSINESS ENTERPRISE | No |
| HISTORICALLY UNDERUTILIZED BUSINESS (HUB) | YES |
| | |
| --- | --- |
| | AL , AK , AZ , AR , CA , CO , CT , DE , DC , FL , GA , HI , ID , IL , IN , IA , KS , KY , LA , ME , MD , MA , MI , MN , MS , MO , MT , NE , NV , NH , NJ , NM , NY , NC , ND , OH , OK , OR , PA , RI , SC , SD , TN , TX , UT , VT , VA , WA , WI , WY |
Live Oak Equipment Finance is the exclusive financial parter of TIPS! Allow LOEF to help assist you in your financial needs today!

We are committed to provide a financing experience based on unwavering integrity, unmatched service and complete transparency. Our processes have been established with the client in mind, and we are dedicated to ensuring that you enjoy your experience working with our team. Our goal is for you to build a long-term relationship with Live Oak Equipment Finance, not only as your financial partner, but also a firm that can help you grow and excel as a professional in your industry.
Contact Information:
Phone: (512) 726-0367
Email: tips@loeqf.com
Website: www.loeqf.com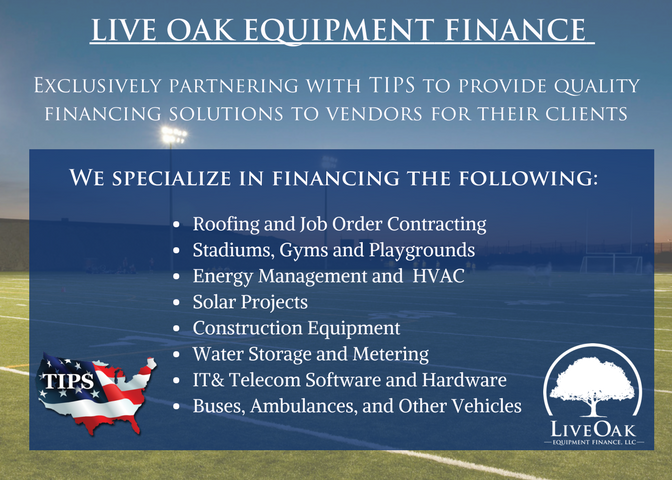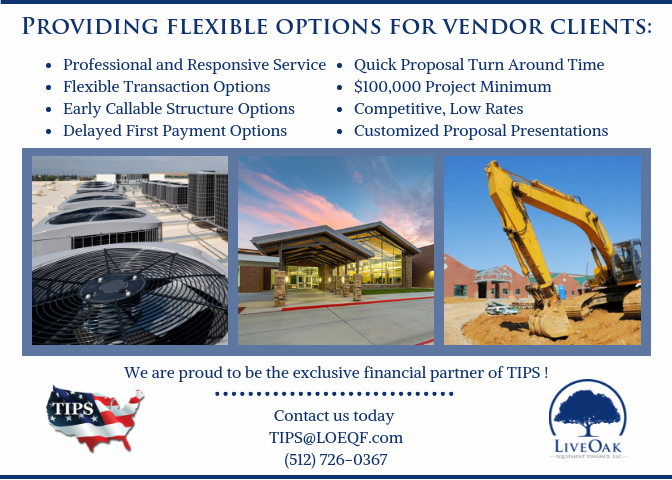 Get VCard for Primary Contact by Contract
ViewSonic Corporation
Resellers listed below may also hold a current TIPS contract. PO's for quotes provided by a reseller that are also awarded in the same category will be processed and sent directly to that reseller.

Please check under "ALL VENDORS" before requesting a quote from any listed reseller.
Resellers
Address
3-C Technology Contact: Audley Logan Sr
Contact Phone:(972) 230-4300
Contact Email: alogan@team3c.com
Lancaster, TX
Phone:
Fax:
Abacus Computer Contact: Mark Singh
Contact Phone:(432) 687-5424
Contact Email: singhm@abacustx.com
Midland TX
Phone:
Fax:
Accordant Technology Contact: Tim Tyler
Contact Phone:(615) 800-3480
Contact Email: ttyler@accordanttechnology.com
TN
Phone:
Fax:
Advanced Micro Electronic Contact: Kevin Greenwood
Contact Phone:(800) 264-8851
Contact Email: kgreenwood@theamegroup.com
IN, OH, TX, LA
Phone:
Fax:
Advanced PC Products Contact: Umit Adiguzel
Contact Phone:(972) 241-2744 Ext. 318
Contact Email: umit@advpc.com
Dallas TX
Phone:
Fax:
Aisys Consulting LLC Contact: Elizabeth Lopez Hernand
Contact Phone:(956) 686-0101
Contact Email: elopez@aisysconsulting.com
McAllen, TX
Phone:
Fax:
All Line Technology Contact: Ralph DiFranco
Contact Phone:(614) 818-9741
Contact Email: rdifranco@all-lines-tech.com
OH, PA, WV
Phone:
Fax:
Anacape Micro Contact: Glenn Anderson
Contact Phone:(805) 339-0305
Contact Email: anderson@anacpamicro.com
Ventura CA
Phone:
Fax:
Austin Ribbon and Computer Supplies Inc Contact: Susan Hawk
Contact Phone:(512) 452-0651
Contact Email: sue.hawk@arc-is.com
Austin, TX
Phone:
Fax:
Bahfed Corp Contact: Ken Paul
Contact Phone:(503) 208-8410
Contact Email: ken.paul@bahfed.com
Portland OR
Phone:
Fax:
Betis Group Inc Contact: Tom Lyons
Contact Phone:(703) 532-2008
Contact Email: tlyons@betis.com
VA
Phone:
Fax:
Better Direct Contact: Mark Evans
Contact Phone:(866) 921-2858
Contact Email: mevans@betterdirect.com
Tempe AZ
Phone:
Fax:
Blue Tech Contact: Brian Godlesky
Contact Phone:(619) 497-6060
Contact Email: bgodlesky@bluetech.com
San Diego CA
Phone:
Fax:
Catalyst Technology Group USA Inc Contact: Russell Cooper
Contact Phone:(865) 584-1333
Contact Email: rcooper@usacatalyst.com
TN
Phone:
Fax:
Chattanooga Business Machines Contact: Lana Toomey
Contact Phone:(800) 451-3336
Contact Email: ltoomey@cbmtn.com
TN
Phone:
Fax:
Checkpoint Services Contact: Jim Carlisle
Contact Phone:(915) 581-1185
Contact Email: jim.carlisle@checkpnt.com
El Paso, TX
Phone:
Fax:
Computer Mission Inc Contact:
Contact Phone:(703) 272-8148
Contact Email: sales@compumission.com
VA
Phone:
Fax:
Connecting Point Computer Center Contact:
Contact Phone:(270) 554-7700
Contact Email: cpservice@cpoint2.com
Western KY & Southern IL
Phone:
Fax:
CounterTrade Products Inc Contact: Joe Boglino
Contact Phone:(800) 444-9710
Contact Email: jboglino@countertrade.com
Aurora CO
Phone:
Fax:
Daly Computers Contact: Kris Basilio
Contact Phone:(301) 670-0381
Contact Email: klb@daly.com
VA, MD, DE, PA, NJ
Phone:
Fax:
Data Memory Marketing Inc Contact: Ellen Clark
Contact Phone:(614) 863-3667
Contact Email: ellen@data-memory.com
OH
Phone:
Fax:
Detel Contact: Cindy Normand
Contact Phone:(318) 597-0303
Contact Email: cindy.normand@detel.com
PO Box 147
Phone:(318) 597-3707
Fax:(318) 597-3707
Directec Corporation Contact: Charles Nugent
Contact Phone:(502) 357-5216
Contact Email: charlesn@directec.com
KY, AR, TN, OH, MO, AL
Phone:
Fax:
Diversatec Resources Inc Contact: Dan Frost
Contact Phone:(740) 965-3400
Contact Email: dan.frost@diversatec.net
OH, KY, PA, WV, MI
Phone:
Fax:
Dynamic Computer Corporation Contact: Lisa Love
Contact Phone:(248) 473-2200
Contact Email: llove@dcc-online.com
MI
Phone:
Fax:
Education Technologies Inc Contact: Brian Kendzie
Contact Phone:(505) 293-1414
Contact Email: brian@nm-edtech.com
NM
Phone:
Fax:
Federal Merchants Corporation Contact: Dion Hudgins
Contact Phone:(317) 288-3150
Contact Email: dion.hudgins@federalmerchants.com

Phone:
Fax:
FedStore Corporation Contact: Jay Jabbari
Contact Phone:(240) 715-4320
Contact Email: jjabbari@fedstore.com
VA, MD, DC, NJ, NY
Phone:
Fax:
Forward Edge LLC Contact: John Waltz
Contact Phone:(513) 761-3343
Contact Email: jwaltz@forward-edge.net
OH, KY, IN
Phone:
Fax:
GC Micro Contact: Zac Zuckerman
Contact Phone:(707) 789-0600
Contact Email: zzuckerman@gcmicro.com
Petaluma CA
Phone:
Fax:
Graydian Technologies Contact: Norm Clark
Contact Phone:(330) 497-7900
Contact Email: norm@graydian.com
OH
Phone:
Fax:
Greyhound Technologies LTD Contact: Alan Jacob
Contact Phone:(586) 469-4429
Contact Email: jacoba@greyhound-tech.com
MI
Phone:
Fax:
GSS Info Tech Contact: Ravi Jumani
Contact Phone:(646) 277-4133
Contact Email: ravijumani@gssinfotech.com
NJ, NY, CT, CA, IL
Phone:
Fax:
Howard Computers Contact: Melissa Ward
Contact Phone:(601) 425-3151
Contact Email: bids@howardcomputers.com
PO Box 1590 Laurel MS 39441
Phone:
Fax:
InfoSystems Contact: Scott Davis
Contact Phone:(423) 697-9513
Contact Email: scottd@infosystems.biz
TN, GA, AL
Phone:
Fax:
Intech Southwest Contact: Kevin Reyher
Contact Phone:(210) 690-0000
Contact Email: kreyher@intechsouthwest.com
San Antonio, TX
Phone:
Fax:
Integrated Data Solutions Inc Contact: Jeff Cattin
Contact Phone:(248) 543-5300
Contact Email: jcattin@idsi4it.com
MI
Phone:
Fax:
Integrity IT Contact: Phil Miller
Contact Phone:(859) 253-4284
Contact Email: prmiller@integrityky.com
KY
Phone:
Fax:
Intergrity Network Solutions Contact:
Contact Phone:(317) 758-0307
Contact Email: sales@nteg.net
IN
Phone:
Fax:
IT1 Source Contact: Richard Fly
Contact Phone:(602) 235-0308
Contact Email: richard.fly@it1.com
Scottsdale AZ
Phone:
Fax:
Kynteic Technologies Contact: Debbie Holloway
Contact Phone:(318) 518-6966
Contact Email: debbieh@kynetictech.com
29605 US Hwy 19N Ste 150
Phone:(727) 447-8620
Fax:(727) 447-8620
Link Computer Corporation Contact: Don Nagle
Contact Phone:(814) 742-7700
Contact Email: dnagle@linkcorp.com
PA, WV, OH
Phone:
Fax:
M & A Technology Contact: Donna Shephard
Contact Phone:(469) 226-5325
Contact Email: dshepahrd@macomp.com
2045 Chenault Drive, Carrollton, TX 75006
Phone:
Fax:
Master Audio Visuals Contact: Eric Stageman
Contact Phone:(214) 679-3173
Contact Email: ericstageman@masterav.com
Longview TX
Phone:
Fax:
Matrix Integration Contact: Curt Trainer
Contact Phone:(812) 634-1550
Contact Email: ctrainer@matrixintegration.com
IN, KY
Phone:
Fax:
Mazzanti Technology Contact: Carl Mazzanti
Contact Phone:(201) 360-4400
Contact Email: carl@emazzanti.net
NJ, NY
Phone:
Fax:
MVS Inc Contact: Sekhar Mylavarapu
Contact Phone:(202) 722-7981
Contact Email: csekhar@mvsconsulting.com
DC & metro Areas
Phone:
Fax:
Netgain Technologies Contact:
Contact Phone:(859) 255-0155
Contact Email: smart@netgainit.com
KY
Phone:
Fax:
Netwave Corporation Contact: Mark Goodson
Contact Phone:(614) 850-6300
Contact Email: mgoodson@netwavecorp.com
OH
Phone:
Fax:
New Tech Solutions Contact: David Das
Contact Phone:(501) 353-4070
Contact Email: david@ntsca.com
Fremont CA
Phone:
Fax:
Panamerica Computers Inc Contact: Trent Nicholson
Contact Phone:(540) 635-4402
Contact Email: tnicholson@pcitec.com
VA, NJ, DC
Phone:
Fax:
Paramount Technologies Inc Contact:
Contact Phone:(800) 891-4949
Contact Email: sales@paramounttechnologiesinc.com
PA, WV
Phone:
Fax:
Pathway Communications Contact: Harold Dalton
Contact Phone:(972) 436-6161
Contact Email: harolddalton@verizon.net

Phone:
Fax:
Pathway Communications Contact: Harold Dalton
Contact Phone:(972) 436-6161
Contact Email: harolddalton@verizon.net
San Diego
Phone:
Fax:
Pyrinex Inc Contact: Jim Seals
Contact Phone:(614) 552-1055
Contact Email: jim@pyrinex.com
OH
Phone:
Fax:
Red River Contact: Dav Levin
Contact Phone:(703) 476-6300
Contact Email: dave.levin@redriver.com
NH, VA
Phone:
Fax:
Saratoga Technologies Inc Contact: Eric Pardue
Contact Phone:(423) 722-1728
Contact Email: eric.pardue@saratogaus.com
TN, VA
Phone:
Fax:
SEHI Computer Products Inc Contact: Mark Sehi
Contact Phone:(800) 233-7344
Contact Email: mark@sehi.com
MI, CA
Phone:
Fax:
Shields Electronic Supply Inc Contact: David Shields
Contact Phone:(865) 588-2421
Contact Email: david@shiledselectronics.com
TN, VA, FL
Phone:
Fax:
Softmart Inc Contact:
Contact Phone:(610) 518-4000
Contact Email: govt@softmart.com
PA, NJ
Phone:
Fax:
Softmart Inc Contact:
Contact Phone:(610) 518-4000
Contact Email: govt@softmart.com
PA, NJ
Phone:
Fax:
SSI-Strategic Sourcing Inc Contact: Steve Gay
Contact Phone:(614) 760-3990
Contact Email: sgay@stratsourcing.com
OH
Phone:
Fax:
Tech Central Contact:
Contact Phone:(717) 273-3301
Contact Email: info@techcentralsales.com
DE, PA, VA
Phone:
Fax:
Technology for Education LLC Contact: Teri Anderson
Contact Phone:(254) 741-2744
Contact Email: teri.anderson@tfeconnect.com
Hewitt TX
Phone:
Fax:
Virtucom ww.virtucom.com
Contact: TJ Garry
Contact Phone:(512) 799-0582
Contact Email: tjgarry@virtucom.com
2912 Skyway Circle North Irving, TX 75038
Phone:(972) 957-7860
Fax:
Worksters Inc Contact: Ania Kaminska
Contact Phone:(650) 458-0600
Contact Email: ania@worksters.com
San Jose CA
Phone:
Fax: